One of the main questions people ask me about summer travel in Europe, especially in Italy, is what shoes to pack.
Ideally you don't want to pack more than 3 pairs of shoes, just because who wants to drag the extra weight around? Packing space is premium, so fewer pairs make more sense.
European and Italian travel means lots of walking. Lots and lots of walking, (my Fit Bit Alta always tells me that on my first day in Rome I walk around 32,000 steps!)  so you want shoes that you can walk around in all day and night, and not be crippled with blisters, chafing, sore feet and ankles. The obvious choice is a good pair of sneakers but that doesn't always meet our desire to look chic and stylish.
I have found (through trial and error) some sneakers and sandals that not only are super comfortable and good to walk around Europe in all day long, but also manage to look chic and stylish.
This post contains affiliate links
For the past few years I have been wearing Italian Superga Cotu sneakers.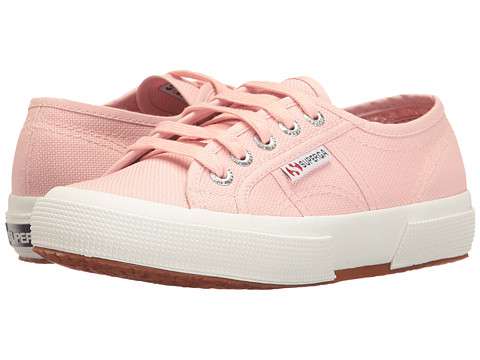 They come in fun, bright colors and look really cool with everything. This year I ordered them from Zappos.com in light pink. Previous years I have bought them in hot pink, royal blue, grey and black. I normally put an extra insole like a Timberland Pro or a Vionic but Zappos has tons to choose from.
Last year I bought these fabulous Somers slip-ons from Sofft in gold.
I have literally worn them almost everyday for months. the gold look killer with black pants and dresses (my work wardrobe), look totally dialed in with jeans and with anything white. They might just be the most comfortable shoes I've ever owned! In my real job (makeup artist) I can be standing for hours on end so its really important to have shoes that support your feet and by extension your lower back. The Sofft Somers look chic too. I'm ordering the Sofft Somers in blush for this summer. Like Zappos, Sofft gives you free shipping.
Sandals can be tricky to shop for for travel that involves a lot of walking, because most of them aren't designed for endless hours of walking. They typically don't have sole support so your feet can get really sore, and often they chafe and blister your feet too. Here are some great options.
If you had told me 3 1/2 years ago that I would even own something called a Birkenstock I would have died laughing! But here I am, 2 pairs in (one white and one black) to the best summer sandal ever! One of my travelers on my Glam Italia tour pointed out 3 years ago that every chic tourist who had an outfit we were scoping was also wearing these Birkenstocks Gizehs.
I now own 2 pairs, one black and one white. you do need to break them in before you travel, but the sole forms to your foot and then gives the best support you can possibly imagine. For the past 3 years this has been my Italian sandal – all day long, all over Italy, this is the sandal I've been wearing. They come in lots of color choices too. I order them from Zappos.com
Born makes a similar sandal called the Orla. They also offer free shipping.
One of my friends doesn't like wearing flat shoes. She always looks glam when we travel together, always has heels on. Her secret is wearing shoes by Born. (Born are also known for their incredibly comfortable, super supportive shoes) One year we both trotted around Florence in  heeled sandals similar to these  Born Gayles , our derrieres having that wonderful lift that only a heel can give you, yet so comfortable we felt like we we wearing sneakers.
This year with mules being so huge the Born Crato is a stylish yet wickedly comfortable option.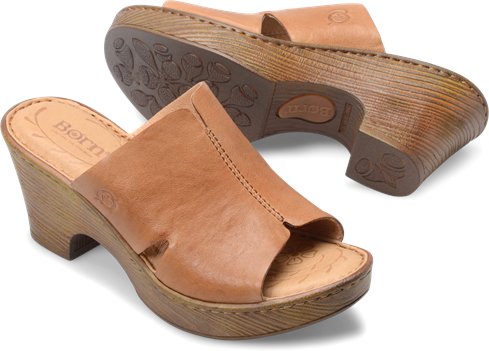 Last week I was working with this very chic European photographer, who as always looked amazing. She had on the latest cropped jeans, a black T, her blonde hair was all mussed up and fresh, and she had these Sofft Mirabelle sandals on in black. They looked fantastic! I was expecting them to be something she picked up in Paris, but she told me she bought them here, online at Sofft.com (they are also available on Zappos.com). She also said that she wears them all day long on shoots because they are so comfortable, even when she is shooting in a studio with a concrete floor. (That makes them perfect for walking around all day in Europe!)
I don't think this photo does them justice – they looked so good on! I don't need any more black sandals, but I do need some neutral nude sandals so I'm ordering this pair pictured above.
Update: I actually did buy the nude shade of Sofft Mirabelle pictured above, and wore them all over Italy and Paris all summer. I lead back to back Glam Italia Tours with groups of women who wanted to walk a lot! My travelers had me averaging 25,000 steps per day, and I wore my Mirabelle's all day, every day. They looked chic, were super comfortable, and didn't fall to pieces after all that hard work! They dealt with rainy days and searingly hot days and stayed looking good. They were super comfortable from day one, I never had to "break them in", and didn't get even one blister. I will definitely buy these sandals again!