Melania's official portrait as first lady was revealed this week. And twitter went nuts.
Personally I feel sorry for her. You know he must be awful to her. She also has to deal with the daughter-wife who not only upstages her whenever possible, but is also frequently pictured looking at her with such palpable disdain that it is near impossible to imagine any warmth between them. She may have all the money in the world, but at what price? It certainly looks lonely in Melania-land. I just hope she has a handsome personal trainer.
But back to the official portrait. My first thought was that she looks like she should be  J.R. Ewing's wife in Dallas. Or David Coverdale's girlfriend.  Don't you think it reeks of 80's glam? She looks beautiful, but like a Trump ad. An acquisition with gaudy jewelry.
On some weird level I find myself rooting for her.
Harper's Bazaar.com published an article about the hysterically funny tweets that blew up after the release of the photo.
TWITTER HAS A LOT TO SAY ABOUT MELANIA TRUMP'S OFFICIAL PORTRAIT
The Internet has some mixed feelings on the First Lady's glamour shot.
Yesterday, the White House released Melania Trump's official portrait as First Lady. After the reveal, the glamorous shot promptly earned praise on the Internet. But some viewers were quick to point out a few details on the picture, like her massive 25 carat diamond ring in clear view, the visible airbrushing and the fact that a statement on the photo referred to the White House as her "new residence," even though she still lives in New York City with her and Donald's son Barron. Twitter had a lot to say about it.
And Melania's official portrait is out. All the airbrushing could almost make you ignore the $3 million ring.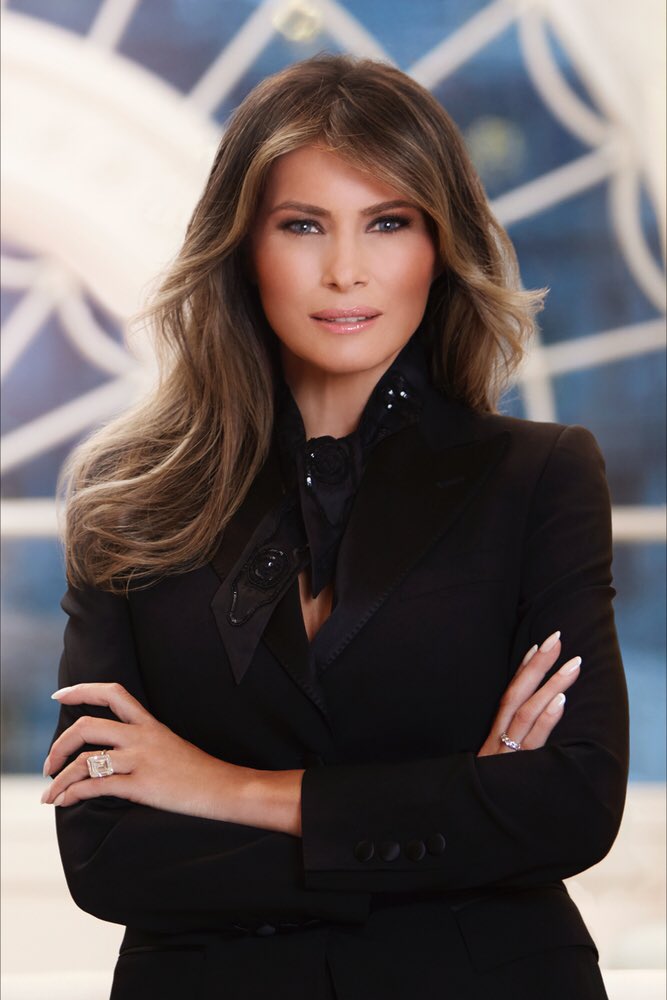 Melania's White House portrait is beautiful and will make an excellent conversation piece if she ever happens to visit the White House.