I love Rome.
I could easily run away to Rome and never look back. I have insanely long lists of things to do in Rome that I will need more than one lifetime to ever complete, so when I'm there it's hard to get me to take off on a day trip unless I am leading one of my tours.
But people are always asking me about good day trips to do from Rome, and preferably day trips that you can do by train. If you have read my book Glam Italia! How to travel Italy: Secrets To Glamorous Travel (On A Not So Glamorous Budget) then you already know that I am a huge advocate of staying in as few places as possible, and doing lots of day trips instead of constantly packing up and moving. So much vacation time is wasted by packing, checking out, waiting to check in to the new place and then checking in. I would rather just stay in one or two locations. (If you haven't read my book you can get your copy here.)
Most places in Italy are easily reached by train, which makes getting around incredibly easy. The high speed trains open up so many opportunities to you too. On my tours we often do day trips to Venice from Rome. It takes 3.5 hours each way by fast train, but the time whizzes by as you watch Italy through the huge, panoramic windows. It's like being inside an episode of a National Geographic TV show!
The trains are very economical too, so you can travel around on any budget and not miss out.
The following is a list of 10 fantastic day trips from Rome by train. If you are new to train travel, or if this will be your first time in Italy, I have a hugely popular post that breaks down everything you need to know about using the trains in Italy. You can let that be your guide and take away any fears you may have about train travel and how to use the trains in a foreign country.
The 10 Best Day Trips From Rome By Train
1.Florence
Florence is a super easy day trip from Rome. The high speed AV trains run all day long and it only takes about an hour and 20 minutes to get there.
I recommend getting on the earliest train you can so that you can arrive in Florence before the crowds from the bus tours and the cruise ships descend on the city. If you can handle getting up early, I recommend trying to arrive in Florence around 8 am. You will have the city to yourself and be able to take fantastic photos in popular places like the Piazza della Signoria, Palazzo Vecchio ad Ponte Vecchio without a million tourists in the way.
It is amazing to see those places empty, and be able to see all the statues, the old store fronts and the famous views. Have a 10 am cup of coffee and just watch the crowds arrive – you won't even believe it! And you will be thanking me for making you get up so early….
2. Pompeii and Herculaneum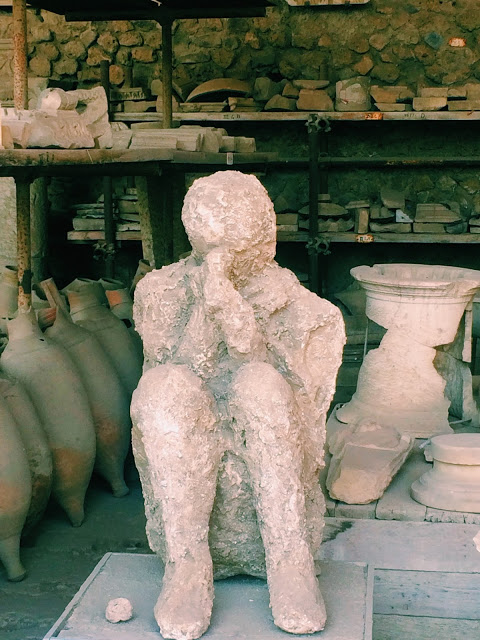 Pompeii is just fantastic, and if there is any way that you can add it into your itinerary, I highly recommend it.
Pompeii is a suburb of Naples and has a train stop right outside the main gates. Take the high speed/AV train from Rome to Naples and then the little local Circumsuviana train to the Pompeii Scavi stop.
When you are done with Pompeii jump back on the train and go 3 stops to Ercolano. You have to walk a few blocks from the train but everything is well signed so you won't get lost.
If doing both, I suggest going to Pompeii first. Learn all about what happened when Vesuvius erupted, learn about Roman roads and the clever way they built their towns – there is so much to see! After visiting Pompeii head to Herculaneum and see just how vertical the homes were, you won't believe the intense colors of the 2000 year old frescoes, and you will get more of a feel for the community they lived in.
It is amazing how differently the two towns were impacted by the eruption. If not for a change in the wind we wouldn't have Herculaneum. It would have disappeared over the millennia just as other towns have done.
If traveling between May and October take a big bottle of water with you and refill it as you need with cold Aqueduct water from the fountains in Pompeii. It gets very, very hot there so make sure you have a sunhat and comfortable walking shoes too.
3. Capri, Ischia or Procida
To get to Capri you just take the fast train to Naples and then a 15 euro taxi to the harbor. The taxi will take you to the ticket booths for the hydrofoils and ferries to Capri, Ischia and Procida.
I go to Capri with all my Glam Italia Tours, and it is fabulous. There is lots to see and do and it makes a great day trip from Rome.
Another island that I love going to but don't get to often enough is the tiny island of Procida, which is also off the coast of Naples.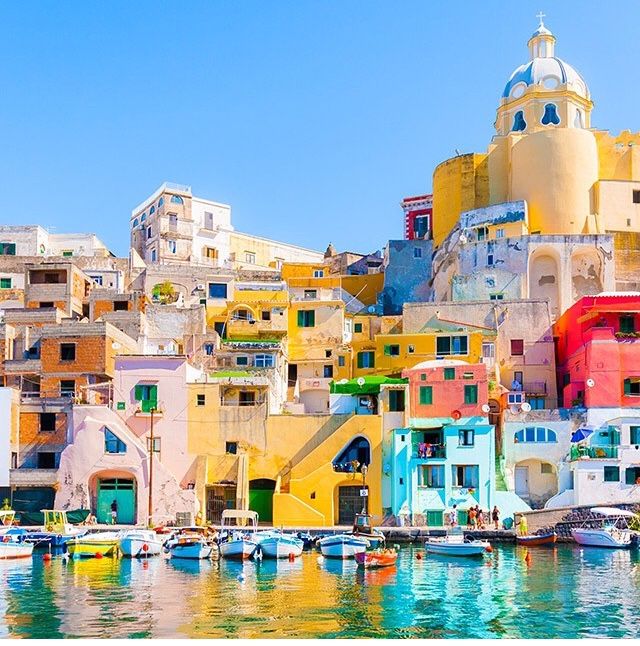 One of the 10 most colorful places on earth Procida gets a fraction of the tourist traffic that nearby Capri does. It is also much, much less expensive. Read more about Procida here:
Make sure you allow yourself time to eat some piazza in Naples before you take the train back to Rome.
4.TIVOLI – HADRIAN'S VILLA AND VILLA D'ESTE
This one is actually easier as a bus trip from Rome. I did it with Viator, and although it was good the tour guide drove me mental. He was desperate for us to buy leather at his friend's shop and eat at his other friend's restaurant which got incredibly annoying. But other than that he was a really good guide and great information.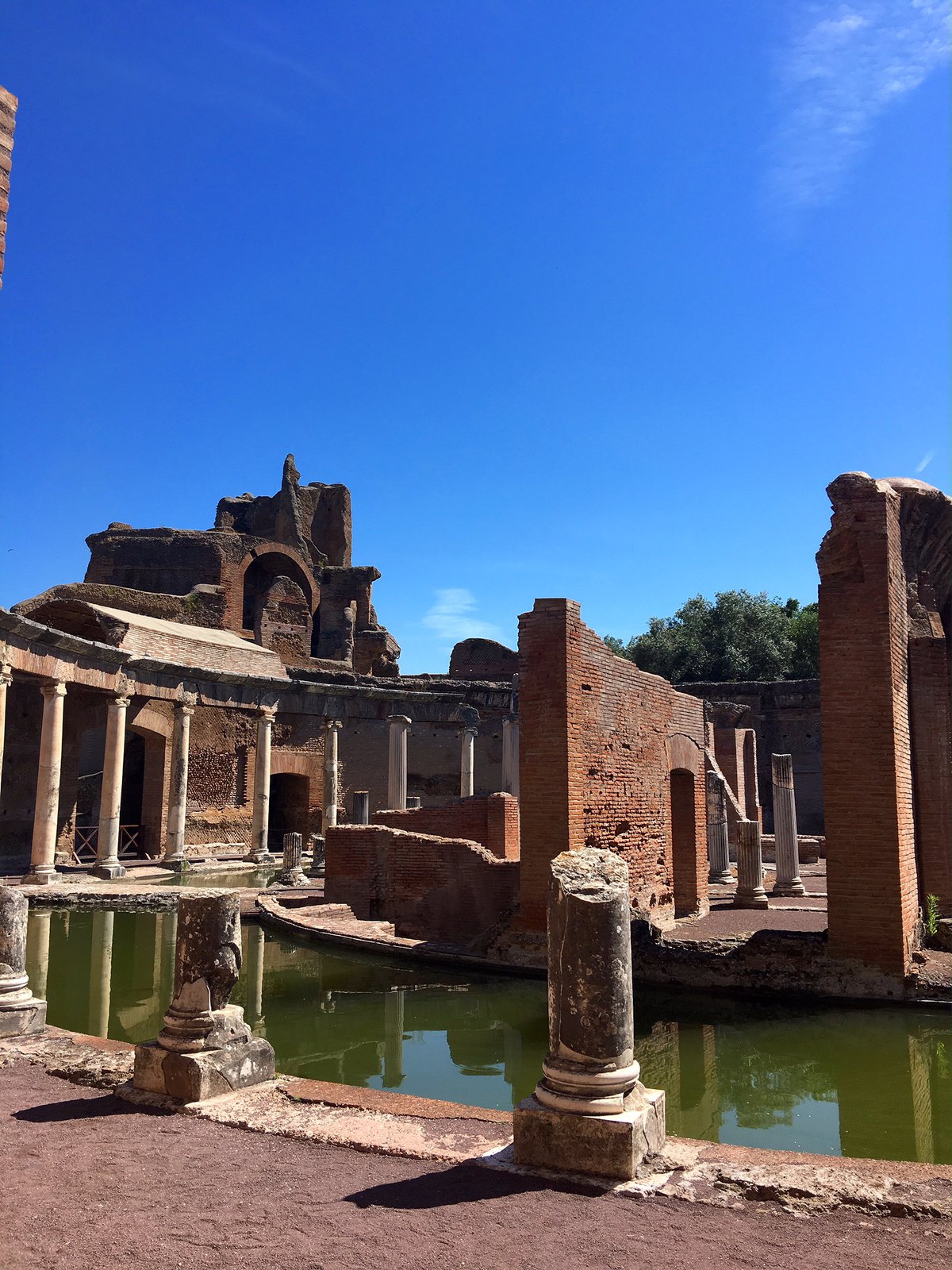 The day trip took us to Hadrian's Villa, (Villa Adriana) a UNESCO World Heritage Site near Tivoli. When Hadrian was emperor he didn't much care for living on the Palatine Hill, so built this giant complex in the second and third decades of the 2nd century. He was thought to have been living there as his main residence from around 128 A.D.
Villa Adriana is definitely worth visiting. The complex is enormous and absolutely spectacular.
Just up the hill from Villa Adriana in the town of Tivoli, Villa d'Este is a 16th century villa built by Cardinal Ippolito d'Este. Much of the material used to build d'Este was pilfered from Villa Adriana.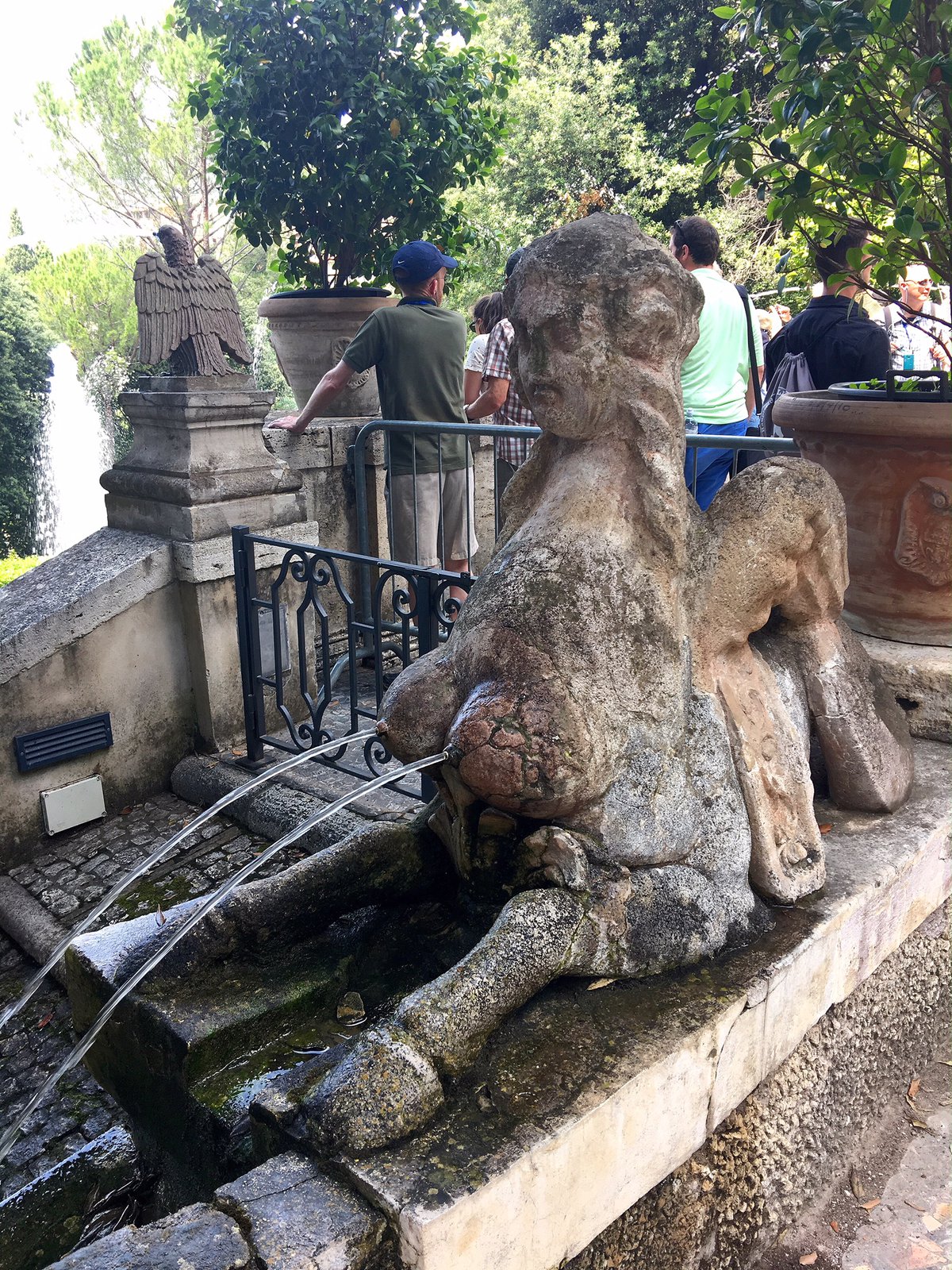 In a time when there were no paparazzi to see what was going on, Popes and cardinals and who knows who else were all busy marrying and having mistresses and orgies and generally getting up to no good. Cardinal Ippolito d'Este was very wealthy, with a wife and 4 sons. He took an enormous amount of land from the locals to build his gardens at Tivoli, and at one point had 12 lawsuits against him. He didn't care and built them anyway.
The most famous element of the gardens are the fountains. D'Este diverted the Aniene river to provide water to one of the most spectacular series of fountains and water exhibits you will ever see.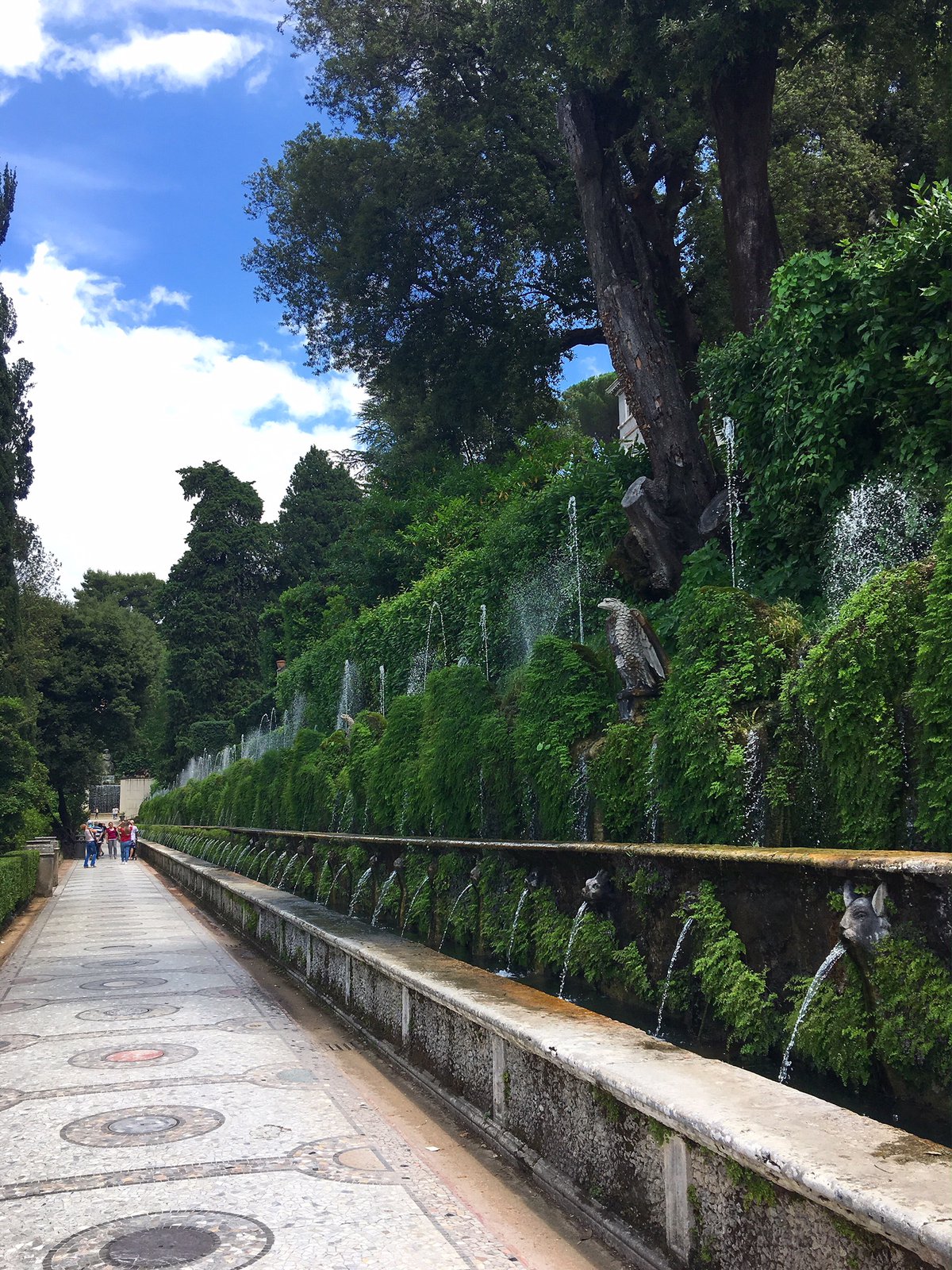 Everything is powered by the water itself, including a huge fountain that plays renaissance music several times per day. Make sure you find out when the fountain is scheduled to play and time your visit to be in front of it when it does – it is quite remarkable! We were there at 2:30, but I don't know what other times it goes off.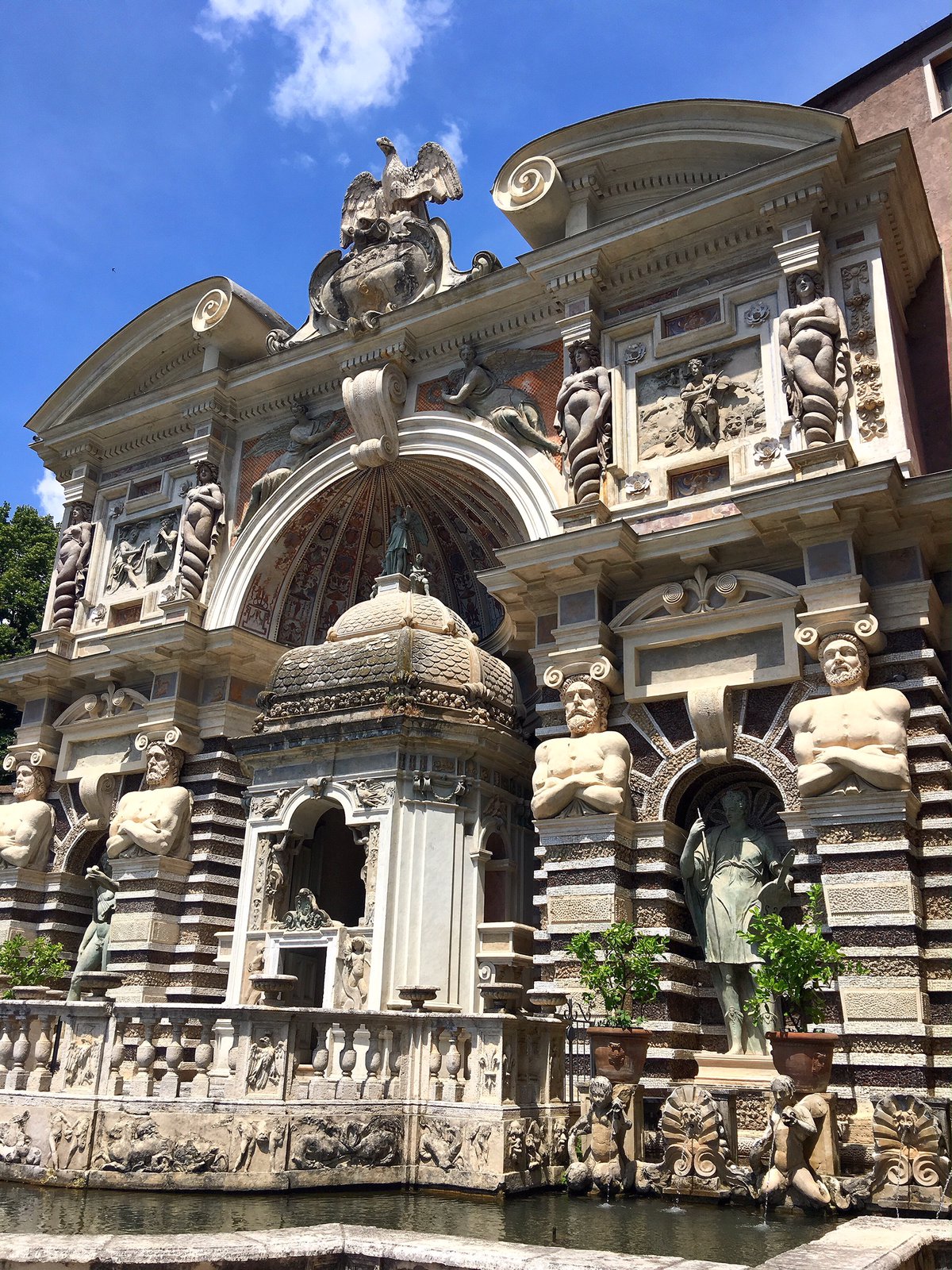 You can get to Tivoli by train but would have to get buses to and from Villa Adriana and Villa d'Este and every which way I looked at it, it seemed better to take the Viator bus trip from Rome. Just don't eat where the guide tells you to as there are much better and less rip-off places all over Tivoli. And Tivoli is not the place to be buying leather jackets!
5.Orvieto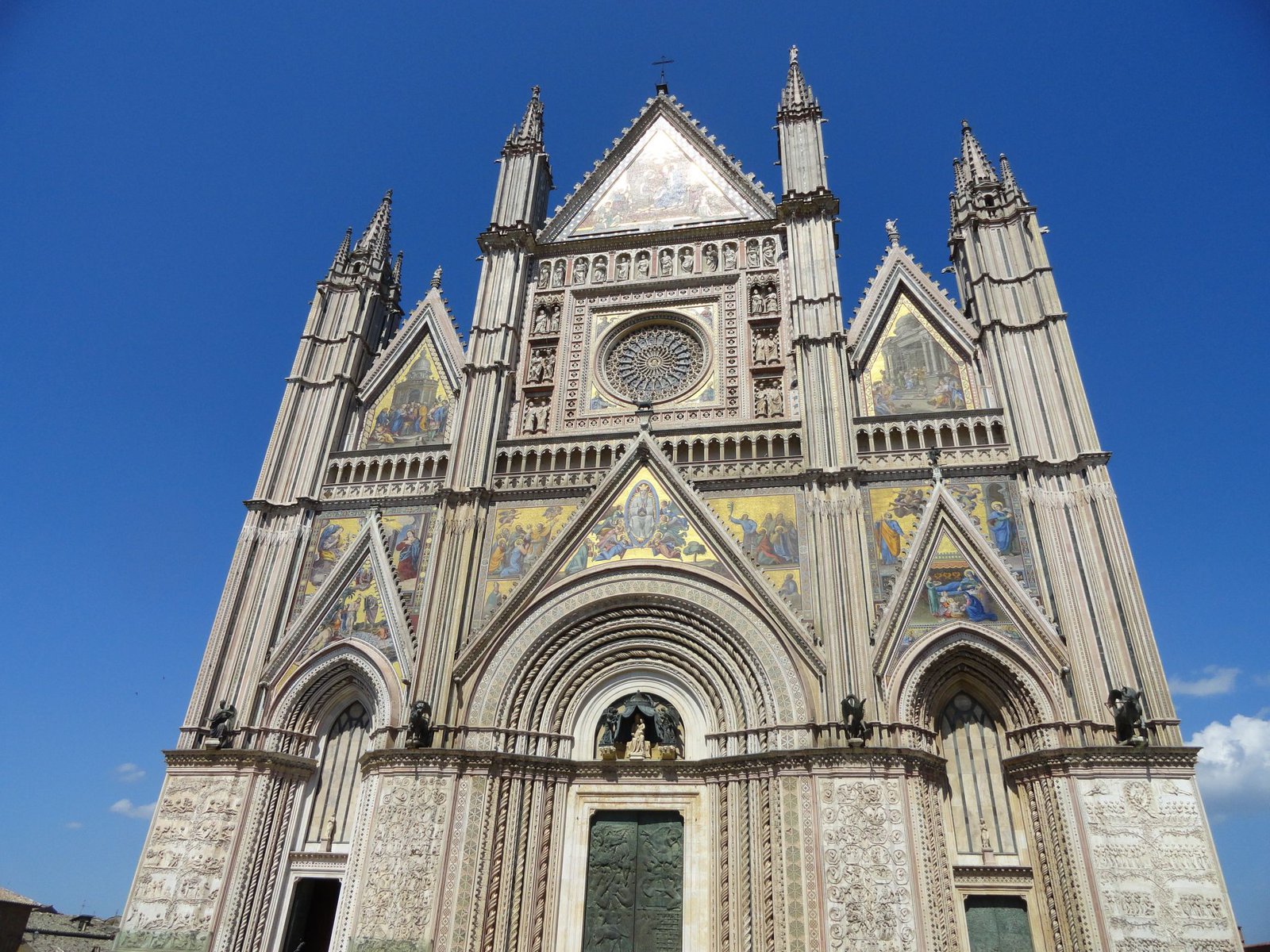 Just an hour from Rome by train the Umbrian border town of Orvieto is an absolute gem. From the train station you take a funicular up the hill to the medieval town. Orvieto is famous for its cathedral, which is thought to be one of Italy's most beautiful. The outside may remind you of Siena, and the Luca Signorelli frescoes inside are said to have inspired Michelangelo's work in the Sistine Chapel. This is a fabulous town to wander around, divert down little side streets, eat the wonderful local cuisine, and of course drink Orvieto wine! I just love Orvieto.
But there's more! You can descend below ground to one of the most unique undergrounds in all of Italy. This is Etruscan country, and the labyrinth of tunnels and rooms below the city of Orvieto were dug by the Etruscans more than 2500 years ago.
Marlena di Blasi's book The Lady in the Palazzo: An Umbrian Love Story is set in Orvieto. She and her husband Fernando live there now after 1000 days in Venice, and another 3 years in Tuscany. I just love her books and recommend reading this one before going to Orvieto. I love recognizing the various streets and shops and eateries she talks about, it adds even more flavor to the experience! I always am on the lookout for her but have never seen her when I have been in town. Not that I even know what I would do if I did see her – is it madly geeky to fan-girl on up to an author and tell them you love their books?
6. Viterbo
Viterbo is a magical medieval town an hour from Rome by train. For 20 years during the 13th century it was the home of the Pope. Considered one of the best preserved medieval towns in all of Italy, Viterbo is a fantastic place to just wander and take in all the history.
With a population of around 60,000 there are some wonderful places to eat and some good shopping. The Pope's Palace and the Papal Hot Springs are probably the biggest tourist sites, but in my opinion this is a town to visit with no agenda and a good appetite.
7. Civita di Bagnoreggio
This one takes a little longer to reach but is well worth seeing!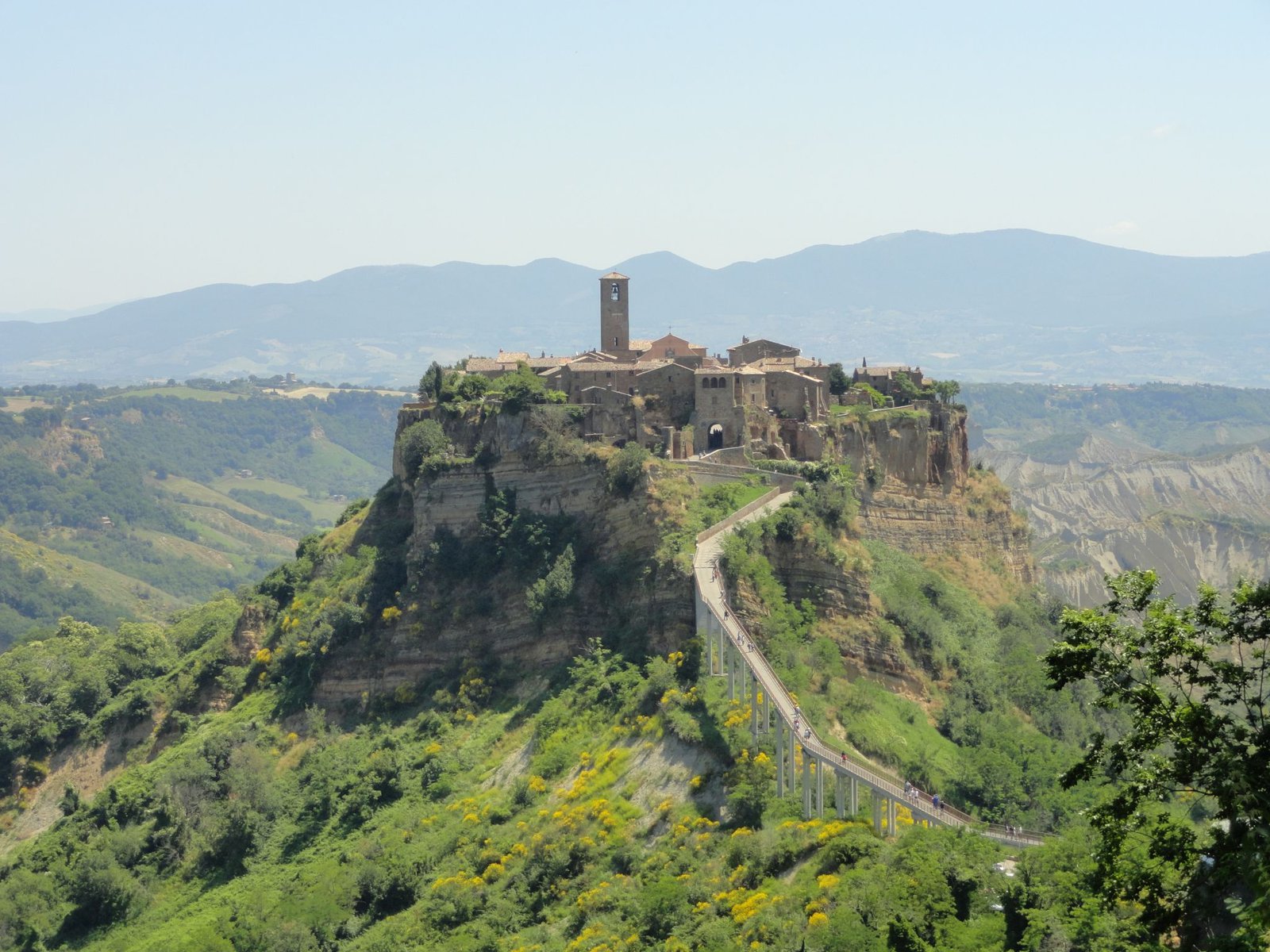 Civita di Bagnoreggio, also known as La Citta Che Muore/The Dying Town was founded on a hilltop by the Etruscans 2500+ years ago. Over the millenia the town has slowly been eroding away and falling down the hillside. In 2006 it was placed on the World Monuments Fund's watch list of the 100 most endangered sites due to the danger it faces from both erosion and also unregulated tourism.
Architecturally it is quite fantastic. Being so remote and isolated much of the architecture spanning back hundreds of years is unaltered. It was the birthplace of Saint Bonaventure, who died back in 1274. Since then his childhood home fell off the cliff as the town eroded.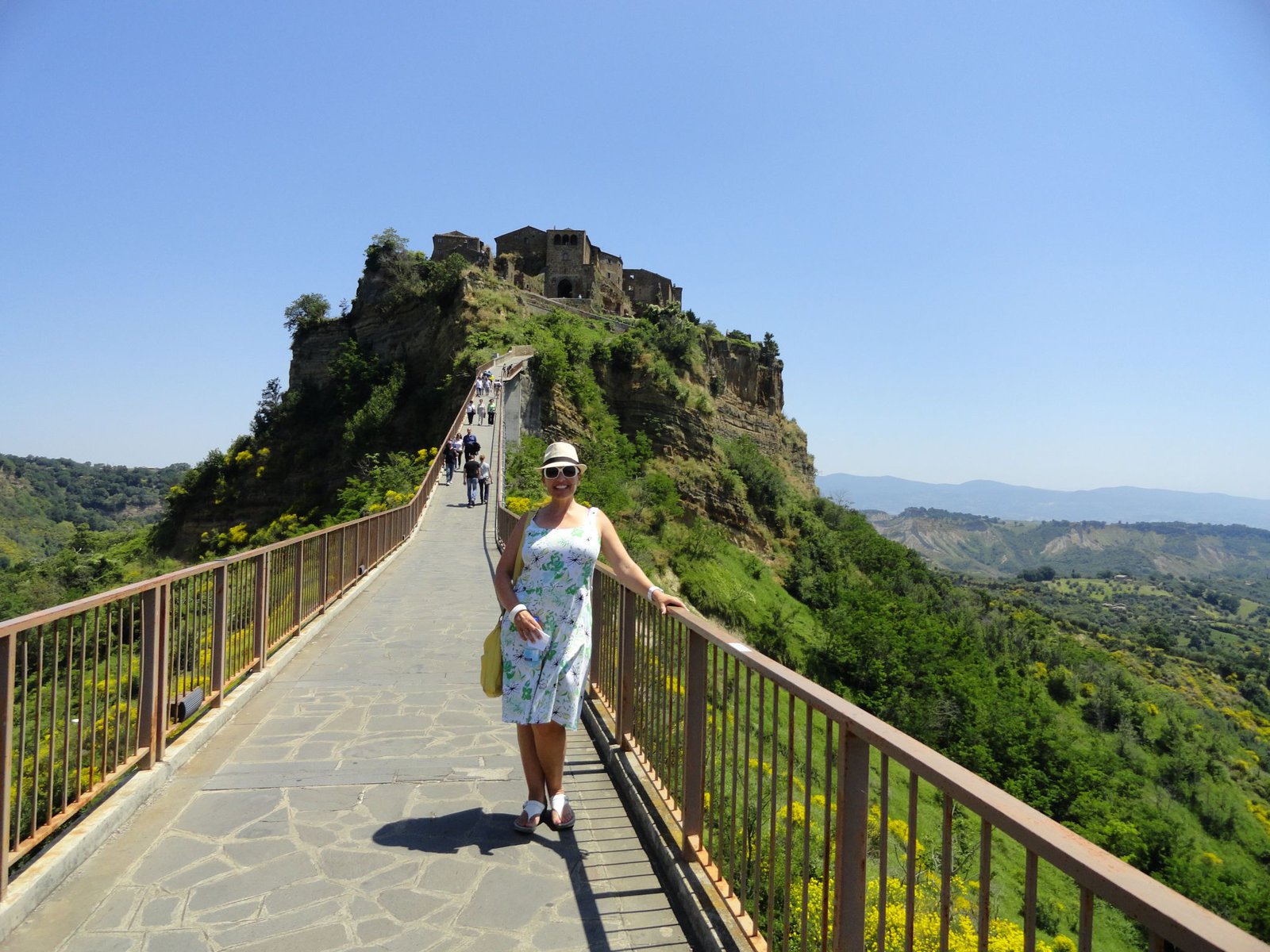 There are no cars in Civita, and in fact the only way into the town is via a walking bridge that bridges a giant chasm and looks like the great wall of China. Civita is like an island in the sky with 365 degree views.
The year round population is only 7 people, and in the summer it swells to 100. Tourists have bought up some of the homes and modernized them a little, but Civita feels like it is a place that time forgot.
It is just fantastic.
Without a car the best way to get to Civita from Rome is to take the train to Orvieto and then from the Orvieto train station take the bus to Civita. If you were to do both in one day I would get an early start, do Civita first, and then swan around Orvieto all afternoon and into the evening.
.
8. Tarquinia
Two and a half hours from Rome this is another train and bus combo trip and is perfect for anyone interested in some really ancient history. The burial grounds or nercropolis date back to the Iron Age of the 9th century B.C.
Tarquinii was one of the most important and ancient Etruscan towns, and has a fascinating history.
The necropolis is one of Italy's most important Etruscan sites. More than 6000 tombs have been excavated here, 140 of which have vivid, incredible frescoes, 20 of which ar eopen to the public.
You also need to visit the Museo Archeologico while there to see some pretty sensational Etruscan artifacts.
9. Ostia Antica
From the steep amphitheater to Neptune's Baths to the Thermopolium, an ancient café with a bar and traces of the old menu frescoed on the wall, a trip to Ostia Antica is almost like visiting a mini Pompeii. The mosaics are sensational, and by themselves alone are worth the trip, but there is just so much here to see!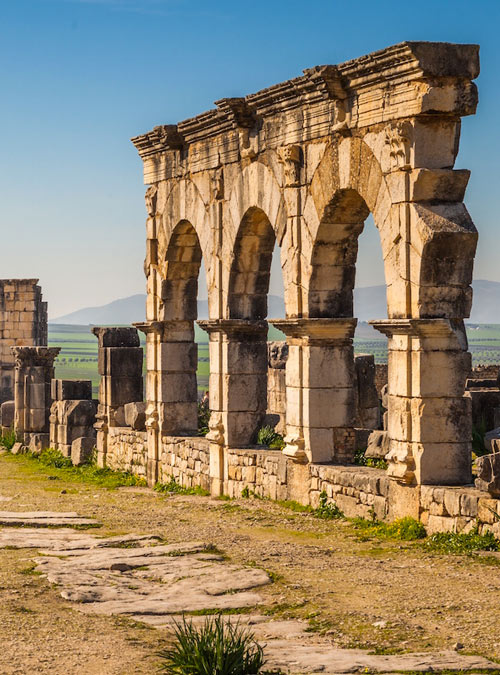 Book ahead to have a guide take you into one of the two Case Decorate (decorated houses) to see the 2000 year old frescoes. The guided tours are on Sundays at 10:30 am, (but check to see if they offer more when you will be in Rome) and you cannot go inside the houses without a guide.
Another point of interest, especially if you a traveling with young boys, is the public toilet at the Terme del Foro. 20 well preserved latrines line a long stone bench where ancient Romans would socialize while going about their business!
Ostia Antica is an easy 25 minute train ride from the Pirimide station. Wear good walking shoes and plan on spending several hours there – there is so much to see!
10.Venice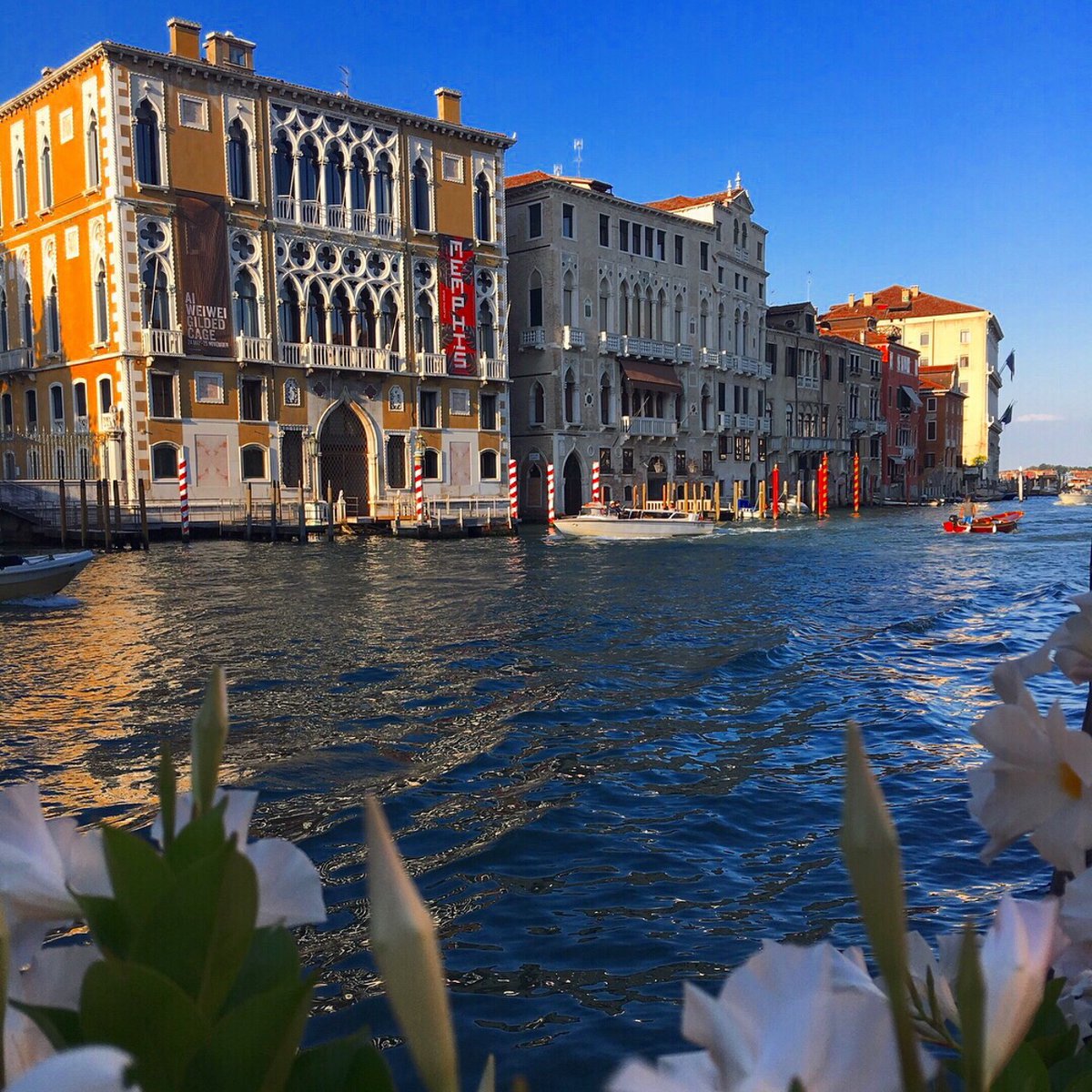 The most unique city on earth is easily accessible from Rome by train, and is well worth the trip. From Roma Termini station it takes around 3 and a half hours. If you can get them buy tickets on the 6:15 Italo train, which will get you into Venice by 10 am. If not, the 8:15 will get you in around noon.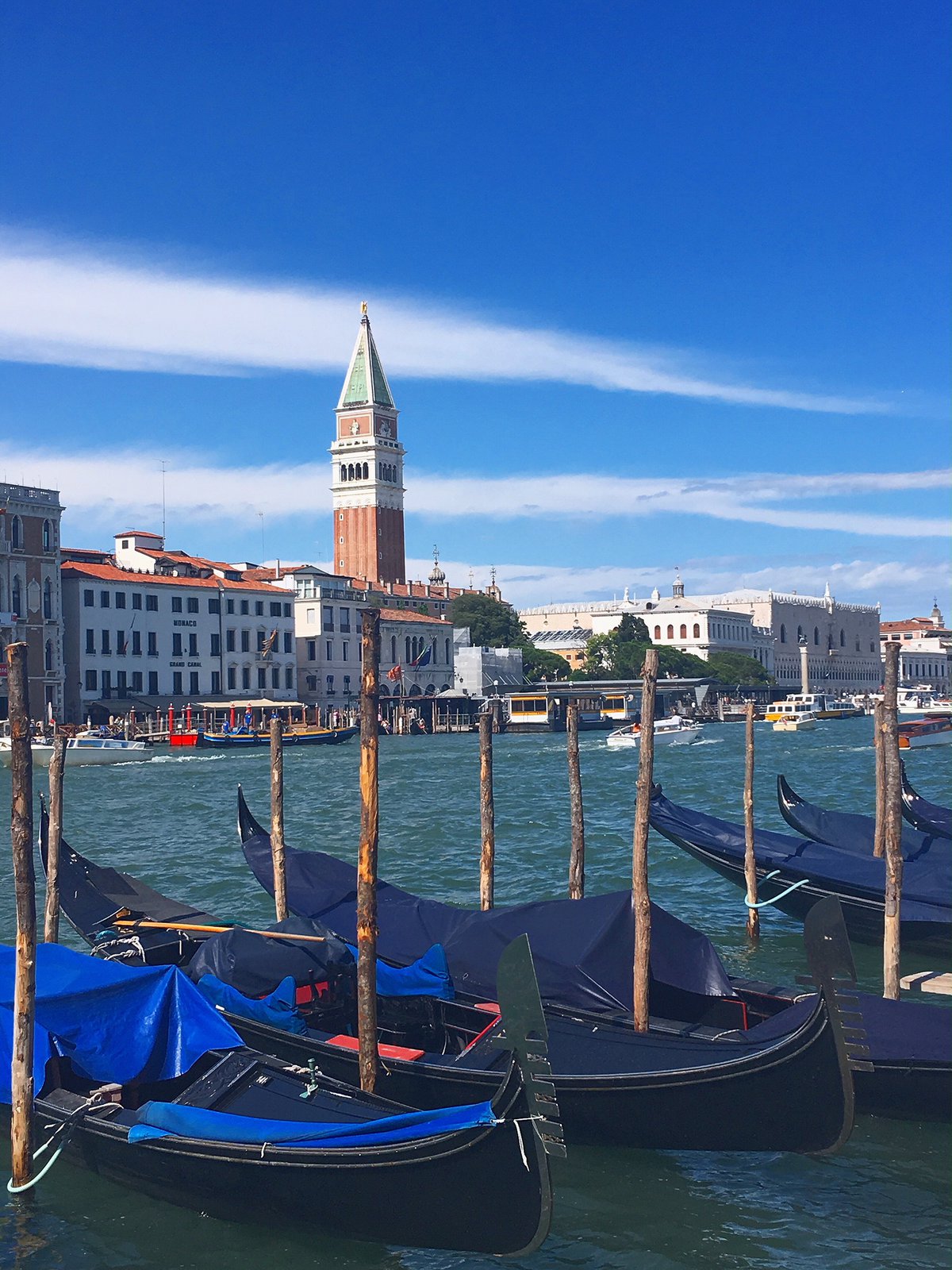 The last trains out of Venice leave between 7pm and 8 pm, so you do need to maximize your time on the ground.
I have made a downloadable PDF with 10 of my secret things to do in Venice, including my two favorite places to eat and some really fabulous places to walk and be far from the cruise ship crowds. This is information that will never be on the blog and is for people who a serious about seeing more than Rialto Bridge to St Marks Square. Get your Secret Venice PDF Here
Do you have any day trips from Rome that you would like to add to the list? If so please tell me in the comments section below.
xo