Are you traveling to Rome anytime soon? One of the questions I get asked all the time about traveling to Rome (and other parts of Italy) is how to get from Rome Fiumicino airport into the city.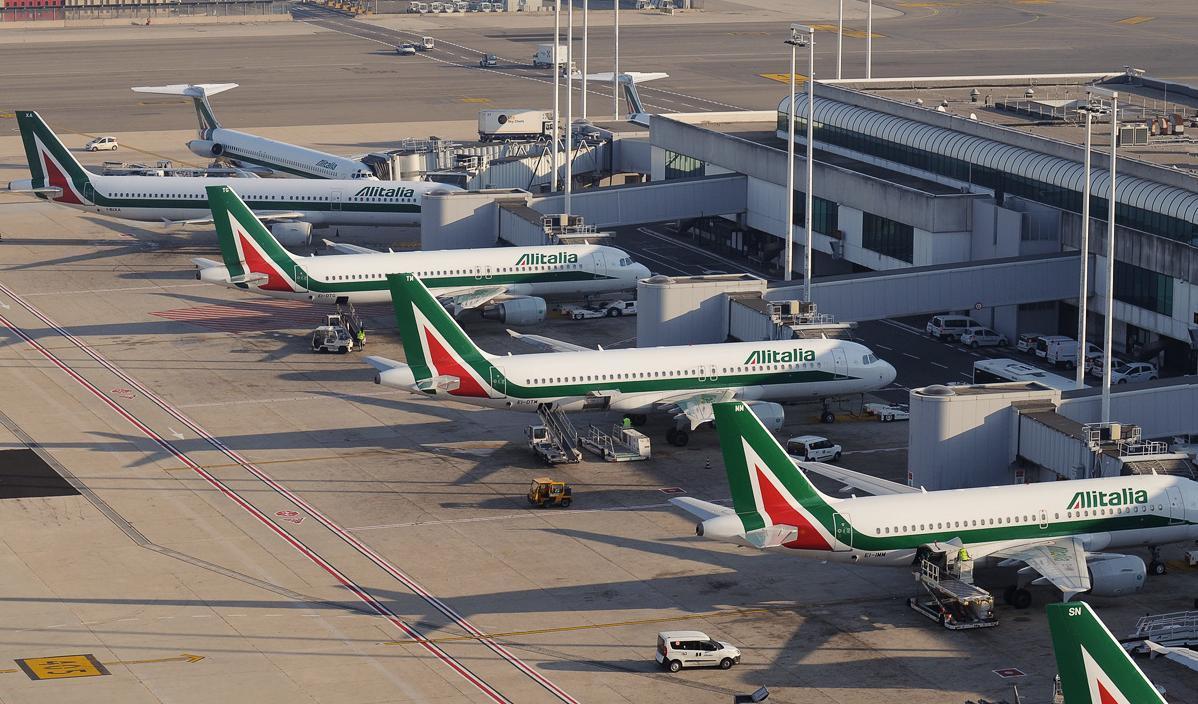 It can be nerve racking trying to figure it out by yourself if you haven't been there before. But don't worry – not only is it super easy, you have several options at a variety of price points. Assuming you will be overnighting in Rome, let's check out some options:
1. Your Landlord or Hotel
The first thing to do is check if your vacation rental or hotel has a car or shuttle service. Most don't have shuttles but in general they have drivers they work with and refer to their clientele.
The cost for a private driver to be waiting at the airport to greet you and bring you into the city is 50 euros. This is a standard rate, don't pay more than 50.
2. Private Car Service
If your accommodation can't provide someone, check online for car service companies. I always, always double check them on Trip Advisor. They should have tons of great reviews across a decent stretch of time. Make sure you actually read the reviews, and check for details such as is there repetitive language (if English is not the primary language scammers will make the same grammatical mistakes over and over).
Two of the well know private car companies are Welcome Pickups and Kiwi Taxi. I haven't used either as I have my own drivers from my tours, but both have a great reputation. Just make sure you read reviews before booking.
In Italy vendors take Trip Advisor very seriously. They proudly post stickers on their businesses and many will ask you to write a review for them. Honestly it makes everything so much easier!
Car service/private drivers are often (but not always) minivans. If there are several of you make sure you check at the time of booking. The standard rate door to door is 50 euro.
Don't ever go with someone who solicits you at the airport. The legit companies, both private drivers and taxis, don't have people approach people at the airport. Ever. Anyone who approaches you offering car service or taxi service is up to no good.
3. Taxis
Taxis at Fiumicino airport are regulated. Rome's taxis are white with a taxi sign on the roof and the city taxi insignia Commune di Roma, and numbers on the doors and the back, as well as inside the car.
You pick up your taxi from the taxi rank outside the terminal. They are single file, and all look the same so you won't make a mistake.
There is a flat fare from the airport to the city, 48 euros. This includes luggage.
If you are not going inside the city walls then your fare will be metered and there will be a fee per bag, but 99% of the time you will be staying inside the walls. You need to make sure you are being charged the flat rate before you get in the taxi.
I here lots of stories about people getting scammed by taxi drivers, but as much as I use cabs in Rome I have never ever had a problem.
One thing to bear in mind with taxis is that most of them are small. If there are several of you, you will either need to take multiple taxis or use a car service.
4. Uber
Unlike Paris where there are Ubers everywhere, in Rome they are fewer and further in between. I sometimes hear they are being outlawed but as far as I know they still exist. They don't offer regular uber service though, and the fare from the airport into town is around 65 euros, making it the most expensive option.
5. The Leonardo Express
If I don't use a private driver/car service I use a train + taxi combination.
From Fiumicino there is an express train inside the terminal that brings you into Rome to the main train station, Termini Station. The Leonardo Express departs every 15 minutes throughout the day and then every 30 minutes during the early morning and late evening. It takes 32 minutes and costs 14 euro.
Once you arrive at Termini the main taxi stand is at Piazza Cinquecento, straight through the main doors of the station.
Another option is to turn right as you leave the platform area and walk through that entrance (which is what I do) and you will see a taxi stand on your left.
Again you will be approached by people offering car service and taxis. The legit taxi drivers can't do that. They pull into the taxi ranks in the marked areas, in official Rome taxis.
One word of warning, last summer my flight was delayed and I arrived into Termini late at night. There were no taxis at the train station. I was on my way to Florence and missed the last train, so had to get a hotel for the night (thank God for the Hotels.com app) I was able to walk down the street to the hotel, but it could have been problematic had I been going further.
6. Trains
When I fly into Rome but am heading to another city I take the Leonardo Express to termini and then pick up my next train. It is super simple and efficient.
New Train Service
In December 2018 a new train service started, taking you in one step from Fiumicino airport to Florence and Venice. I haven't used it yet and haven't spoken to anyone who has, so can't review it. (yet!)
You can find it on the Trenitalia website. At the time of writing this post there were few direct trains per day, most of the options use the Leonardo Express and Termini station, but keep an eye on it – I am sure they will add more trains as the service gains popularity.
Local Trains
There are local trains that will bring you into the city very inexpensively (around 8 euro) but they stop at multiple stations and you will probably need to catch a taxi from the station. Also the small stations don't always have elevators, so you may end up dragging suitcases up and down stairs.
7. Buses
There are bus companies that bring you into the city but again I haven't used them. Once you are in the city you will still need to get a taxi to your hotel/apartment, so I'm not sure there is any good reason to use them. They take longer than other transport to bring you into the city, but at only 5 euros per person are the cheapest way in. The bus stops at two places, Piazza Cavour and Termini. Terravision is a well know bus/coach company that does the airport to city run. The coaches are nice and modern and store your luggage underneath.
Recommended
You need to remember that chances are you will arrive to Fiumicino airport exhausted from your international flight, so you want to make your arrival as easy as possible. It can be well worth your while to book a private car service to take you door to door, especially if there are more than one of you. The cost of the Leonardo Express for 2 people is already 28 euros, add a taxi at the other end and you will have spent more than 50 euros anyway.
Even though I have traveled in and out of Rome more times than I can even remember and know the city pretty well, if I were arriving at night I would have a driver meeting me at the airport.
My new book Glam Italia! 101 Fabulous Things To Do In Rome comes out soon! Join my Private Members Newsletter to get updates and discount options. You definitely want to read this book before traveling to Rome!
Are you planning a trip to Rome? Download my free PDF of The Best Rooftop Bars in Rome HERE
Avoid the tourist crowds and discover amazing things to see and do in Rome! My internationally best selling book Glam Italia! 101 Fabulous Things To Do In Rome introduces you to fantastic secrets hiding in plain sight, right in the heart of the historic center of Rome. It will make you fall in love with the Eternal City. Get your copy anywhere in the world on Amazon.