If you are traveling to Italy anytime soon (or ever!) there are 3 things you can pretty much guarantee you will eat at least one time while you are away.
Pasta. Pizza. Gelato.
Some people are lucky enough to have a digestive system and a metabolism that lets them run wild with all three, others of us have to be selective as to how many times we can indulge while away. Whether you fall into the once only category or the multi times per day group, you have to make every time count.
Today we are talking gelato, Italy's answer to but 1000 x better than, ice cream.
So what's so hard about ordering ice cream you say? Well, there's a little more to it than meets the eye.
It Starts With Where You Buy Gelato
This is in my opinion the most important factor when getting a gelato.
With tourism being so huge in Italy (it is one of the most visited countries in the world) gelato chains started popping up everywhere. Mass made, factory made ice cream with added color, added sugars, added God-only-knows-what. Chain store gelato doesn't taste as good and can be so over sugared that it bites the back of your throat. As authentic as a Big Mac and with a provenance and nutritional value equally as questionable, these are not the places to buy gelato in Italy.
Their gelato either ships in frozen or is made from a packet. This is not the gelato you traveled across the world to eat!
Gelato franchises/chains are always scattered through the high tourist areas and are generally very close to major tourist attractions. If you have read my book Glam Italia! How To Travel Italy: Secrets To Glamorous Travel (On A Not So Glamorous Budget)
then you already know to avoid tourist trap eateries of any kind!
Always Buy Artiginale
Everywhere you go in Italy you can find fantastic, artisanal or artiginale gelato shops. These are owner operated stores where gelato is made freshly each day from fresh ingredients. The taste, texture and quality are superb. Think of it as chain store gelato being like eating Kentucky Fried Chicken versus artisanal gelato being like fine dining. Technically both will fill your belly but the experience is drastically different!
Artisanal gelato flavors tend to be only what is in season. You won't find strawberry year round.
Some artisanal shops only make a handful of flavors each day. In Pienza my friend Nicola' from Buon Gusto makes only 6 flavors per day. When I take my Glam Italia Tour groups to Pienza I have learned to take them to his store when we first arrive, because we only spend a few hours in town and everyone always wants to go back for another gelato before we leave!
Explore the Flavor Profiles
Artiginale gelato shops offer some really fascinating flavor combinations. Don't order the flavors you do at home – try something different! Look for things like raspberry and rosemary, peach and sage, figs and honey.
They always offer samples so you can try before you buy. I find the more unusual the flavor combination (unusual to us, quite normal to them) the more amazing the gelato is. I always try anything with lavender, sage, basil or rosemary as they give such a fantastic flavor to gelato.
On one of my tours one of the travelers tried orange,carrot and spinach gelato, the thought of which wasn't overly enticing, but it was so incredibly good we all ended up going back and ordering one!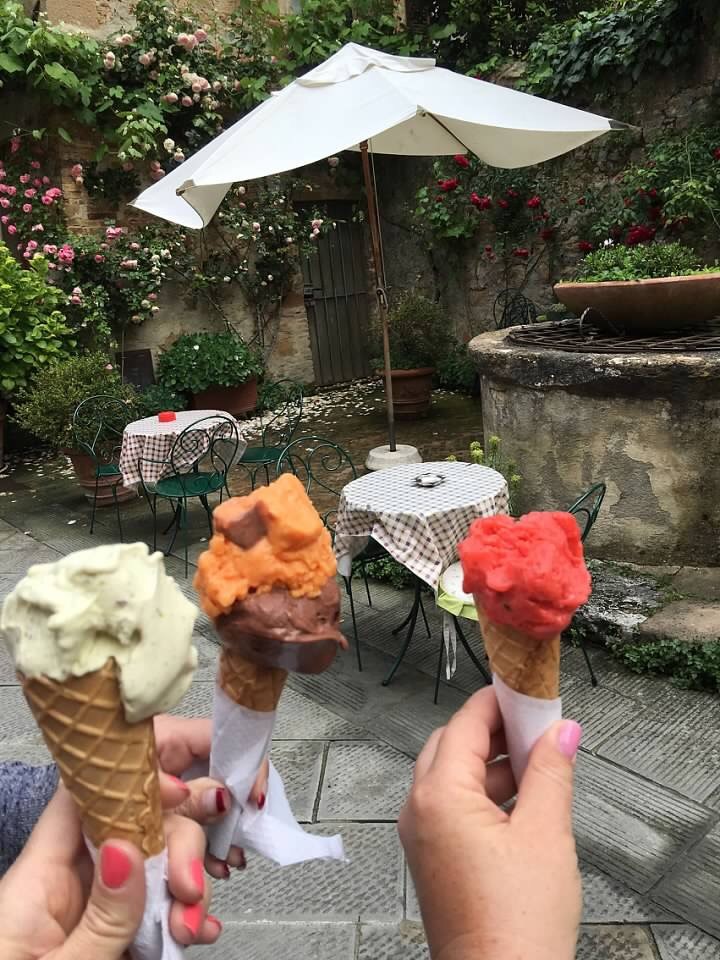 Mix It Up
Can't decide which flavors to order? Try a scoop each of two or three!
Don't be surprised if they refuse to pair the flavors you want or if they look at you funny. They get so invested in their creations and your taste experience is so important to them that sometimes they won't want to put two flavors side by side.
One time in Sorrento a gelato guy refused to give me 2 flavors together. It was pretty funny! I couldn't decide between the two so in the end he gave me 2 separate cups each with one flavor, then told me which one I was to eat first. He wasn't being a jerk, it was because he didn't want me thinking his gelato flavors were bad.
I go back every time I'm in Sorrento, which is multiple times per year, and now he just chooses two flavors that play nicely together for me. And I feel no guilt at having two scoops either, because the walk up the hill to the apartment I rent there is savage, so I'm convinced I burn it all off on the way home…
How Can You Tell If It's Artiginale?
Most artisanal or artiginale gelato shops will proudly post signs saying they are artiginale/artisanal. You can also just google artiginale gelato near me and get walking directions, invariably just around the corner from where you're standing!
An easy way to tell if gelato is artisanal or not is to just look at it. Chain store/mass made/made from a packet gelatos tend to have punchy, bright colors, whereas artisanal gelato colors tend to be more dull.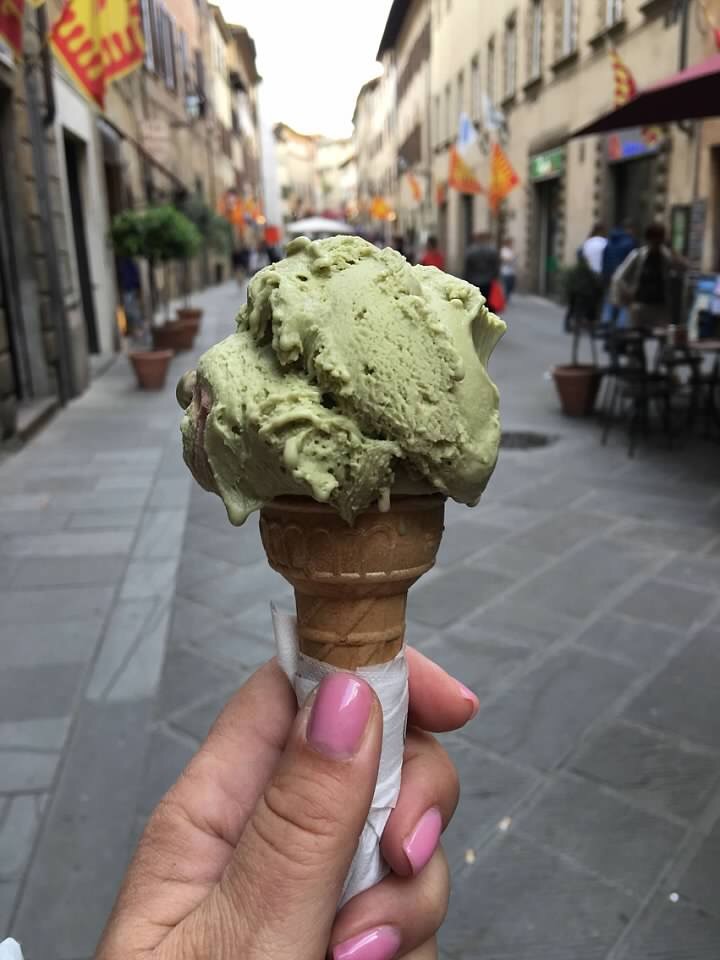 Gelato made with fresh strawberries will be a slightly dull pinkish hue, whereas mass market strawberry gelato will be bright pink. Another one to look for is pistachio, a flavor you will find year round. Artisanal pistachio gelato will be a dull, mossy or grey/green whereas mass market pistachio will be a vibrant green.
Have you read my books yet? Glam Italia! How To Travel Italy: Secrets To Glamorous Travel (On A Not So Glamorous Budget) and Glam Italia! 101 Fabulous Things to Do in Rome: Beyond the Colosseum, the Vatican, the Trevi Fountain, and the Spanish Steps
are both available worldwide in paperback and on Kindle and the Kindle App. Both books are bestsellers and will change the way you experience travel in Italy!
Look For Locals
The best gelato shops are like the best little local eateries – heavily populated by Italians. Watch where they go, and buy your gelato there! Sometimes you will see long lines of people stretched out across the piazza waiting to buy gelato. At Dondoli Gelato in San Gimignano the lines get crazy long and sometimes stretch beyond the well in the middle of Piazza Cisterna, but the gelato is award winning and is definitely worth the wait. Funnily enough the café across from it also sells gelato and never has a line. Those in the know prefer to wait and have the good stuff.
This tends to be a really good sign, unless it is a bus tour and that's where the tour guide told them to go. Bus tour groups are generally easy to spot though – if everyone in line looks like a tourist, this is not the place for you to be!
If you can't spot a good gelato shop don't worry – ask a local. There is always a good gelato shop close by.