When I am going to be traveling anywhere I like to read books set in that place before I go. It's fun stumbling upon places you've read about and being able to recognize shops and restaurants and landmarks from a book, but also you can discover places you had never heard of before that may be close to where you are going or perhaps are just a train ride away. Adding these spots to your itinerary can end up being the highlight of you trip!
*I own a Kindle but before that read everything on the Kindle App (on my iPad.) Books purchased via Kindle (or using the Kindle App) are very inexpensive, averaging about $3.99 *Many authors will mark their first in series free and do box sets very inexpensively. *If you subscribe to Kindle Unlimited you get as many books as you want, for free. You can cancel at anytime and keep the books you have downloaded. A subscription to Kindle Unlimited is $9.99 *If you have Amazon Prime you not only have access to Prime TV, movies and music but also to free books and magazines. Amazon offers a free 30 day trial to Prime. Links: Kindle, Amazon Prime Free Trial , Kindle Unlimited Subscription
Books can help you get into the travel vibe, or when you get home can keep the magic alive for a while longer. Some of the books on this list are novels, others are autobiographies.
The books on this list are all available on Amazon and have affiliate links.
Here are 15 books set in Italy:
Four retired women decide to pool their resources and rent a villa in Tuscany for a year. As the story unfolds you get a look not only at Tuscany but also other parts of Italy, meet some fun local characters and get to enjoy the adventures and love affairs of the four protagonists. This book is fabulous and is wonderful for all ages. Women In Sunlight.
After a devastating divorce California native Laura Fraser eventually decided to go to Italy to visit some friends. Unexpectedly in the midst of her heartache she met a lovely and complicated man with whom she then embarked on an affair that lasted for years. This gorgeous autobiography is perfect for anyone who has ever secretly dreamt about finding a fabulous man while on vacation and having an affair with substance that continues as the years roll by. Over the course of several years Fraser takes you all over Italy and introduces you to some places you probably have never heard of before. An Italian Affair
Pellegrino has many books set in Italy and all are wonderful. This one finds her protagonist at a crisis point in her life. She stumbles across a house swap website, finds a beautiful old summer villa in southern Italy and is able to do a swap with her little London flat as the villa owner needs to work in London for a few months. The story that unfolds is just gorgeous and will leave you dreaming about a house swap of your own! This is one of several books Pellegrino has written that center around the same house, the Villa Rosa. Each of her stories set at the villa will leave you dying to spend a summer there. Under Italian Skies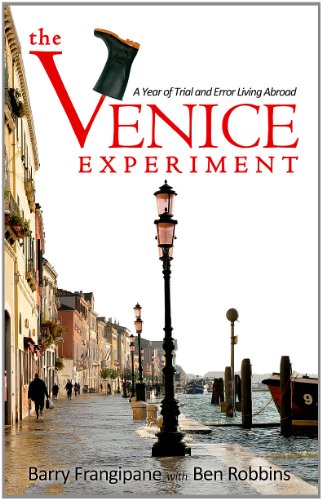 After traveling to Venice several times Barry and his wife decided to take a year out from their life in Florida and live in the most unique city on earth. This book is different from most of the expat-living-abroad stories in that they rent, not buy and only spend one year. The story is delightful and funny and inspiring, exposing the reader to a slice of Venice most tourists don't see. It is also incredibly relatable because they are just normal folk who bring their computers and work from home. They make you realize that you don't have to have great wealth to do something like this, which opens up endless opportunities to those of us who would love to do something similar. The Venice Experiment
2017 and Francesca Hackett is living la dolce vita in Rome, leading tourist groups around the Eternal City and forgetting the ghosts she left behind in London. When she finds a stolen designer handbag in her dustbin and returns it, she is brought into the orbit of her grand neighbour who lives across the piazza – famed socialite Viscontessa Elena dei Damiani Pignatelli della Mirandola. Though the purse is stolen, Elena greets the return of the bag with exultation for it contains an unopened letter written by her husband on his deathbed, twelve years earlier.
Mutually intrigued by each other, the two women agree to collaborate on a project, with Cesca interviewing Elena for her memoirs. As summer unfurls, Elena tells her sensational stories, leaving Cesca in her thrall. But when a priceless diamond ring found in an ancient tunnel below the city streets is ascribed to Elena, Cesca begins to suspect a shocking secret at the heart of Elena's life. The Rome Affair
Food and Travel writer Diana Armstrong buys and renovates a 400 year old home in a tiny town not far from Orvieto. Once again the cast of local characters is fascinating and fun, the local history is intriguing and you will be left wanting to buy your own home in Italy. I particularly loved when her friends would come visit from the US, and all the food shopping and preparation Armstrong does. Somewhere South of Tuscany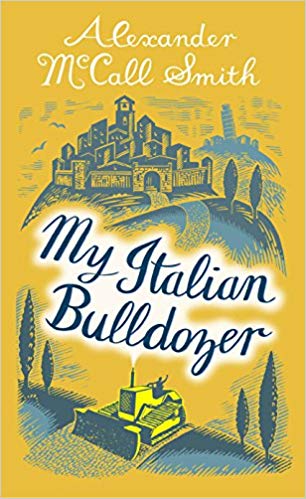 Paul Stuart, a renowned food writer, finds himself at loose ends after his longtime girlfriend leaves him for her personal trainer. To cheer him up, Paul's editor, Gloria, encourages him to finish his latest cookbook on-site in Tuscany, hoping that a change of scenery (plus the occasional truffled pasta and glass of red wine) will offer a cure for both heartache and writer's block. But upon Paul's arrival, things don't quite go as planned. A mishap with his rental-car reservation leaves him stranded, until a newfound friend leads him to an intriguing alternative: a bulldozer.

With little choice in the matter, Paul accepts the offer, and as he journeys (well, slowly trundles) into the idyllic hillside town of Montalcino, he discovers that the bulldozer may be the least of the surprises that await him. What follows is a delightful romp through the lush sights and flavors of the Tuscan countryside, as Paul encounters a rich cast of characters, including a young American woman who awakens in him something unexpected.

A feast for the senses and a poignant meditation on the complexity of human relationships, My Italian Bulldozer is a charming and intensely satisfying love story for anyone who has ever dreamed of a fresh start. My Italian Bulldozer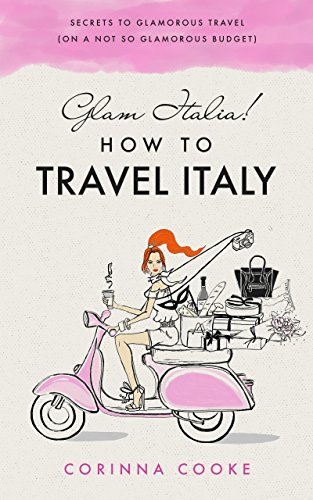 Don't forget my books! Both are best sellers and both are available on Amazon worldwide. Glam Italia! How To Travel Italy (Secrets To Glamorous Travel On A Not So Glamorous Budget) and Glam Italia! 101 Fabulous Things To Do In Rome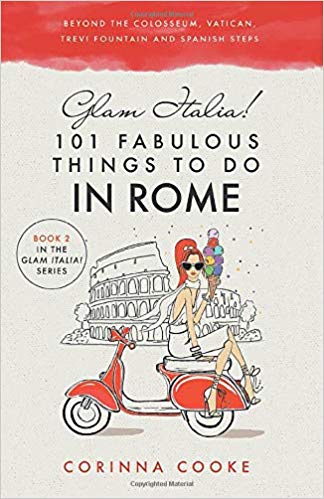 8. Inferno by Dan Brown
In the 4th story about symbologist Robert Langdon (Angels and Demons, Da Vinci Code and The Lost Symbol) he inexplicably wakes up in a hospital in Florence with a head injury, memory loss and an assassin hunting him down. With a mystery bound up in Dante's Inferno, the story takes you through Florence then on to Venice as Langdon tried to figure out the clues left by a dead billionaire who had planned the release of a virus to cull the world population.
Not only an exciting and fast paced read, this book will inspire you to make your own Inferno walking tour of Florence. (Or join one of the guided Inferno walking tours!) Inferno
After a tragic shooting at the University of Texas, classics professor Sophie Chase along with her star pupil and some colleagues takes on an academic project in Naples. A villa has been discovered after being buried for nearly 2000 years in the eruption of Mount Vesuvius, along with a trove of documents. The discovery leads them on a chase involving an ancient mystery, 1st century nobles and a slave girl at the heart of an ancient controversy.
Their billionaire benefactor puts everyone up at a villa he owns in Capri, from where this fast paced murder mystery moves back and forth across the bay of Naples with plenty of twists and turns. Whatever shocking events transpired in the face of Vesuvius's fury have led to deeper, darker machinations that inexorably draw Sophie into their vortex, rich in stunning revelations and laden with unseen menace.
This is especially good for anyone who enjoys mysteries, Pompeii and Mount Vesuvius, and will be traveling to Naples or Capri. The Night Villa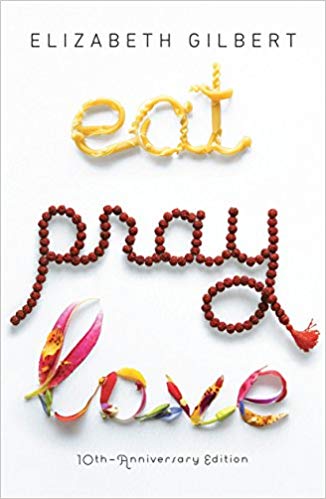 Facing a post-divorce early mid-life crisis, writer Elizabeth Gilbert decides to spend a year traveling alone through 3 countries, Italy, India and Bali, in order to feed her soul, become more spiritually aware and shift her perspective on romance. The first third of this year takes place in Rome and focuses on the food she eats, the things she sees and the lifelong friendships she makes.
Eat, Pray, Love is a gorgeous book that spent 4 years on the New York Times Bestseller List before being made into a movie. Eat, Pray, Love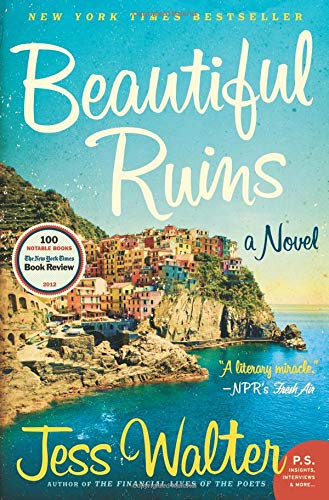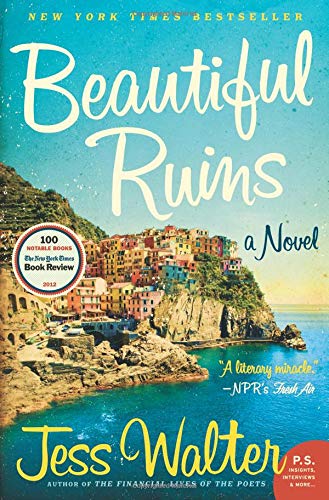 In 1962 while Elizabeth Taylor and Richard Burton were making headlines in Rome, an ingénue arrives by boat to a little town just beyond the Cinqueterre. This beautiful story of an actress, a novelist and an innkeeper with a dream combines a little intrigue with 1960's Hollywood and life on the coast of Liguria. Spanning 50 years, this is a gorgeous story will keep you engrossed until the last sentence. Beautiful Ruins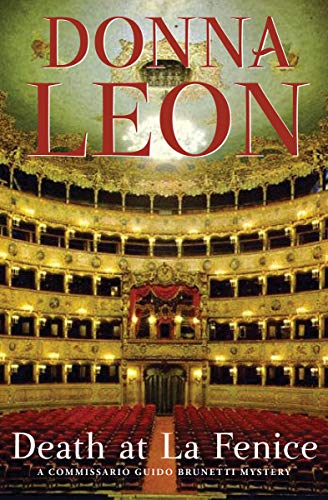 This is first in a murder mystery series set in Venice. Local police detective Commissario Guido Brunetti investigates the murder of a much disliked but brilliant German conductor during the intermission at the La Fenice opera house. He works his way through the mystery with the backdrop of Venice, its culture and somewhat dirty politics. This entire series is tremendous, especially if you are going to or already love Venice. Death at La Fenice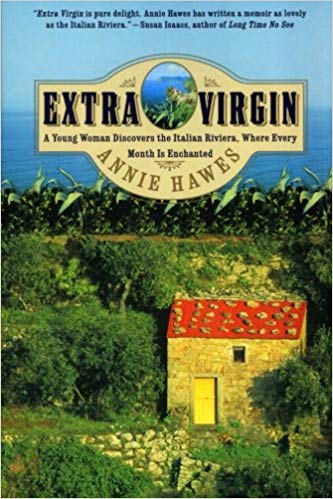 This autobiography is first in series about two sisters who decide to escape the dreary British winter and run away to a hilltop town in Liguria to work the season in a rose grafting business. (Not knowing anything about roses). Of course nothing goes as planned, but they fall in love with this crazy little town and end up buying a rundown cottage which is really not much more than a shed and costs them less than a used car.
With a non-existent budget they slowly renovate the cottage not only making it livable but also building themselves a new life.
This series is hilarious and inspiring and once again will have you planning to buy a little old place somewhere beautiful in Italy. Extra Virgin (Amongst The Olive Groves of Liguria)
Another first in series autobiography, this one will make you fall in love with southern Italian life.
When Australian Chris Harrison went to Dublin he never dreamed his life was about to change forever. He met the love of his life, Daniela and before he knew it moved to her southern Puglia town of Andrano.
This autobiography not only takes you through this gorgeous part of Italy with its whitewashed towns, olive groves, incredible beaches and cobblestoned streets, but also takes you along on his journey dealing with every day life. He has to deal with the infuriating bureaucracy and with Daniela's mamma who is determined to convert him to Catholicism and build an extension to her house for them to live in.
Funny and engaging, this book will have you planning a trip to beautiful southern Puglia! Head Over Hell (Seduced By Southern Italy)
The true story of Frances and her husband Ed buying and renovating an old home in Tuscany. Endlessly enjoyable more than 20 years after first being published, it will make you dream about buying your own villa in Tuscany. If you have watched the movie you can still enjoy the book as other than the house being called Bramasole, the town being Cortona and there really being a team of Polish workers, the two stories are vastly different. Under The Tuscan Sun
Are you planning on traveling to Italy any time soon (or ever)? My Private Members Newsletter comes out twice each month with helpful information for travelers to Italy. From foods you need to try to festivals happening to secret places most tourists don't know about, it's all in the newsletter. Join the newsletter HERE