Whether you have a trip to Italy coming up and want to learn a few things to say, or whether you are moving there for work and need to dial up your Italian skills, or maybe you just want to learn the language for fun, today I want to tell you about some of the ways I learn and improve my language skills, and also the online course I use to learn and practice Italian at home.
This post contains affiliate links
Why Learn Italian?
I have a slightly different approach to most people. I'm not trying to be perfect at the language, and don't stop to think how to conjugate a particular verb, or what is the grammatically correct way to say something. Although I have been learning both along the way, and definitely am 1000x better than I was before. My entire goal with learning Italian is to be able to participate.
I want to be able to join the conversation, chat back and forth with anyone and everyone, and understand what's going on. This to me is where the fun lies in a new language and in traveling to a country that uses that language. And I have to say, I have no end of fun practicing my language skills on anyone who will let me!
Italians are really fun loving, gregarious people, so when they see you making an effort they are more than happy to help you out.
In the picture above I was talking to a lovely gentleman, Silvio. He talked to me about his zucchini flowers, his garden at the end of the street, and then over coffee he told me all about growing up in this little town in the Maremma (southern Tuscany). He told me about his brother walking home from the war after being a prisoner in Russia, arriving home barefoot and just skin and bone. And he told me about his wife who died 32 years ago.
Part of the reason I could talk to him about so many diverse subjects was the online course I use to learn Italian. It's called Italian With Davide.
Speaking The Language Adds To The Fun
In another little town nearby, the lady in the cheese shop was great fun and loved that I was at least trying to speak in Italian. She taught me a bunch of cheese related words, then put me behind the counter to prank some of the locals. (My friend Anna video'd it)
Anyone who speaks Italian will pick up on the mistakes I made, but it's a great example of the fun you can have even just speaking a small amount. In this case all the other shop owners along the street could hear us all shrieking and laughing and came in to join the fun. I ended up making loads of friends, which was handy because I was staying there on my own for several days.
You may not want to be pretending to be working in a cheese shop, but you can see how using the language adds to the experience!
What Else Do I Do?
Taking a course isn't the only thing I do to learn Italian. I watch Italian movies and TV shows with subtitles on (Prime, Netflix, You Tube). I also do Italian Reader books like this one and this one and this one. (I have them on Kindle/the Kindle App, so can read a little bit or do some comprehension questions while out and about/on a lunch break/while I'm getting an oil change etc.)
But those things only work if you have something more structured going on as well, which is why Italian With Davide course work so well for me.
The Courses
Italian With Davide has three courses based on your level and ability. The courses are Beginner, Intermediate and Advanced.
Each course is broken up into lots of small modules. You do them at your own pace, and you can reach out for help when/if needed. There are even chat rooms where you can practice with other learners around the world who are doing the same course as you!
I normally only have time to do a couple of modules at a time, but I do them most days. When I get to the end of a course I often start back over, and keep repeating modules. For me and for the way I learn, this is super helpful. Once you've bought a course, you own it and can do it as many times as you want.
Lots of course members do it on their phone while they commute to work. I prefer to do the course at home, but you have all kinds of options.
Some of What You Learn
What I have found super helpful is that you learn real world things that you can actually apply to real life when you're there.
One example for me was on a boat excursion in Abruzzo this past summer. (If you belong to my newsletter you will already know this story)
I was the only English speaker on the boat. Apart from the captain and the first mate there was a group of 4 women about my age, and then another group of girls doing a bachelorette party day. In one of Davide's modules you learn about weddings, and the vocabulary of weddings. I had never thought I would actually use those words, but then here I was, on a boat with a bridal party, able to participate in a conversation about the dress, the bridesmaid, the ring, the flowers, the cake – you get it.
What's In The Courses
You learn all kinds of things that you actually use in real life, and each lesson is broken down so that you learn to pronounce things properly, learn the vocabulary, grammar and expressions. It's wonderful!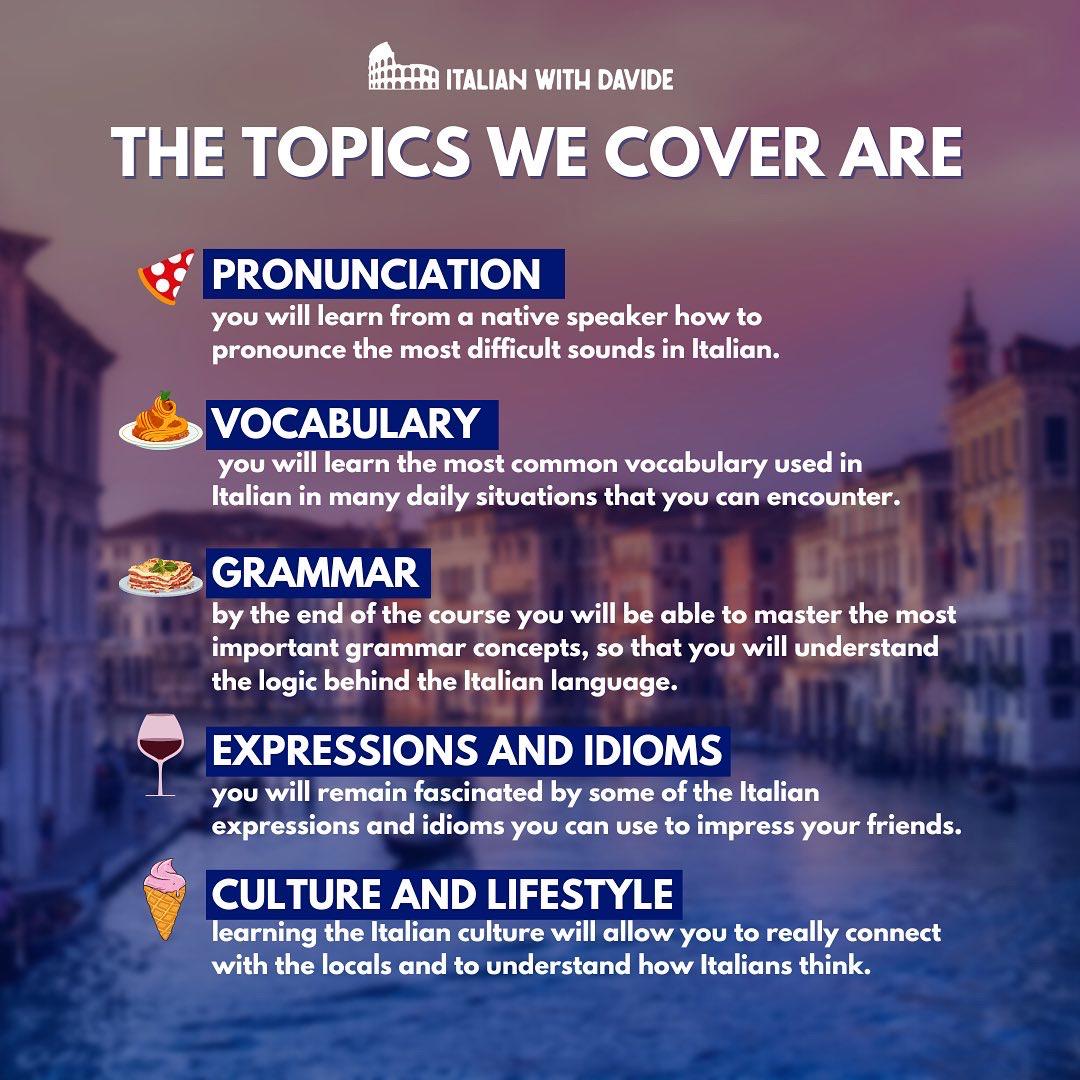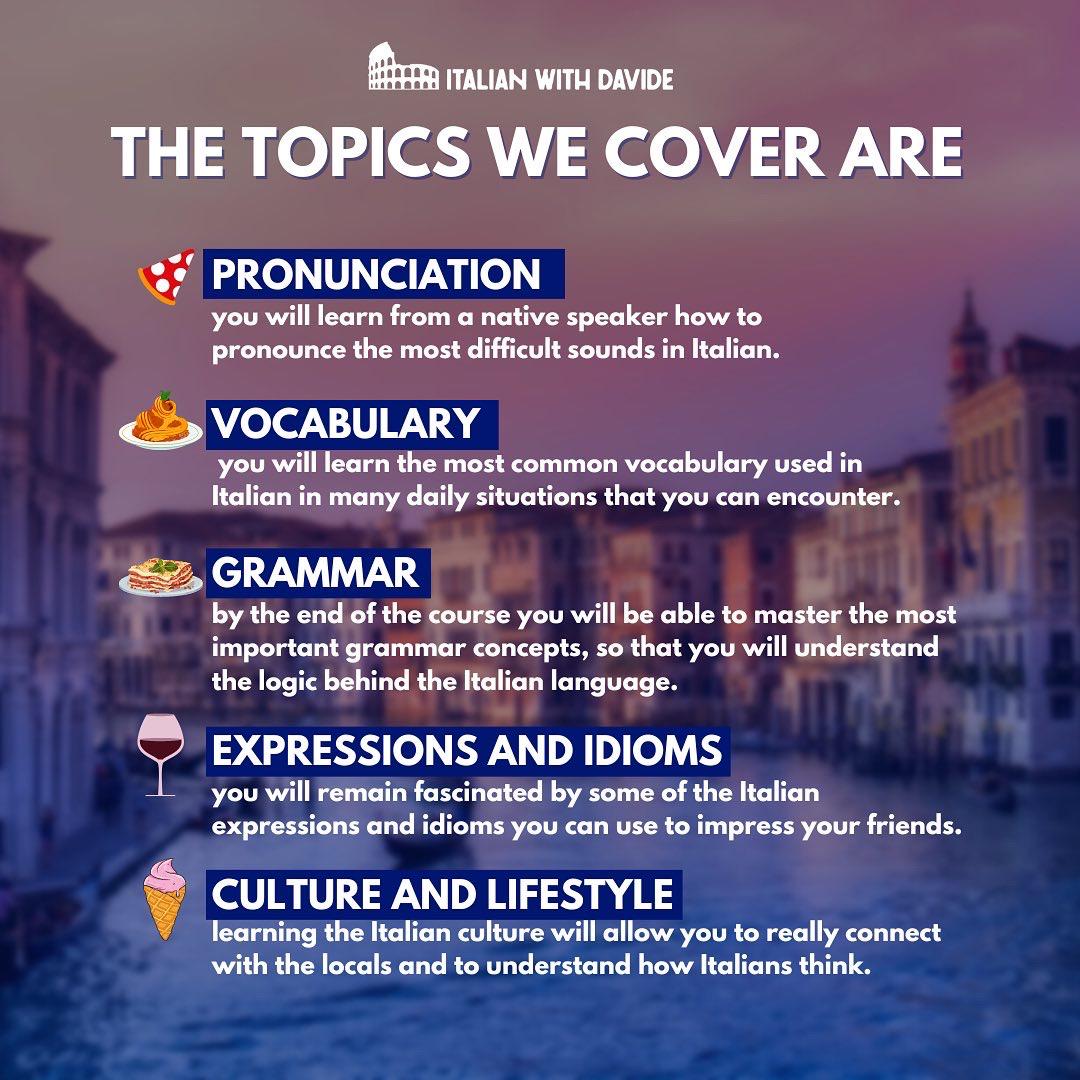 How To Get The Course
Italian With Davide opens for registration several times each year, for about 5 days at a time. If you are reading this before Black Friday 2022, there is a HUGE sale coming up. The biggest discount Davide has ever given. (I, of course, bought all of mine full price a couple of years ago.)
Because the registration is only open for 5 days normally and 3 days over Black Friday 2022, if you are interested or want more information, you should get on Davide's email list, so that you get notified. For most of the year I don't pay attention to when the course opens – I already have mine. So being on his email list is the best way to stay informed.
If you want more information about travel in Italy, places the tourists don't know about, what to eat in Italy, and endless Italy travel tips, join the thousands of people worldwide who get my monthly newsletter. It's free and it's really cool! Get the newsletter here.