Are you one of those lucky people who can fall into a deep sleep on a plane? I used to be, what feels like a lifetime ago, but the past ten or fifteen years I have really struggled with sleeping on planes even on long haul international and night flights.
When you take long international flights and don't sleep it can often cost you the first day or two of your trip, with debilitating jet-lag and travel fatigue.
If you can't fall into a deep sleep when you fly there is still considerable value in getting some quality power naps. The following tips will help you to either get some good naps in during your flight or to get into a decent sleep.
How To Sleep On A Plane
1. Bank Sleep.
Avoid boarding your flight exhausted. The more tired you are the harder it can be to fall asleep. I used to work right up until the last minute and would end up boarding my flight too exhausted to sleep. Then I would be stressing about not getting to sleep, which in turn kept me awake.
Now I bank sleep in the week leading up to my flight. Even catching an extra 15 to 20 minutes sleep per night can make all the difference in the world, and believe it or not actually help you to drift off during the flight.
2. Go Easy On The Booze…
Alcohol can dehydrate you during a flight and stop you from falling into a decent sleep. Ideally don't drink any alcohol on a flight you want to sleep on, but if you have to have a glass of wine with dinner, stop at one. Sleep specialists disagree with the concept that a few drinks will lull you into sleep, arguing instead that they will keep you awake.
Your body starts to dehydrate while you are flying anyway, but compounding it with alcohol can really make you feel hellish when you land, even if you have drunk yourself into a slumber.
3. Avoid Salty Snacks
Choose your snacks wisely. Salty snacks like chips and nuts and sugary snacks like cookies, candies and sweetened food bars can also prevent you from sleeping and cause your body to dehydrate and swell up. Your best bet is to pack healthy snacks that are easy to digest and that are low sodium/salt and low sugar, and ignore the salty snacks on the beverage cart.
4. Be Very Careful With Sleeping Pills
Plenty of doctors will write you a prescription for a sleep aid, but proceed with caution. Make sure you take any sleep medication for a test run prior to flying. Some sleep medications can leave you feeling drowsy and lethargic when you land, others don't end up putting you to sleep and just leave you feeling drugged and foggy.
Be very, very careful not to combine alcohol and sleeping pills as things can really go sideways at 35,000 feet. Be especially careful taking Ambien when you fly. If you have ever witnessed someone get crazy on Ambien you will know what I mean here. Google Ambien Zombies and you will see what I mean. There are endless stories of passengers getting naked, climbing on other passengers, wandering around planes in a drug stupor. And they have zero recollection of it once the drug wears off.
Last summer I had a house sitter go crazy on vodka and Ambien while I was in Italy. She has zero recollection of it, but during a 36 hour rampage wrecked tens of thousands of dollars worth of damage on my house. I had to take out massive loans to get my house fixed. I cannot imagine what would happen if that kind of crazy occurred at 35,000 feet! Technically the flight crew could put the passenger in restraints, but the screaming and carry on would continue throughout the flight. Don't let that be you.
5. Dress For Comfort
I'm a big believer in looking stylish or at least decent when I fly (always channeling the business class upgrade!) but at the same time dressing comfortably. I avoid flying in jeans or anything too fitted or restricting. Most people swell when they fly, so jeans that are totally comfy on the ground can become torture devices during the flight.
If you are flying in the main cabin you have very limited space to get comfortable in so it is important that you aren't overly constricted by your clothing. Wear layers that you can add on or take off accordingly, and be aware that planes can get very cold. It doesn't hurt to have a soft sweatshirt or hoodie that you can roll into a pillow. I have yet to find a neck pillow that actually is even remotely comfortable…
6. Time Your Slumber
This is more of a jet-lag /travel fatigue avoiding measure, but having a plan in place seems to help with actually getting to sleep too.
As soon as your flight takes off change your watch to the local time at your destination, and try to adjust your sleep time accordingly. Try to time your sleep for nighttime at your destination. That can mean trying to sleep during the first half of a flight going east or the second half of a flight going west.
So if you are flying Los Angeles to Singapore, sleep the first half of your flight, and if you are flying Los Angeles to Rome sleep the second half of your flight.
7. Choose Your Seat Wisely
It is definitely worthwhile paying a little extra to choose your seat, and as most travelers are already clued in to this that means booking your seat when you book your flight.
Window seats give you a wall to lean against, aisle seats mean you have to get up each time the middle or window seat people want to walk or go to the bathroom.
Exit row seating tends to have more legroom but there is nowhere to store a bag during takeoff and landing.
I use an app called Seat Guru to find the best seat on the plane. Some are too close to the toilets so get both noisy and smelly. Others don't have full recline or have entertainment units under the seat in front, cancelling out your legroom and ability to stretch.
8. Explore Your Seat
I always see other passengers not using and not knowing about the features their seats offer.
Some planes have seats with more features. Check to see if your headrest bends to hold your head (saving you neck pain). Some seats don't just recline, but the bottom slides forward, giving you even more comfort. Premium Economy typically has a bar that drops down below the seat in front of you, allowing you to raise your feet. Having your feet raised even a few inches changes not only comfort, but swelling, and can help avoid the dreaded DVT – this is huge. Make sure you are not front row Premium with no seat in front!
There are lots of features on newer plane seats that can make a huge difference in your comfort level, which in turn can help you to sleep. Every little detail counts!
9. Accessorize.
There are a variety of accessories you can bring along to help you get to sleep.
Ear plugs or even better, noise cancelling headphones, not only tune out neighbors conversation but also the incredibly annoying, sleep preventing, engine hum.
Sleep masks will help block the blue light from other passengers' TV screens.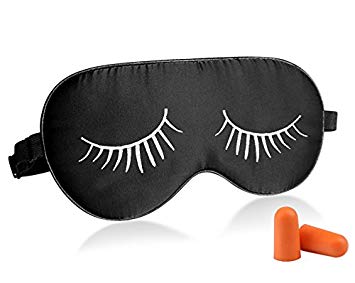 Essential oils can help you fall asleep and also knock out any unpleasant smells wafting around. If you suffer from allergies the pressurized air in the cabin can wreck havoc on your sinuses. A little eucalyptus oil on a cotton pad can work wonders to keep you breathing clearly and alleviate sinus pressure, in turn helping you sleep.
BYOB – Bring Your Own Blanket airline blankets can be totally sketchy, so you always want to have a scarf/shawl/pashmina that you can use as a blanket or bundle up in to keep you warm.
10. Download Sleep Apps.
Download a sleep assisting app prior to departing.
From yoga nidra to binaural beats to apps like Sleep Pillow that allow you to create white noise playlists of different water and rain sounds, there are tons of sleep enhancing apps to put on your smartphone.
I have dozed off on plenty of flights listening to the sound of rain pattering away on a tent on my Sleep Pillow app!
Hopefully these tips will help you get some shuteye on your next long haul or overnight flight! If you think of any others please leave them in the comments section below.
Are you on the Private Members Newsletter list? You can JOIN HERE
Do you get overwhelmed with all the things that need to be done prior to going on a big trip? Download my Pre-Travel Checklists PDF and have it all broken down for you! Month before, Week before, Day before and Day of travel lists to take the stress out of travel and keep you on top of it! DOWNLOAD YOUR FREE PDF HERE