Rome has had enough of bad tourist behavior and is cracking down with a profusion of new rules as well as the resurrection and enforcement of old ones. In the well policed city center, which is a UNESCO Heritage Site, you can expect a hefty fine if caught violating any of the new rules. And being that the police are everywhere and that tourists tend to hang out in the main tourist areas, the chances of you getting caught are huge.
Most of these new rules really are just a matter of being respectful and behaving with a sense of decency. Some of them are really annoying, because tourists behaving badly or disrespectfully have ruined things that had been hugely pleasurable for the rest of us for years.
Keep Your Shirt On
Men will be stopped and fined for walking around shirtless. Most tourists at least keep their tops on but you do on occasion see men walking around with their shirt off. Not any more! The average fine starts at 250 euro per violation.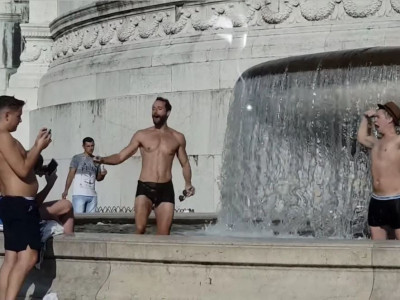 In Venice they don't allow women to walk around in swimwear, so shorts and a bikini top are a no-no. I'm not sure if Rome has this in place now too, if not it won't be far behind.
Stay Out Of The Fountains In Rome
This summer the city has (finally) cracked down on tourists getting into the city's many fountains.
Yes, we get it, you're hot. So is everyone else. The fountains of Rome are not your personal swimming pool, so don't climb in. Not only will you be hauled out soaking wet in front of everyone you will also be fined up to 450 euros
Stay Off The Monuments In Rome
Eating, drinking and climbing on monuments is now banned. Tourists eating sloppy food and dropping it all over the city monuments as well as leaving their food scraps and trash now means the rest of us can no longer sit on monument steps with a gelato, or with a drink in hand while taking in the view or watching street musicians.
I am in 100% support of banning the badly behaved tourists, and I don't want to have to clear up someone's food detritus so that I can sit down, but I am also somewhat saddened by this rule.
There have been many nights sitting on the steps in Piazza Santa Maria Trastevere watching street performers, and just as many evenings sitting on the steps with the locals in Piazza Trilussa watching the musicians with a backdrop of the Sisto Bridge and the river, with a drink or a snack in hand. It has been part of life in Rome which for now anyway, is over.
One of the experiences I have loved in Piazza Trilussa over the past decade has been sitting on the stairs with local college kids and letting them practice their English on me while some dude with a guitar, a mic and an amp sings Pink Floyd songs. This is where I learned about Roman street foods such as suppli' and tripizzini, staples for Roman college students, while they educated me on everything from local politics to current philosophy.
This is part of my aversion to American fast food chains even being in Rome let alone in the big tourist areas. McDonalds wrappers and food scraps do not belong anywhere near any monuments (or anywhere else in Rome!)
As far as I'm concerned anyone climbing on or defacing the city's monuments should be strung up and flogged.
No More Sitting On The Spanish Steps
One of the rules that will be hard to get used to is no longer being allowed to sit on the Spanish Steps. I have to preface this by saying that as a rule I avoid the area like the plague, only venturing in to go to the Nespresso store so the snooty sales assistants can be suitably rude while I stock up on coffee to bring home. (Why is it that Nespresso workers everywhere from Los Angeles to Barcelona to Rome are so rude??)
There was something so iconic about sitting on the steps looking out over Rome, and many of my Glam Italia Tour travelers have really enjoyed that little photo op. But over the past few years it has become really overcrowded, full of vendors trying to sell you bottled water and selfie sticks, and has been pickpocket heaven, so has lost some of the magic.
If you are caught sitting on the steps the fine starts at 250 euros and goes up to 450 euros if you have dirtied or damaged them. Neon vested police officers now crisscross the steps all day and will be blowing whistles at you before your bum hits the deck.
No More Dragging Luggage Down Steps
This rule is long overdue. If you get caught bouncing your luggage, especially wheeled luggage, down any of the monument steps (most famously the Spanish Steps) in Rome you can expect a heavy fine.
I have always been stunned at how people can think it is ok to drag their over-packed suitcases down ancient stairs, be it inside an apartment building, a villa or public walkways. The lack of concern for potential damage they are causing is deplorable.
Buses and Public Transport Fines
Think twice before jumping on to a bus, tram or metro in Rome without a ticket. In July of this year the ATAC, Rome's public transport company issued more than 17,000 tickets to fare dodgers.
Where formerly you didn't really see too much of a presence, this year ticket inspectors are checking an average of 9,000 people per day. From January to July of this year (2019) they have checked more than 2 million passengers, resulting in more than 134,000 fines being issued.
Leave Your Padlocks Of Love At Home
If you are thinking about attaching a "love padlock" to any bridge or monument, anywhere in the world, for God's sake just stop!
It is now outlawed in Rome, hopefully Paris will follow suit.
Here's the deal: these centuries' old bridges and iron grates were not built to withstand the weight of all these padlocks. Your one padlock may not seem like a big deal, but multiply it by hundreds and the equation changes. City workers have to cut the padlocks off (so it's a waste of time anyway) but still the weight and the constant use of bolt cutters and steel cutters is damaging to something that will definitely outlast your love for Roger.
On top of that, would be romantics after attaching their padlock then toss the key over the bridge into the river below. Cities have to dredge the river beds to collect these stupid keys. The whole thing is ludicrous and incredibly damaging, and when you think about it is no less offensive and defacing than if you spray painted "I love Roger" on the wall. If you love him so much, padlock something at your own house.
Expect to get caught and expect a big fine.
No Lips On Water Fountains
Everywhere you go in Rome you will see Nasoni, the ever running water fountains that keep Romans and tourists hydrated. Fill your water bottle or cover the opening and drink the water that spouts out, but whatever you do don't put your mouth on it!
Firstly, come on – that's gross. We all want to use the fountains and none of us want your mouth cooties. More than just being yucky behavior, it can be expensive too. New laws have made it illegal to put your mouth on the water fountain. Expect to get caught and expect to pay a fine of hundreds of euros.
Are you on the Private Members Newsletter list? This newsletter comes out twice a month and is full of great information for anyone planning a trip to Italy. Join the newsletter HERE