Next week I'm heading down to Belize for a few days. I love it when makeup jobs fly me off to cool destinations! I've never been to Belize before, so not only is this totally cool, but we are going to be on an island called Caye Caulker, with palm trees, white sand beaches and an endless ocean. I can barely wait!
I will have some down time while I'm there, and fully plan to not only get well acquainted with the beaches but also to do some snorkeling. The world's second largest barrier reef is off the coast of Belize. The last time I went snorkeling I was on the world's largest barrier reef off the coast of Far Northern Queensland in Australia, so this is going to be incredible!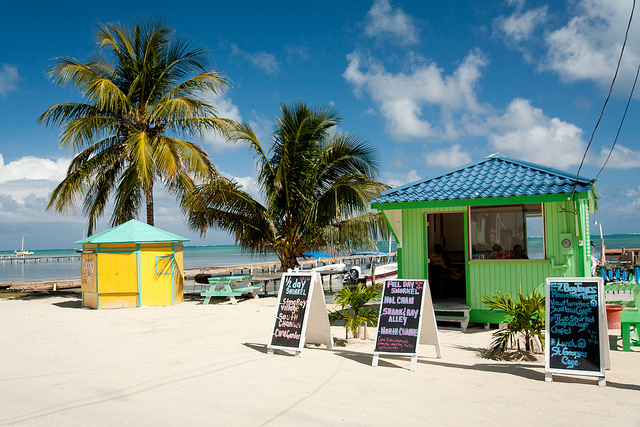 I foound these images of Caye Caulker on google – they're not mine, and there are some affiliate links below.
Right now I'm figuring out what to pack and I'm going to be using some of the things I received in my Spring 2017 Fab Fit Fun box.
At the beginning of each quarter they send you a gorgeously curated box of fabulous things that you need to be chic for the season ahead. In my spring 2017 box there was this cool Gypsy Roundy, a round cloth that you can use as a beach blanket or picnic blanket, a table cloth, a wall hanging – tons of uses. Mine came in the tie dyed looking blue and white print, which is pretty cool for beaching it, don't you think? This is it below with my beauty products sitting on top.
I also received this cool Milly Zippered Pouch, which you can use as a clutch, a travel makeup bag or as I plan to use it, a beach bag. It's water proof inside so you can throw in a wet bikini, but I'm using it to store my beach skin and makeup needs.
I am obsessed with sun protection for my face and neck. I use a regular Coppertone or Hawaiian Tropic sunscreen on my body, normally an SPF 30 or 50, but on my face I use Neutrogena Ultra Sheer Dry-Touch Sunscreen, SPF 100
, I either pick it up at the store or add it to whatever I'm ordering at Amazon.com
Sunscreen needs to be reapplied during the day, but I hate getting gritty sand on my hands and in my sunscreen and roughing up my skin, so for years and years now I have been using ColoreScience Sunforgettable Brush On Sunscreen SPF 50. This is genius because you can reapply it over your makeup and not mess everything up, and if you are feeling a little more glowy than you want, the powder formula can matte you down too. It's fantastic!
A few years ago a client gave me a tube of Nars Lipstick in Roman Holiday to take with me to Italy. It has become my default travel lipstick – I just love it. I always take a bold color lip and a soft, glossy color lip with me when I travel, and Roman Holiday is my soft glossy. It has Vitamin E in it which keeps your lips feeling soft and stops them from drying out, and the color is the perfect blue based pink (good for cool toned girls). Most blue pinks have that tired out Barbie vibe, but this one is fresh and perfect and makes your teeth look super white. You can order it online at Sephora.com
When the beaching is done and everyone is heading out for dinner or drinks and there's not time to go home and get showered I like to clean my face with Skyn Iceland Glacial Cleansing Cloths and then use a refreshing facial mist to both sooth and hydrate my skin without having to deal with gooey moisturizers. Sephora has tons to choose from.
One of the best ways to look fab after the beach, especially if you are a little more red than planned, is to neutralize your complexion with a little bronze. Powder bronzers can get too grabby on your skin and look weird, and most powder bronzers have too many glittery, flickery particles in them, which makes your entire bronzer game look ridiculous. I prefer to use a gel bronzer, and my favorite is Stila Aqua Glow Perfecting Gel Bronzer. I typically can't find this product in stores so I always order it on Stila.com)After a day on the beach just tapping a little gel bronzer along your cheek bones and a little at the edges of your forehead can make your skin glow, and knock down any excess redness.
In general I don't take perfume to the beach, but if I have a little travel sized bottle I slip it in my bag. Perfumes aren't supposed to hang out in the heat as this can ruin them, so don't bring a big bottle!
I'm naturally curly, and although most of my life is lived with my hair smoothed out, I don't even consider it when beaching. Left to it's own devices my hair will look like a cross between a really bad home perm that went drastically wrong and an afro. For a quick hair repair I spritz in Ouidad's Botanical Boost Refreshing Spray which I get in the travel size, and I normally rake and shake a little of their Heat and Humidity Gel through as well. I also buy that in travel size and am waiting for my order to arrive, so it's not pictured here.
Last but not least if my hair is collapsing at the roots, which happens all the time, I spritz a little Oribe Dry Texturing spray. I order all my travel sized Oribe products from SpaceNK.com Sometimes I use a dry shampoo, but I find a dry texture spray has a few more uses and is therefore a better travel companion. And it smells amazing!