Caffe Gilli is the oldest café in Florence.
In 1733 the Swiss family moved to Florence and sold pastries and sugared donuts from their bozzolari, or pastry shop in Piazza Duomo. In the 1800s they moved to via degli Speziali before finally making it to their current, and permanent home in Florence's Piazza della Repubblica. Along with Giubbe Rosse and Paszkowski who also share the piazza, Gilli has become an institution in the Renaissance city.
Gilli is world famous for its incredible artisan made sweets and pastries.
A Swiss clock separates the pastry shop in the front of the store from the restaurant in back, an old world restaurant, known for its seasonal Tuscan dishes and fine wines.
I particularly love the outdoor dining area, shaded from the intense Tuscan sun. This is a glorious place to stop for a coffee or a glass of wine, or the ultimate Florentine cocktail, a Negroni.
Over the past century this has been a hangout for artists, musicians and writers, including Hemingway, fabulous footsteps for you to follow in!
Caffe Gilli can boast having the world's most celebrated authority on the Negroni as its head bartender. Luca Picchi, who literally wrote the book on Count Camillo Negroni and the drink created expressly for him. Negroni Cocktail, An Italian Legend by Luca Picchi.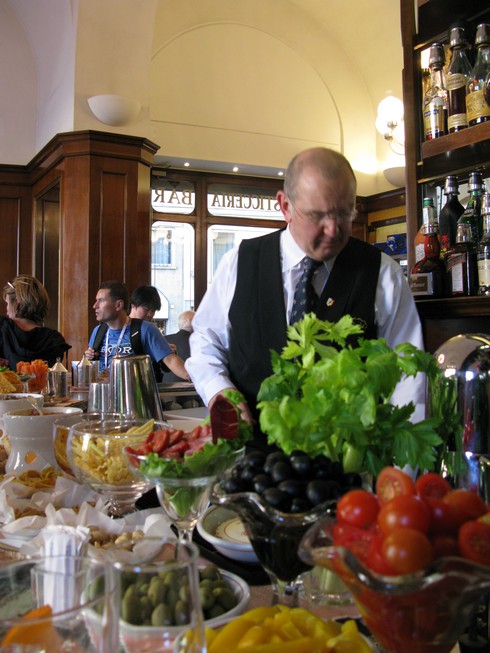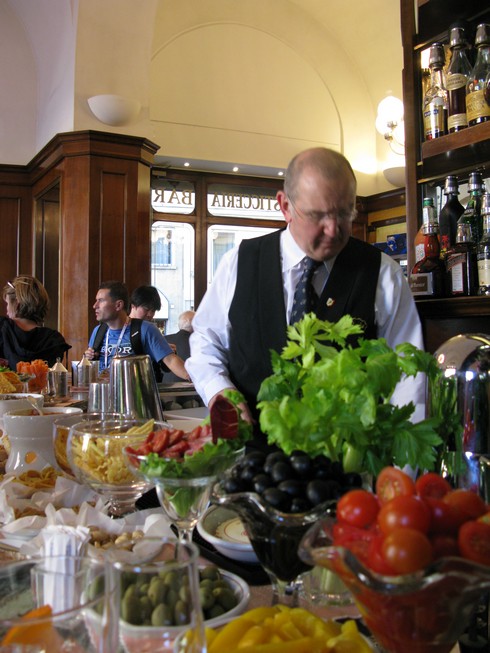 This beautiful and fascinating book is available on Amazon, either in Italian or in English and in hardback or on Kindle/Kindle app.
If you belong to my Private Member's Newsletter you will be receiving some fabulous information about Luca, the Negroni and the variations on the drink. If you don't belong to the newsletter you can join here and bounce me back an email requesting the Negroni info.
For those of you who will be making a first trip to Florence, Piazza della Repubblica and Caffe Gilli are midway (give or take) between the Duomo and Piazza della Signoria in the heart of the historic center of Florence. Gilli is the easiest place to find and you are guaranteed to walk past it several times in one day!
Five Things You Must Do At Caffe Gilli
5 Things You Must Do At Caffe Gilli
Sit outside
Try a pastry or a slice of panforte
Have a coffee
Order a Negroni
Get a photo with Luca!
Are you planning a trip to Florence? Get my free Secret Florence pdf to discover my favorite restaurants, shops and cocktail bars, guaranteed to take your trip from great to fantastic! Click HERE