This week I was supposed to be in Lecce.
I had a Glam Italia Tour booked for 10 days in Puglia and was really looking forward to finally getting back to the heel of Italy's fabulous boot and showing my group just how completely incredible this region is.
Lecce (pronounced Lech-eh) is a beautiful city down low in the heel of the boot. In the 16th century under Charles V it was an economic powerhouse, the second city of the south after Naples.
Built from distinctive Lecce stone it is often referred to as the Florence of the South due to its concentration of beautiful historic buildings. In some ways I can see the comparison. Centuries old golden sandstone buildings and narrow streets that lead into pretty piazzas, but when you look a little closer they really are quite different. The renaissance facades of Florence are replaced with the baroque of southern Italy. Lecce doesn't get a fraction of the tourism Florence does, so by contrast feels deliciously empty, almost as though you have stumbled upon a secret. Wandering around Lecce I am always stunned that I get to be here in the middle of this visual banquet and have it mostly to myself, with very few tourists around.
Which brings me to me next point. Lecce is not a city to race around checking items off a list. Although this is a 10 Things You Must Do In Lecce post, I prefer to look at it as things to try and not miss. Lecce is a town to wander and experience at a slow southern Italian pace. You need to breathe it in and savor it. There are museums and plenty of churches but this is a place to take a stroll to burn off a long lazy lunch with an incredible view, before finding a hidden piazza to stop for an early evening aperitivo.
10 Things You MUST Do In Lecce
Here are 10 things not to be missed in Lecce. Jut do them all at a leisurely pace.
1. Take Part In Caffe Life
Pasticciotto
Start your day with the most Leccese of pastries, the pasticciotto. This is a custard-like cream filled short crust pastry. Ridiculously delicious (and be warned, very filling) the crust is traditionally made with lard instead of butter, so is both moister and softer than you expect.
Ideally you eat pasticciotto piping hot, fresh out of the oven.
Lecce Coffee
Along with your pasticciotto you need to order a coffee specific to Lecce, caffe' in ghiaccio con latte di mandorla. This is espresso over ice with almond milk. I'm not sure if it's the Leccese water that makes it so different, but try as you might to replicate it at home it is impossible to capture the exact same taste.
The ideal place to enjoy your pasticciotto and iced coffee is Caffe Alvino in the town's main square, Piazza Sant' Oronzo. This piazza is huge and even without its main attraction is a fabulous spot to experience the heart of Lecce. Sit outside and take in the view.
2. The Roman Amphitheater
Piazza Sant' Oronzo's main attraction is an extremely well preserved Roman amphitheater. For centuries it was buried under buildings here in the heart of the city, only discovered at the beginning of the 1900's when construction began on a new bank.
The amphitheater is below current ground level. It was built in the 2nd century A.D during the reign of one of my favorite emperors, Hadrian.
You can wander through the passages below the stadium seating, where the amphitheater is still partially buried.
Ancient images on the walls tell us this was a place for gladiator fights with bulls, lions, bears and people. It is estimated the amphitheater could hold between 15,000 and 20,000 spectators.
Concerts are still held in the amphitheater. If you are ever lucky enough to be here when the evening light turns everything golden and the orchestra strikes up in the amphitheater, I promise you the memory will be burned into your brain forever.
3. The Sedile
Next to the Amphitheater is the Sedile, a majestic stone building that was once Lecce's town hall. Built in 1592 this beautiful cuboid structure is softened with both lower level and upper level arches.
At one time the town's armory was kept on the upper floor and the mayor would hold hearings on the lower floor. The square was called Piazza dei Mecanti at that time and was the heart of Lecce life.
Not only the seat of the town hall it was also the hub of local trade, the main stage for the town's religious processions and the site of riots and military battles, with no one knowing there was an amphitheater hidden below their feet.
Nearby on top of a 30 foot column Lecce's patron saint, Sant' Oronzo (St Orontius) watches over the piazza that was renamed in his honor. Also look for the huge mosaics of Lecce's coat of arms.
4. Museo Faggiano
I've added this one because it is like one of those crazy Italian dreams where you discover ancient ruins under your house. Which is exactly what happened here.
This was a private home until 2001 when a plumbing problem forced the owner had to dig through the floor. Low and behold they discovered ruins dating back 2500 years!
You can do a self guided tour and see underground cisterns, secret passageways, tombs and escape routes. It all dates back to pre-Roman times. Between 1000 and 1200 it was a Knights Templar house, then became a convent for Franciscan nuns until the 1600's
5. Buy Cartapesta
Cartapesta, the art of papier mache is a specialty of Lecce that dates back to the 17th century. The city built all these amazing churches that needed decorating, but there wasn't the time or the money to make things in marble. So they had to use the products they had access to and came up with this incredible art form.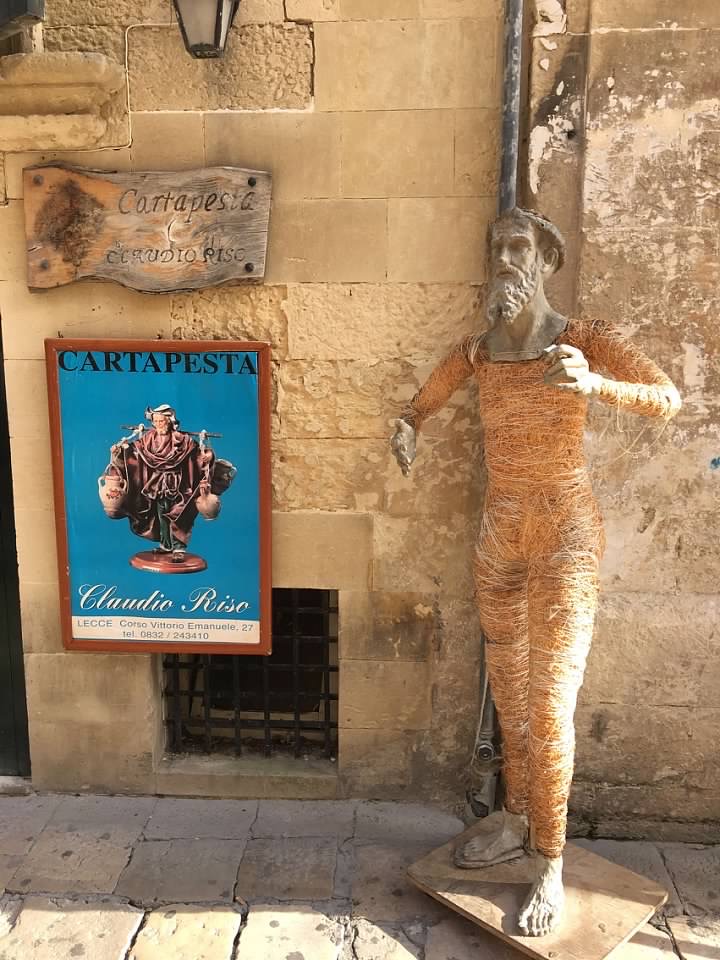 This was during a time known as the counter-reformation when Catholicism was under attack by the protestant church. The churches in Lecce needed to keep the congregation faithful by pulling at their heart strings. The artisans were able to create emotion in the faces of their figurines, and then paint them to look as if they were alive.

The craft has been passed down through the centuries and today you can still buy handmade cartapesta in Lecce. It really is quite sensational, so you should definitely wander into some of the stores and find yourself a treasure to bring home.
You can read more about Cartapesta here.
6. The Roman Theater
I discovered this one on my first trip to Lecce while just wandering the narrow streets weaving their way up from the Porta Rudiae. I turned a corner into one of the baroque alleys surrounded by 18th century palazzos and there it was. It was actually quite a shock because I didn't know it existed. An almost perfectly intact 1st century Roman theater.
This theater is quite small, approximately 40 meters in diameter, but in its time is thought to have held up to 4000 spectators. Fragments of clay decoration dating back to the Augustan period have been found (27 B.C – 14 A.D.) along with marble statues from the Antonine era (96 A.D – 192 A.D) which are now kept in the Roman Theater Museum.
The theater was only discovered in 1929 and really is in remarkable condition. You can view it from the street or go inside from the entrance on via degli Ammirati. I suggest going in the morning due to everything closing for hours each afternoon for siesta, or pisolino as it is known in  southern Italy.
Concerts are still held in the Roman Theater.
7. Take A Cooking Class
Lecce is a fabulous place to take a cooking class, especially if you will be here more than one day. My friend Silvestro Silvestori runs an incredible cooking school in Lecce. The Awaiting Table has been written up in major publications all over the world and they have taught classes to guests from 59 countries.
My June Puglia tour was going to be coming here for a half day class and I am so disappointed to have missed it.
The Awaiting Table cooking classes are very unique. You can do a half day class at their place in Lecce or you can do a week long cooking school at their castle. Can you even imagine?
Whichever type of class you choose to take the experience is just magnificent. Pugliese cuisine is divine. Everything you eat grows nearby and for olive oil lovers this is one of the most prolific olive growing regions in all of Italy. The Awaiting Table even make their own olive oil which you can buy at the school or order online, they ship it worldwide.
For a list of their classes, to order olive oil and to look at their gorgeous photo gallery you can check out their website here: The Awaiting Table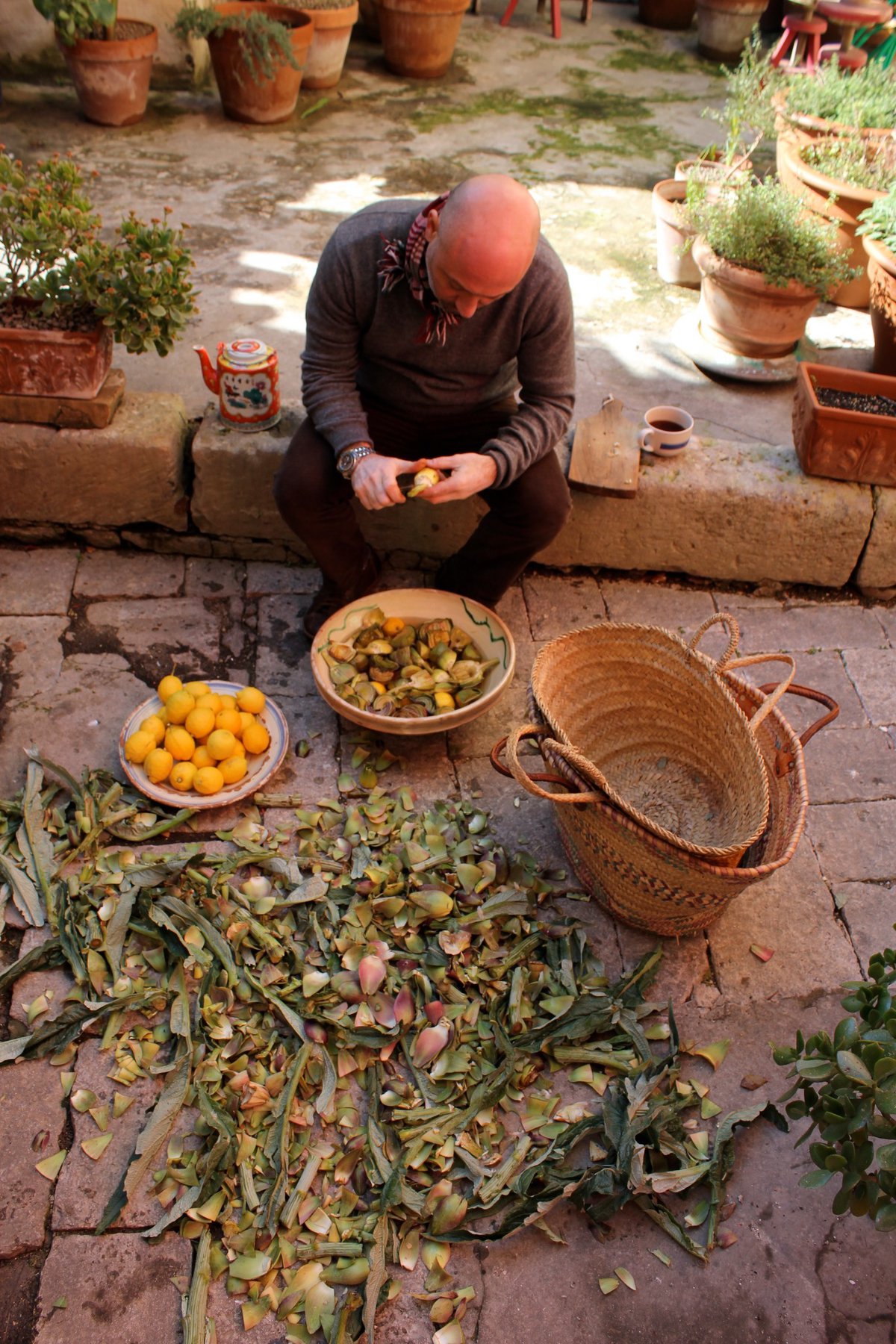 If you belong to my newsletter you will be receiving a fabulous recipe from The Awaiting Table later this month. If you are reading this post after June 2020 and missed it just bounce me back an email from any newsletter and I will forward it to you. You can sign up for my free Private Members Newsletter here
Visit The City Gates
Lecce was once a walled city with huge city gates at its entrance points. Three of these gates still exist and are well worth seeing. The historic center of Lecce is inside the city gates, the newer more modern city is outside of them.
Porta Napoli is the main gate. It was built in 1548 to celebrate a state visit from Charles V. Just beyond the gate there is an obelisk and then the university.
My favorite is the Porta Rudiae, a little further south from Porta Napoli. This is the oldest of the three gates and leads you right in to the historic center of town. In my opinion this is the best gate to arrive through.
On the other side of the center is Porta San Biagio, probably the least visited gate but it's still impressive.
9. Take A Walking Tour
I love taking walking tours with professional, licensed guides. I do them everywhere I go in Italy, even in cities and towns I know really well. No matter how much you think you know about a place, a licensed guide will teach you more. They know all the fascinating stories behind everywhere you go and add so much depth and texture to your entire experience.
On my Glam Italia tours I hire the same guides over and over and even though most of them have been working with me for years, I still learn something new every time. Just be sure to either book a private guide or a small group tour rather than a big group tour.
10. Go For Baroque
Lecce is famous for its spectacular baroque architecture, especially that of its churches. Everything was carved from local Lecce stone, a yellow stone so soft you can carve it with a butter knife. It is also very porous, so in order to harden it they would soak it in a solution of milk and water, which penetrated the pores and created a waterproof layer that has kept the stone preserved for centuries. The milk also hardened the stone and turned it into the gorgeous golden hue it still has today.
There are 22 churches just in the historic center of Lecce. This post tells you about 14 of them, but I just want to draw your attention to 3. Largely because one of the joys of Lecce is turning a corner into a tiny hidden piazza and finding yet another exceptional church. The following 3 churches are in the order I first saw them.
San Giovanni Battista
This one is just inside the Rudiae gate and was the first Lecce baroque architecture I saw, so it is the first I show my travelers.
The original church on this site was built for the Dominicans in 1388, replaced by this one in 1691. Designed by Giuseppe Zimbalo it was completed and consecrated in 1728.
I always think this type of baroque architecture, similar to that which you see in the southern Sicilian towns of Noto and Modica, looks like the dreams of a madman, on acid.
It is so busy, your eye flits from place to place and doesn't know where to land. But in the middle of the madness it is all really quite beautiful.
The Duomo
Cattedrale Santa Maria Assunta is the cathedral of Lecce. It is fascinating on many levels. If you think of the cathedrals in most major Italian cities such as Florence, Rome and Milan, the cathedral dominates the heart of the city, and the city radiates out from it. The cathedral is a shining beacon, calling you into its center. Here in Lecce if you didn't know where to find it you would miss it.
On my first trip to Lecce I had been wandering via Vittorio Emanuele looking at cartapesta, turned down a little side street and the piazza Duomo exploded out in front of me. If you make this walk you will see what I mean, the arteries leading into it are quite small and narrow and piazza is enormous, so the effect is fantastic.
Another oddity here is that the cathedral isn't centered with the piazza emanating from its core, instead the cathedral feels like an after-thought, tucked into the corner.
The original structure was built in 1144 but the current facelift happened in 1659, again helmed by Giuseppe Zimbalo. The Duomo is in the southeast corner of the piazza with the main entrance facing (north) out into the piazza. This north facing façade is considered a masterpiece in baroque architecture.
Basilica Santa Croce
I love bringing people here toward the end of the day. Of course it is beautiful at any time but there is pure magic in the apricot light that bathes the building and everything that surrounds it in the late afternoon. From piazza Sant' Oronzo you walk along via Templari just a few meters and then the church explodes out in front of you. I love the way Lecce does this to you over and over. Even when you've been here before and know exactly what you are about to see it still shocks your senses.
My first time here is indelibly printed in my mind. An old man had biked up with a piano attached to his bike, he parked it in the piazza opposite that church, put a black vest on over his white shirt, planted a fedora on his head, and sat down and played gorgeous music. The entire episode was mesmerizing, from this fantastic church to the light to the music – I don't think I moved for an hour.
The façade of the church is Lecce's piece de resistance, baroque architecture teeming with detail. Lecce baroque is deeply counter reformation – a celebration of the Roman Catholic Church against its protestant enemies. It is also defiantly exuberant.
The first Italian writer to come here, Marquise Grimaldi wrote that the façade of Santa Croce is like the nightmare of a lunatic, realized in stone. Another writer compared it to the frenzied crowdedness of a Hieronymus Bosch painting with the intensity of a fever dream.
It is just fantastic, you really don't know quite where to look first. Construction began in 1549 and wasn't completed until 1646. When you step back to look at it it's is hard to imagine they could complete all of this in 100 years!
Another blog with some fabulous photos of Lecce is Two Days In Italy. The link to the Lecce post is here
Do you belong to my Private Members Newsletter? Twice each month I send out information on super cool places the tour buses don't go, foods you need to try and specialized tips to plan your trip. You can join this private group here.