This year Rome is already packed with tourists, and it looks like this summer will be busier than ever.
The most famous tourist attractions, all of which were overcrowded in the past, are going to be even worse now, so it's really important to plan lots of things that take you away from the crowds. Before you worry about getting lost or spending loads of time getting to the uncrowded places, just know this normally means only walking a block or two – sometimes even less!
My best selling book Glam Italia! 101 Fabulous Things To Do In Rome tells you about all kinds of wonderful things to do in the Eternal City. Today I want to tell you about 5 fantastic things to do in Rome, things that take you away from the tour bus crowds and show you things that will blow your mind.
The Baths Of Caracalla
If you want to visit a truly spectacular site in Rome with almost no other travelers, this is the place for you! The Baths of Caracalla are easily one of my favorite places to visit, and even when Rome is so packed you want to scream, the tourist masses don't know about this absolute gem.
Caracalla was co-emperor with his father Septimius Severus from 198 A.D until his father's death in 211 A.D. He became emperor in 212, and rather than allow his younger brother Geta to become co-emperor, Caracalla murdered him. Then had all of Geta's friends murdered. Then went on a killing spree so savage he became known as one of the most bloodthirsty tyrants in the entire history of Rome. This wasn't good in terms of public opinion, so he had to find a way to win over the population of Rome. He did so by creating what was at that time the largest public baths in Rome.
This spectacular complex had a huge swimming pool, plus a hot pool and a cold pool, meeting rooms, and a gym. It was so massive it could hold up to 1600 people at any given time, and is thought to have had between 6000 and 8000 bathers per day.
The towering structure was marble clad and had incredible mosaic floors, many of which you can still see today. Walking through here (with no crowds and barely any other visitors) you get a sense of how enormous and opulent these baths were, and just how small you really are.
Recently a VR component was added to the visit. Be sure to get the VR headset.
As you stop at each numbered section the VR mask shows you how it would have looked in the 3rd century. Italy does a brilliant job of using VR and multimedia to enhance ancient sites, and this one is no exception. I go to Caracalla several time per year with my Glam Italia Tours, and still always get the headset!
Getting there: Baths of Caracalla are a 10 minute walk from the back of the Colosseum and a 5 minute walk from the top end of the Circus Maximus.
The Virus Capricus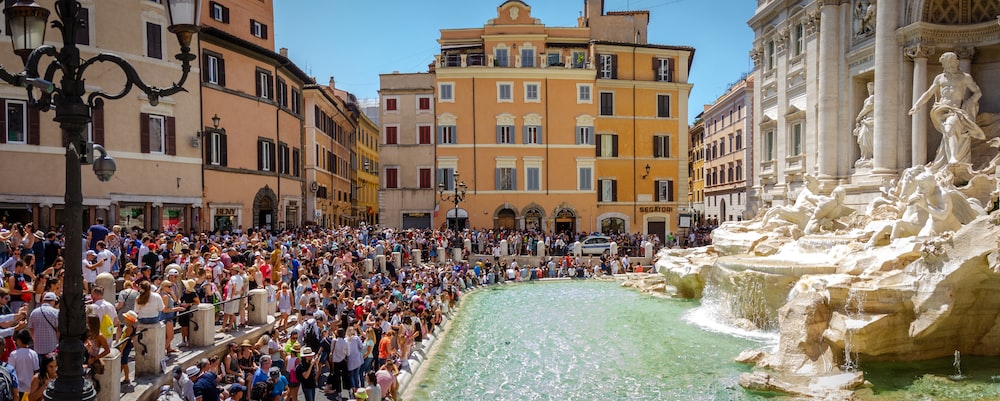 This one never ceases to amaze me. The Trevi Fountain is always packed with thousands of tourists, and Rome's most enterprising pickpockets. Visiting the beautiful baroque fountain can be a nightmare, especially if you don't enjoy being squashed like a sardine amongst multiple bus loads of tourists.
However very few people seem to know that less than 100 yards away you can visit an incredible site, 9 meters below ground. The Vicus Caprarius is an archaeological site that stretches 350 square meters under modern Rome. La Città dell'Acqua (City of Water) introduces you to the Virgin Aqueduct, which still feeds the water to the Trevi fountain. You can also see parts of a 1st century Roman apartment building that was converted into a private home in the 4th century, as well as a mini museum of artifacts discovered during the excavation.
Speaking of which, this was only discovered in 1999 when the Archaeological Authority of Rome was doing surveys for the renovation of the Cinema Trevi building. So in a way it's a very new, very old site!
Although tickets do sell out, there are very few people allowed in at any given time, so you have tons of space to breathe in. They also have very clean, modern bathrooms.
Getting there: approximately 30 seconds from the Trevi Fountain.
E-Bike Tour of the Appian Way
This is a fantastic way to escape the crowds and see some amazing sites. I recommend doing a small group bike tour like this one offered by Liv Tours.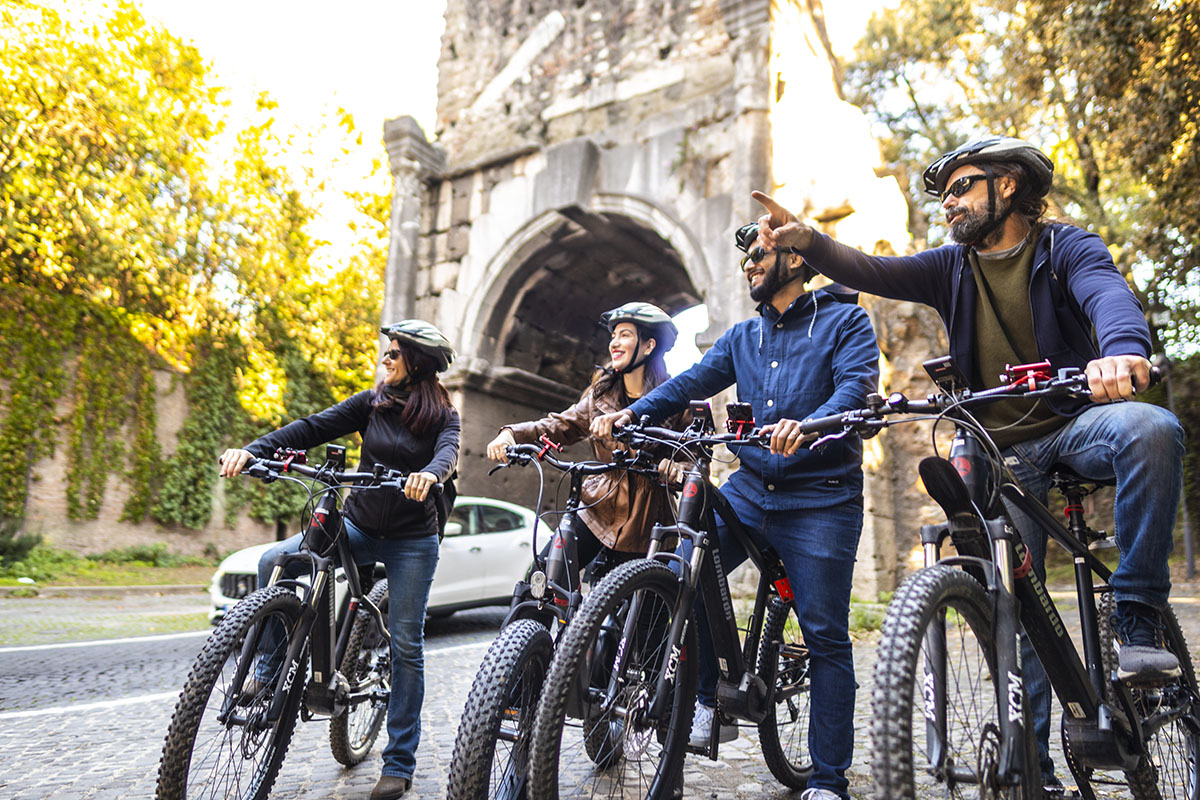 The tour meets at Circus Maximus where you get your bike and helmet, then takes off up the Appian Way – one of the oldest existing roads in the world. Built between 312 B.C and 264 B.C, the Appian Way stretches all the way to the coast of Brindisi in Puglia.
As you ride this ancient road you will stop to visit a variety of fantastic churches and mausoleums and ancient Roman ruins. E-Bikes are the perfect way to explore the Via Antica Appia and are much easier and more comfortable than traditional bikes, making the 4 miles stretch covered in this tour very enjoyable.
Getting there: you meet the Liv Tours team at the top of the Circus Maximus near the Baths of Caracalla. More information here.
Palazzo Altemps
In my book Glam Italia! 101 Fabulous Things To Do In Rome I tell you Palazzo Attempts is the best museum you've never heard of. And it is.
This sensationally beautiful palazzo was built in the 14th century by the nephew of Pope Sixtus IV, the bought in 1568 by Cardinal Marco Sittico Altemps, nephew of Pope Pius IV. The cardinal made the palace his home, filling it with his incredible collection of antiquities and his library of extremely rare books.
Since 2006 Palazzo Altemps has been open to the public, to show case masterpieces of ancient sculpture owned by the Italian government. The collection of marble sculptures takes place over two floors of the palazzo as you work your way through a labyrinth of stairways and decorated rooms. Did I mention it is sensational?
My favorite piece in the collection is the Ludovisi Gaul, a complex and achingly beautiful statue that is an ancient Roman copy of any even more Ancient Greek statue.
Palazzo Altemps is now part of the Museo Nazionale Romano and can be bought as its own ticket, or as part of a multi-museum ticket. The other three museums are Crypta Bali, Palazzo Massimo, and the Baths of Diocletian, each of which are in the book and should be on your must see list. All of these are spectacular, all are in walking distance from major attractions and all of these get very few visitors, even when Rome is packed with tourists.
Getting there: 1 minute walk from the top end of Piazza Navona.
The Galleria Colonna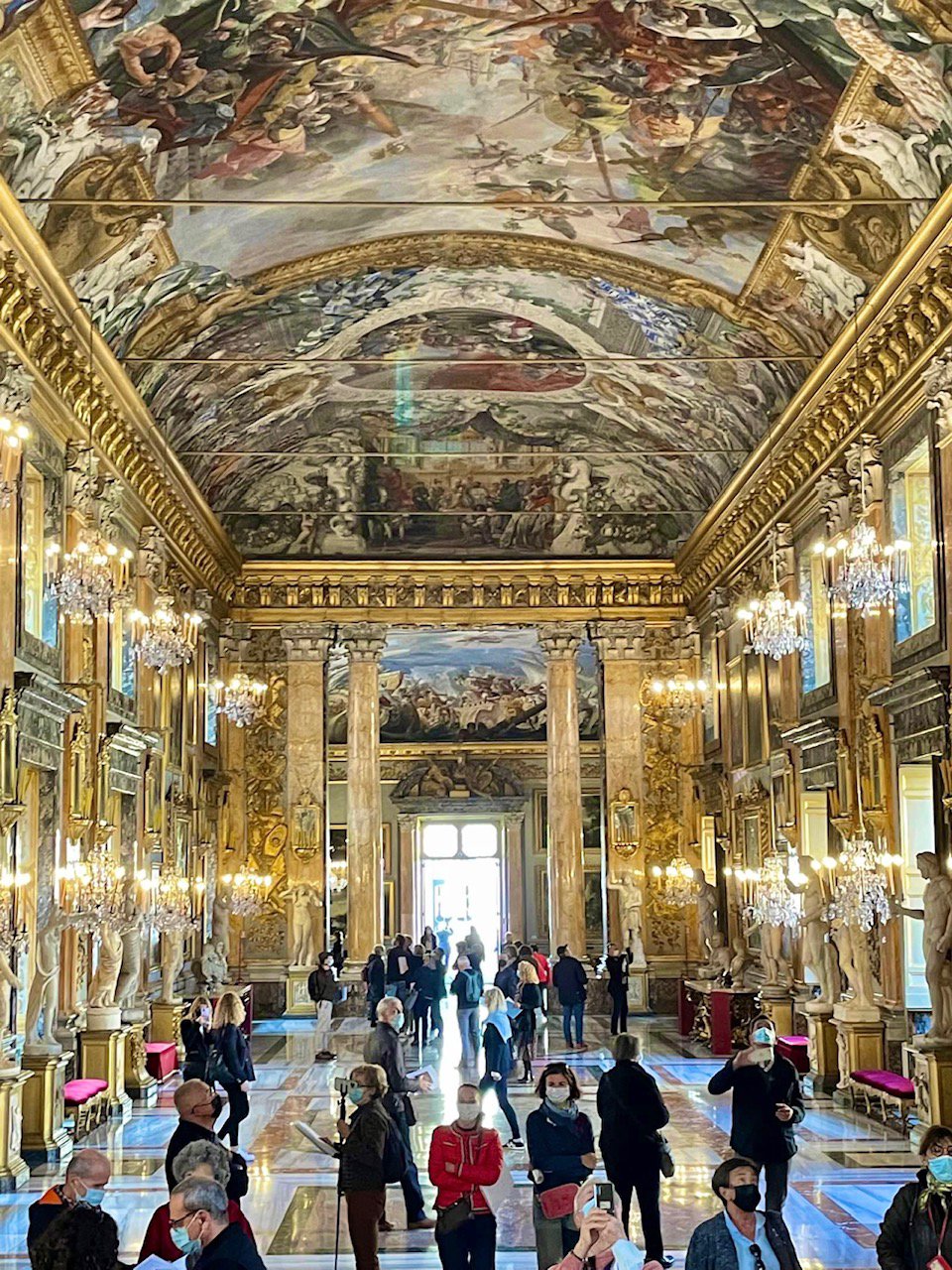 One of the best kept secrets in Rome, this stunning private palace was originally built as a fortress for the wealthy Colonna family. Over time it became a private residence with a staggering private art collection including pieces by Tintoretto, Guercino, and Carraci.
The enormous Great Hall with its mirrors, statues, priceless art and magnificent chandeliers has a Versailles level of opulence. Princess Isabella still lives at the palace and you are able to visit some of her private rooms as well as her secret garden.
Galleria Colonna is open to the public on Saturdays. Be sure to book tickets online ahead of time.
Getting there: 5 minutes walk from Piazza Venezia and the Wedding Cake building (Il Vittoriano)
More Cool Things To Do In Rome
If you are planning a trip to Rome, or will be spending time in Rome on your Italy trip, be sure to read my international best selling book Glam Italia! 101 Fabulous Things To do In Rome. This travel guide not only tells you about places to visit, but also gives you background on why, who built it and why they built it. You also learn about must try Roman foods, the best markets, amazing underground sites to visit and even the best places to go for a sunset aperitivo!
Glam Italia! 101 Fabulous Things To Do In Rome is available worldwide on Amazon.
Want more fabulous content on cool and fascinating things to do in Italy, including secret towns and villages you've never heard of? Join the thousands of members worldwide who belong to my monthly newsletter. You can join the newsletter here.