I have been enthralled with skincare, and in particular really good skin care for as long as I can remember. For 30 years my career has been based in creating really incredible skin. I am a makeup artist, primarily working in the entertainment industry and fashion, magazine beauty director, on camera beauty specialist, and for a time I was taught a pro makeup artistry program. The key to makeup looking fantastic is to use really fantastic skincare.
Most of us aren't living our lives on camera, but still want our skin to look beautiful and to slow down the aging process. This post is a breakdown of products I am using from the award winning Colleen Rothschild Skincare line. I've been using them since March of this year and love them. Most people don't want to use as many products as I do, and that's fine. If this list feels overwhelming to you just look at the essentials, which I will list below. I am including my discount code for all Colleen Rothschild Beauty products at the bottom of this post.
This post contains affiliate links.
Skincare Basics: The Essentials
Everyone needs a really good cleanser (definitely read what I have written below about cleansers) a moisturizer that meets their skin's needs, and an eye cream. Those are your most basic skincare products. To these we add ancillary products that boost the efficacy of the basics and also deal with some very specific skin needs and conditions. These products include exfoliators, masks, serums, oils and other deep treatment products.
My Colleen Rothschild Skincare Products
The following are products from the Colleen Rothschild Skincare line that I have been using since March 2020. I have found them to be very high performance, which means you see results very quickly. They are also very concentrated, so a little goes a very long way. It is easy to see why this line is award winning. I'm pretty sure if you try them you will fall in love with them too.
Why The Right Cleanser Is Crucial
After decades working as a makeup artist I can tell you unequivocally that the main reason I see with problem skin issues is using the wrong cleanser. Mostly I see people stripping their skin with cleansers that are too drying. When your cleanser is too drying, like many foaming or soap-like cleansers, it creates a cycle of stripping away too many of the skin's essential oils followed by the skin panicking and creating more oil or sebum to correct the problem. As this goes on you see dry surface, too much oil and often excess congestion and break outs.
The drying of the skin also causes breakouts as the pores get blocked by dead skin cells. On top of that cleansers that are too drying often make the skin irritated. Then the situation gets compounded because we start adding in anti-irritant products, products for removing excess oil, clarifying products to treat the blackheads and break outs, and on it goes.
I always find that when I get a client to change her cleanser, be it a celebrity, a business woman or a bride, like magic the skin clears up.
Use my discount code CORINNA20 for 20% discount at Colleen Rothschild Beauty
Radiant Cleansing Balm
What I really love about this cleanser is that it does multiple things all at once and is extra gentle on the skin. It dissolves makeup and cleanses your skin in one step. You rub a small amount of balm in your (dry) hands to warm it up, then massage into the skin. You'll notice it feels really lovely and is nice and emollient, so it glides over the skin nicely without rubbing or pulling.
Once you've worked it through the skin you rinse the muslin cloth it comes with in hot water, and either lay it over the face for a moment for a spa like treatment or just go directly to gently lifting away the cleanser with the cloth. Your skin immediately feels soft and supple.
The Radiant Cleansing Balm is good for all skin types. See all Colleen Rothschild cleansers here.
Treatment Products
One of the keys to radiant, youthful skin is your choice of treatment products. These are typically serums and oils, mostly specific to your skincare concerns. I tend to mix these up a bit, layer them when I feel like it or sometimes even use them alone without a moisturizer, depending on how my skin is that day. Just remember dry skin looks like aged skin. The fountain of youth is directly linked to the serums, oils and moisturizers you use on a daily basis.
I use the treatment products specific to my skin concerns – aging and looking dry and dull. You can see the full line of treatment products available here.
Age Renewal Super Serum
Age Renewal Super Serum goes on before moisturizer, morning and night. You only need one small pump (about the size of a pea), massaged into your face and neck. It fights the six main signs of aging: dehydration, loss of elasticity, loss of radiance and tone as well as the texture becoming less supple and fine lines and wrinkles appearing.
The Age Renewal Super Serum has plant extracts, collagen boosters, vitamins, amino acids and peptides, all designed to make your complexion radiant and youthful.
Bottom line, you instantly feel your skin soften. This product is just glorious for anyone wanting to stave off signs of aging and/or keep their skin beautifully hydrated. It is very concentrated so you don't need much at all. If you feel that you don't want to use a serum because you have a shiny or oily t-zone just use this on your cheeks, neck and decolletage. See the serum here.
Face Oil Number 9
I am a huge fan of facial oils and use them every day. I use Face Oil Number 9 every morning, before moisturizer. It has an almost dry finish to it so you don't look shiny/oily. A great makeup artist trick is to apply a drop of oil prior to applying foundation so the skin has that really creamy, radiant look to it.
This is a combination of 9 transformative oils that work together to boost moisture and make your skin extra radiant. It also protects the skin from oxidation and pollutants and the appearance of age spots and wrinkles, Face Oil Number 9 gives extra nourishment, supports hydration and has no greasy residue. You can see the product here.
Once again this is a very concentrated product so you only need a drop. If I am using both the serum and an oil I apply the serum first.
Retinol Supreme Night Oil
When you see the word retinol always think night time. Retinols neutralize free radicals, diminish fine lines and wrinkles, blur imperfections like acne scars, stimulate collagen and accelerate the turnover of cells. When we can help out the cell renewal process we get smoother, lovelier skin, more quickly.
Our bodies do most of their cell renewal work while we sleep, which is the main reason we need to use retinols at bedtime. The other night time reason is that they make our skin more sensitive to UV rays.
In the old days using Retin-A was like taking a sandblaster to your skin. It was way too aggressive for most of us mere mortals, leaving skin looking raw.
The newer generation of retinols are much more gentle. Retinol Supreme Night Oil takes all the benefits of retinols and combines them with a soft, gentle, moisturizing plant based oil.
This beauty sleep essential takes the highest concentration of stabilized retinol (healthy skin renewal) and mixes it with highly potent Vitamin C to counteract the chaos caused by free radicals and environmental toxins (pollutants = super aging) and nine plant based oils that combat the irritation and flaking normally associated with retinols.
In other words you wake up with gorgeous, soft, radiant skin rather than the parched, irritated skin normally associated with retinols. It's like magic.
After cleansing apply 1 mini pump to face, neck and décolletage, avoiding the eye area. See Retinol Supreme Night Oil here.
Retinol Supreme Eye Serum
I'll let you in on a little secret. The first place you see signs of aging is the delicate area around your eyes. This is also the first area on your face to show signs of dehydration. This night time eye serum counteracts the look of stressed, tired, wrinkled eyes and rejuvenates the skin around the eye area. It has an ingredient called Saloprine 8 that increases moisture levels 6000% if used nightly for 28 consecutive nights.
Retinol Supreme Eye Serum also firms the skin around your eyes and reduces the appearance of bags.
You really only need one drop per night put on your ring fingers and dabbed along the orbital bone. (Your ring fingers have the least amount of tension, so are the gentlest to apply eye serums and eye creams with. Always start at the outer corner of the orbital bone and gently tap inward toward your nose.)
Complete Eye Cream
This one addresses the most common enemies of eye aging: wrinkles, fine lines, under-eye circles, puffiness and loss of elasticity. What I love is that it feels lightweight, so it isn't dragging the skin below your eyes. It absorbs nicely too so your concealer won't go sliding off. Read more about it here.
Moisturizers
You can't have glowing, radiant, dried out skin. If you want your skin to look gorgeous it has to be really well hydrated and moisturized. My skin tends to get really dry and I live in the desert which makes it worse, so for me radiant skin takes work.
I use the treatment products listed above paired with really great moisturizers. In the winter I like to use a heavier moisturizer, in the summer one that is more lightweight.
Sheer Renewal Cream
I actually got this one to take to Italy with me this summer. It is the perfect travel companion, lightweight enough to not look greasy on hot, humid days but still powerful enough to keep skin looking gorgeous. I always think your best accessory for summer is glowing, beautiful skin. The plan was to be flashing said skin under Italian skies right now, but here we are instead in the super-furnace also known as the Arizona summer.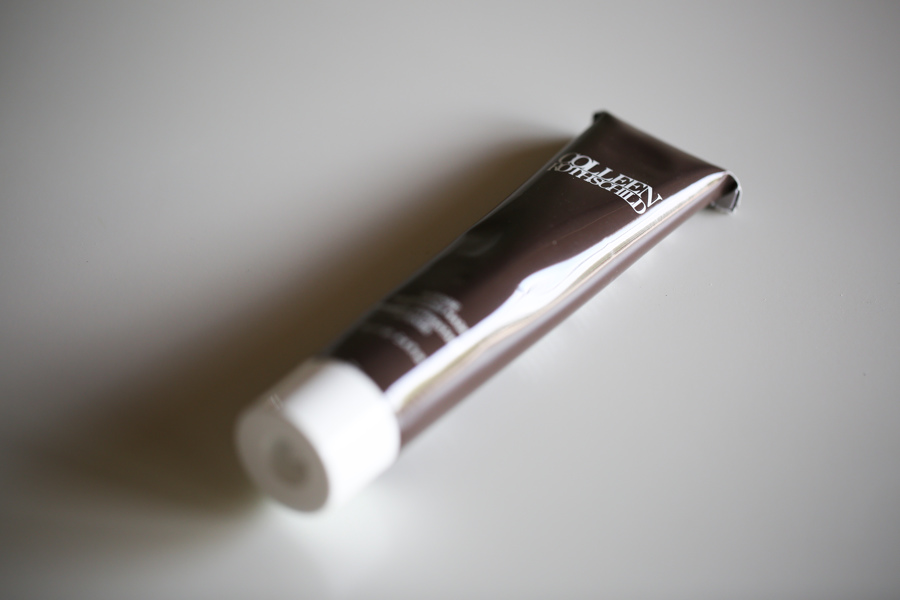 And here is where it gets interesting. Sheer Renewal Cream is a very weightless product, not something you would normally associate with an intense, dry heat. And yet it gives my skin ample hydration and moisture. It has a slightly powdery finish to it, so if you're not in the mood for foundation (I'm not in the mood for foundation) your skin doesn't have that bare, slimy look to it. I really love this moisturizer.
Extreme Recovery Cream
As far as product names go this one may put you off, but stay with me here. Extreme Recovery Cream is fantastic for skin that needs some major hydration help but is also just gorgeous for regular/normal skin. I've been using it at night – it's really concentrated so you only need a tiny amount.
I have also used it on photoshoots for really luscious looking skin. It definitely gives maximum hydration but as with all of the Colleen Rothschild products I have tried it doesn't leave the skin feeling greasy. The finish on this one is quite velvety, so it is lovely under makeup if you're wearing it during the day.
I love intense night time moisturizers but hate anything that leaves a film on the skin and then gets on your pillowcase. Extreme Recovery Cream absorbs into your skin and leaves no residue on your pillows. This is another really beautiful product that you all in love with immediately.
The Discovery Collection
If you're not sure where to start you can always try the Discovery Collection. The collection gives you travel sizes of 6 major products: Radiant Cleansing Balm, Dual Enzyme Polish, Clarifying Detox Mask, Sheer Renewal Cream, Extreme Recovery Cream and Face Oil Number 9. This way you can try a variety of products without making a huge financial commitment.
I planned on taking this kit with me to Italy this summer – it is the perfect travel kit.
What's Next?
In my next order I will add the Brightening Mask, Dual Enzyme Polish (to exfoliate) and the shampoo. If you go on the website and find an item you want is out of stock, hang in there! They seem to restock relatively quickly. The line has an absolute cult following so the most popular products do run out of stock from time to time but the company is really good about getting them back in in a timely manner. Once you have used any of these products you will see why their fans are so incredibly loyal.
Try any Colleen Rothschild Beauty Skin Care and Hair Care products at a discount! Use code CORINNA20 for 20% off all products. This promo code can be used on all products that are not part of another discounted promotion.
Photography for this story: Keith Pitts