I'm infatuated with Naples.
Naples is gritty and dirty, and parts of it are loud and a bit scary, which I think dissuades some travelers from going there. I was amazed when I finally went there and discovered how magnificent it is! When I finally was able to go to Naples I messaged a Facebook friend who I had never met, and he wound up taking the day off work and showing me around. It was absolutely fantastic! We walked this incredible city for hours, stopped for coffee breaks (Naples has the best coffee in all of Italy) ate Baba and pizza, saw a million  amazing things, had no end of fun, and when I got on the train to go back to Salerno that evening I realized that there are still a million more things I need to go back and see.
Related Post: How To Order Coffee In Italy
Pompeii is a suburb of Naples, as is Herculaneum. The Palace of Caserta is nearby too. I had the crazy good luck of arriving at the palace on a Monday afternoon in December, when the crowds had left, leaving me the entire palace to myself. I wrote about it here. While there I learned about Marie Carolina, the absolutely fascinating sister of Marie Antoinette. She lived at Caserta, a palace built to outdo Versailles, and she ran the kingdom of Sicily and Naples. I plan on really studying her and getting well versed in all her accomplishments and then heading back to visit her palace again, this time being more informed.
Related Post: Discover The Palace Of Caserta
Naples and its surrounding area have so many sensational palaces and villas to visit and explore. If you are planning a trip to Italy you should consider checking some of them out. To whet your appetite I want to share this fabulous article I found in Italy Magazine about 5 palaces and villas that are part of Naples' aristocratic past.
Enjoy!
Naples Aristocratic Past: Five Palaces and Villas That Are Sure To Wow
From the 13th century to Italian unification in 1861 Naples was the seat of far-reaching kingdoms, whose territories included the regions of Southern Italy. Neapolitan rulers, depending on the century were Angevin, Catalan, Austrian, Spanish, or French (under Napoleon), their dominions referred to as either the Kingdom of Naples, the Kingdom of Sicily, or the Kingdom of Two Sicilies, according to the realms won and lost in the constant battles for power. A change in rulers often initiated a building spree; not surprisingly, Naples and Campania are home to many aristocratic dwellings, with the Spanish Bourbon kings and court spearheading the construction of some of the most magnificent palaces and villas that have survived to this day.
Related Post: 8 Things You Must Do In Naples
Here are five not to miss on your next trip to Naples.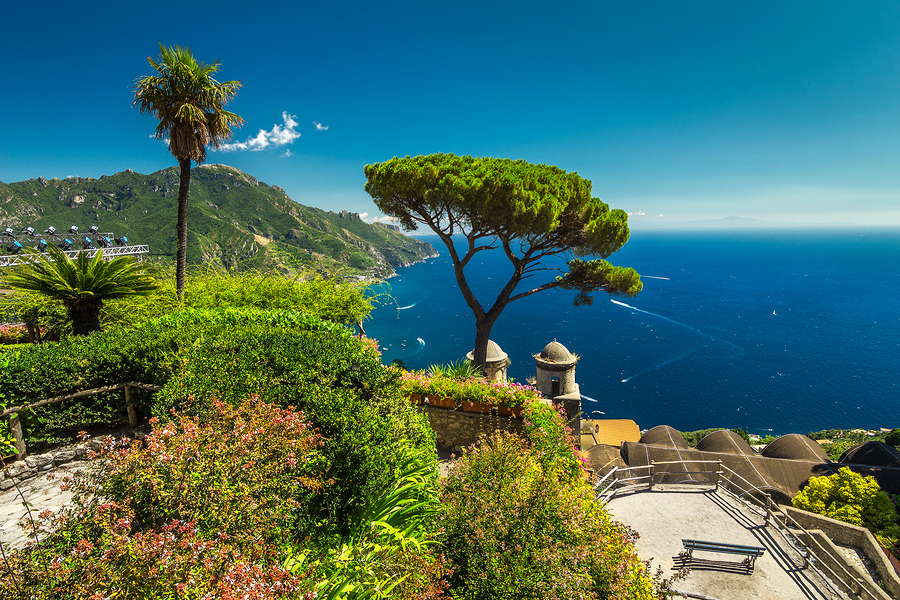 [Villa Rufolo, Ravello]
VILLA PIGNATELLI (Museo Diego Aragona  Pignatelli Cortes). Since the Middle Ages the Pignatelli family has been one of Southern Italy's most influential and powerful clans, who at the peak of their power could claim title to14 principalities, 16 dukedoms, 22 marquisates and 18 earldoms. Through strategic marriages the Pignatelli married into the major noble familes of Italy including the Caracciolo, Colonna and Orsini. This beautifully restored neo-classic museum house came into the Pignatelli family in 1867 (after being owned by the Rothschilds and Ferdinand Acton, son of the Neapolitan Prime Minister, Sir John Acton) and for years was a center of Neapolitan social life. You'll find find many decorative arts collections here reflecting the aristocratic obsessions of the day, including an outsanding array of porcelain from local purveyors like Capodimonte. Del Vecchio, and Giustiniani, and from such major European names as Meissen, Limoges, and Sevres.
Some of the reception rooms (like the White House) are organized  by color scheme—red, blue, and green. In these and other rooms you'll find fine 19th century silver pieces, gilded furniture and ornate clocks.The villa also showcases the San Paolo Banco di Napoli art collection with landscapes, still lifes, and sculpture from major 16th to 20th century Neapolitan artists (including the prodigious Baroque-era painter Francesco Solimena and Gaspare Traversi, a painter associated with the Rococo period, whose work was influenced by Caravaggio). The garden was landscaped English style, no doubt, due to the taste of its original owner. In 1952 Princess Rosina Pignatelli donated the villa and its collections to the state. Riviera di Chiaia, Napoli; cir.campania.beniculturali.it/museopignatelli. Open: 8.30 AM to 5 PM. Closed Tuesdays.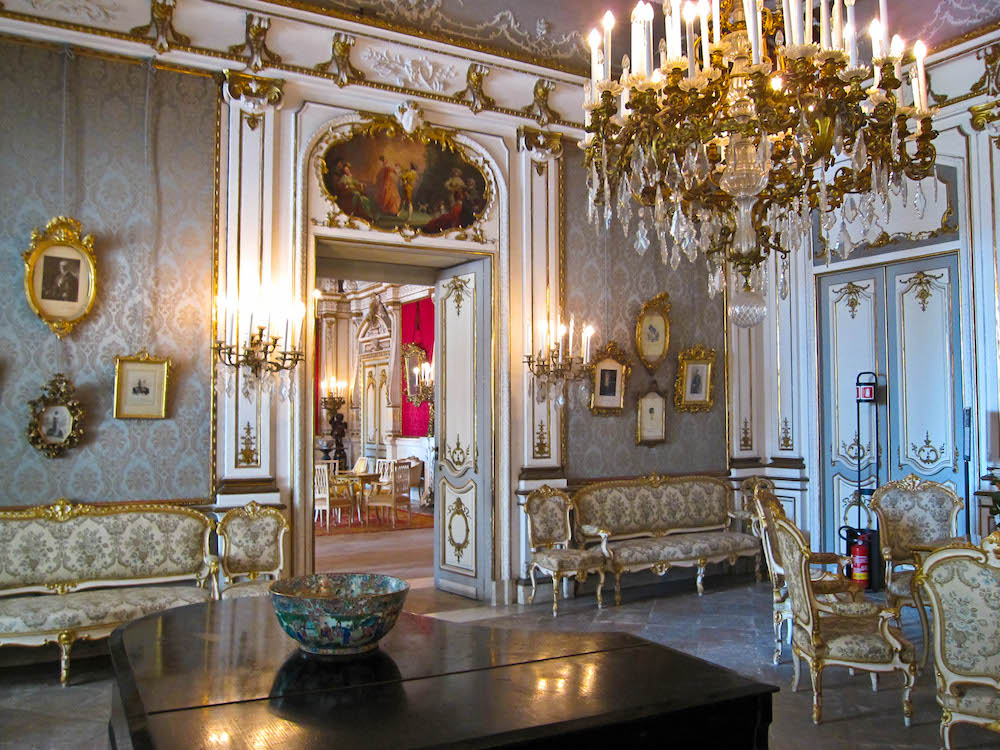 [Photo credit: Wikimedia commons]
PALAZZO ZEVALLOS STIGLIANO. Built for the Duke of Ostuni, Giovanni Zevallos, in the 1600s by Cosimo Fanzago, the Bernini of Naples, this palace-museum is noted for its outstanding art collection, which includes Caravaggio's The Martyrdom of Saint Ursula, believed to be his last work, and an extensive collection of Neapolitan paintings from the Cinquecento to the 20th century. The Neapolitan pieces include canvases from the Posillipo School or Art, named after the waterfront section of Naples where artists, among them Anton Pitloo (1790-1837), whose plein air depictions are regarded as forerunners of Impressionism, and Giacinto Gigante (1806-1876) practiced the art of vedute, or landscape painting. There are also works from the Resina School, referencing the seaside town near Naples whose painters were influenced by the Florentine Macchiaioli, sometimes referred to as Italian impressionists. The Palazzo is part of Galerie d'Italia Intesa San Paolo group. Via Toledo 185; gallerieditalia.com/it/napoli/  Open: Tuesday to Friday:10 AM-6 PM; Saturday, 10-8 PM. Closed Mondays.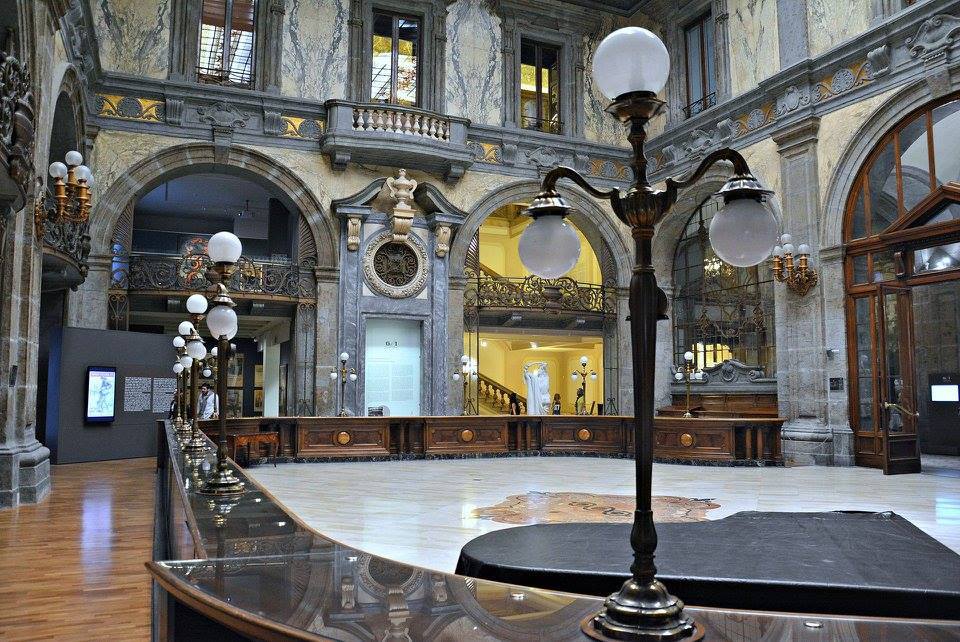 [Photo credit: Due Sicilie – Magna Grecia]
VILLA RUFOLO. Big names have long been associated with this villa, from the powerful Southern Italian nobles who owned the property to celebrities like Jacqueline Kennedy who came to visit. It was built in the 13th century (according to lore with more rooms than days in the year) by the Rufolo clan, an influential family that held sway in Amalfi, then a maritime republic (like Genoa and Pisa) and its architectural style references the area's ties to the East (Amalfi was an important trading hub), blending Arabic and Gothic elements.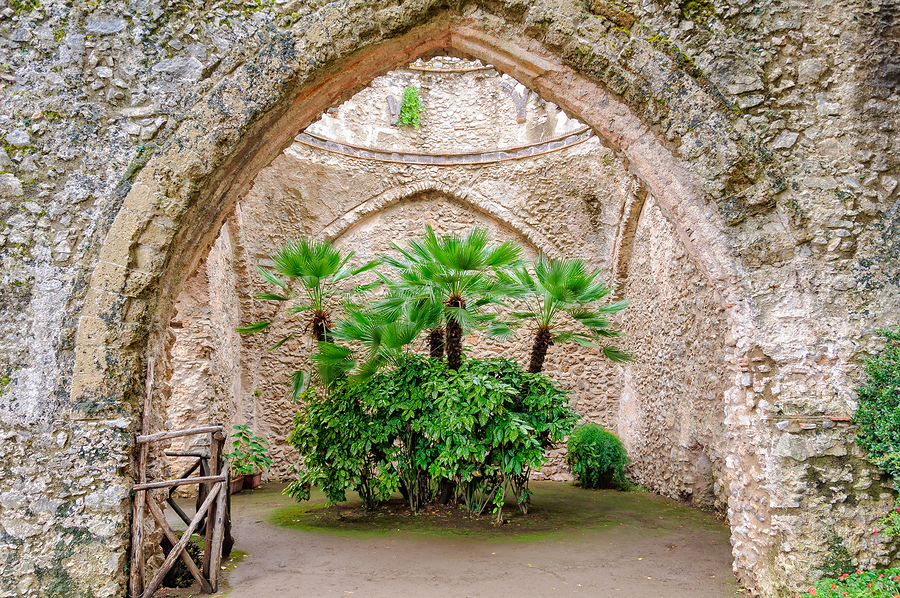 So important were the Rufolo, one even figured as a protagonist in Bocaccio's iconic Decameron. The constant power struggles in the region saw Rufolo fortunes rise and fall; over the centuries the villa was owned by other aristocratic familes like the Confalone and Muscettola.In 1851 it was bought by Francis Nevile Reid, a Scottish botanist, who restored the structure and gardens. The Great Tower, once a strategic lookout and nearly one thousand years old, provides dramatic views of the Bay of Salerno. Today the villa and gardens are the site of contemporary art exhibits and the world famous Ravello Festival. Piazza Duomo, Ravello; Villarufolo.com. Open: 9 AM to 9 PM. Tower museum: from April 1, 11 AM to 5 PM.
Related Post: 10 Things To Do On The Amalfi Coast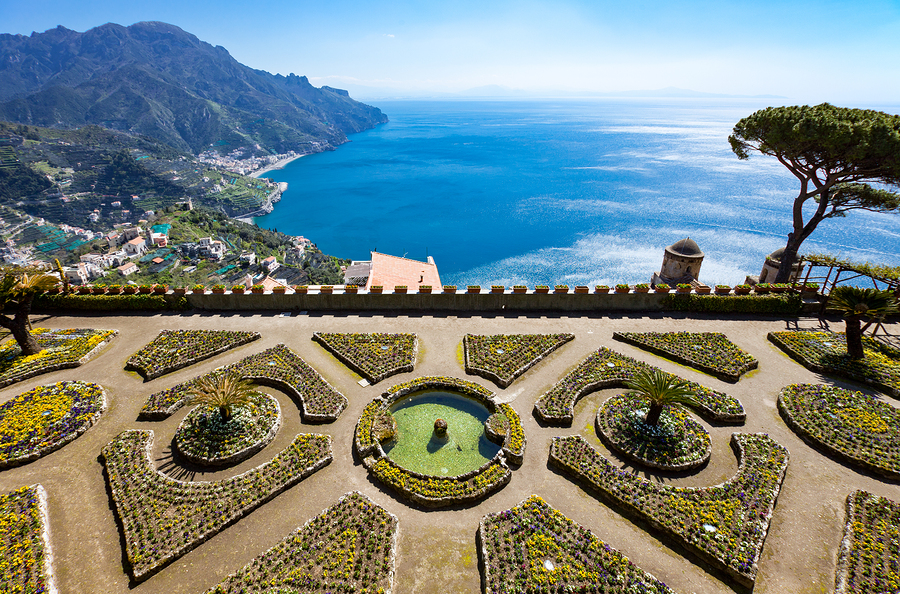 VILLA FLORIDIANA (Museo Nazionale della Ceramic Duca de Martina). One of Europe's finest porcelain collections is housed in the Villa Floridiana, a former Bourbon royal residence, and summer home to Ferdinand IV of Naples' second wife Lucia Migliaccio, the Duchess of Floridia (his first spouse was the powerhouse Queen Maria Carolina, Marie Anoinette's sister). In 1919 the government purchased the property from Migliaccio's descendants and turned it into a museum, whose debut exhibition featured porcelain collected by the Duke of Martina, a highly regarded decorative arts connoisseur. The collection was further enhanced by a bequest in 1978 when an heir to the duke gave the museum a bounty of furniture and porcelain. The museum today showcases over 6000 porcelain and decorative items—Bohemian crystal, Gothic ivories, Sicilian coral, Venetian glass, and bronze objets—ranging from the Middle Ages to the 1800s. Of particular note is the Renaissance-era majolica; pieces from the great porcelain production centers on the Italian peninsula, among them Capodimonte, Deruta, Gubbio, and Faenza;  and a large collection of porcelain including Ming and Qing dynasty china from Asia and from the great European names like Limoges, Sevres, and Meissen. Via Cimarosa 77; polomusealecampania.beniculturali.it/ Open: Wednesday to Monday 8.30 AM  to 7 PM.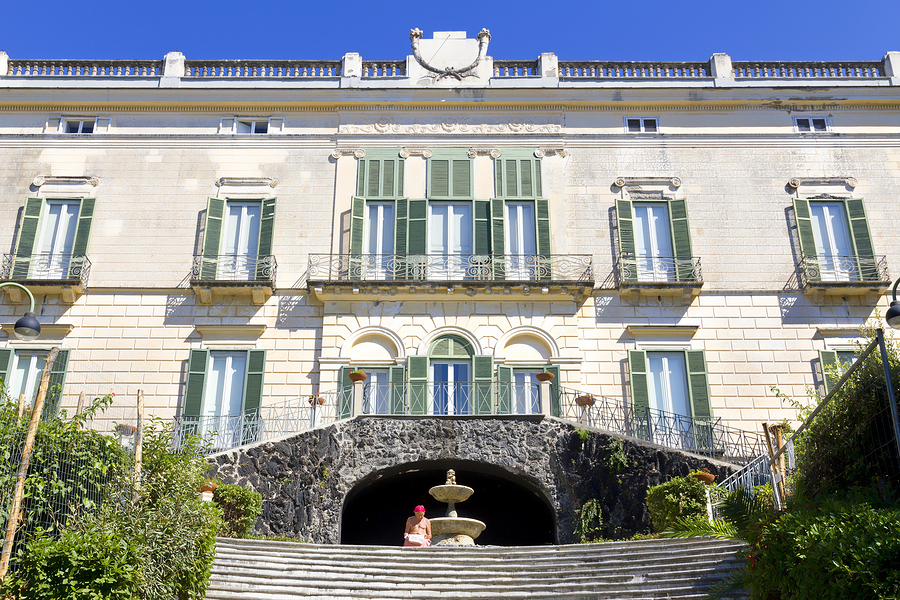 PALACE AND MUSEUM OF CAPODIMONTE. Its name and location might suggest a focus on porcelain, but this large neoclassical palazzo, built by the Bourbon king Charles VII as a hunting retreat, houses one of Italy's richest art collections. Its hillside setting proved to be both blessing—affording striking view of the Bay of Naples—and headache, due to the location's steep incline, which made the transport of building materials difficult. Construction, which began in 1738, took 100 years to complete.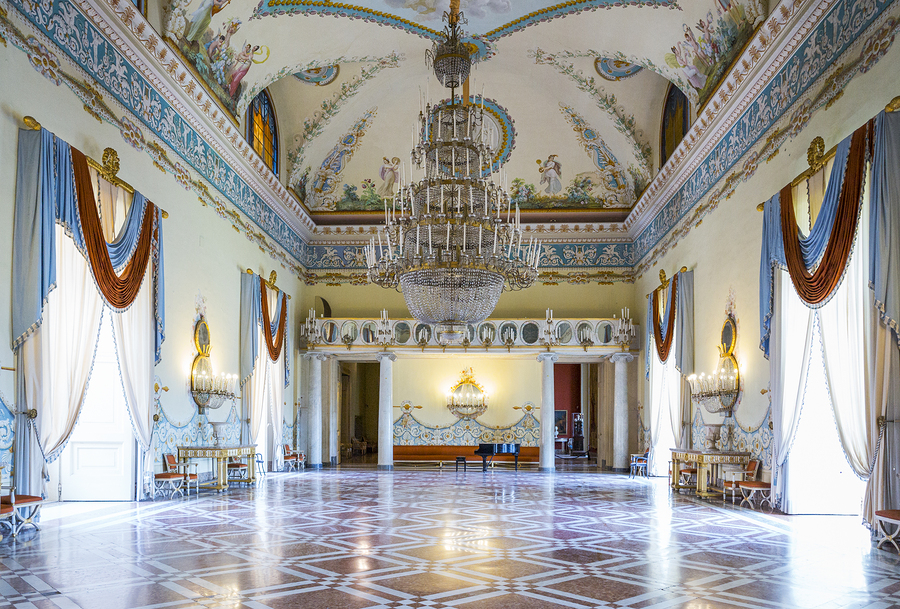 From its earliest days the palace was thought of as both residence and museum, showcasing an important cache of classical sculpture and paintings from the renowned Farnese art collection, which Charles inherited from his mother, Elizabeth Farnese. The palace, home to the National Gallery (Galleria Nazionale), displays works by the major names in Western art like Titian, Botticelli, Raphael, Massacio, Bellini, Caravaggio and El Greco and even a 20th century icon, Andy Warhol. The royal apartments, lavish for a residence designed as country retreat, contain 18th century furnishings. Villa Napoli 2. Open: 8.30 AM to 7.30 PM, except Wednesdays and Christmas. Royal apartments open at 10 AM. A shuttle runs from Naples city center (Piazza Trieste e Trento/Teatro San Carlo) to the Palace and Museum.
Related Post: While On The Amalfi Coast Discover The Greek Temples Of Paestum