Well now.
Did you watch any of the Inaugural Ball coverage on TV?
Did you check out the fashion?
I've kept my politics off of this blog. I figure 50% of you will see things somewhere along the lines that I see them, and 50% of you will be diametrically opposed to my way of thinking. And you come here for beauty and travel, not politics. But we just had the Inaugural, and there was fashion, and I found something interesting.
With the Trump squad being expensive New Yorkers who live in the fashion realm, we already knew that the fashion would be good.
That was a given.
The hair and makeup will always be good, the clothes, shoes and jewels will always be good – that's part of the trump brand.
So let's talk Melania.
She was perfection throughout. I thought her Inaugural Ball dress was very chic and stylish for a First Lady. She looked elegant.
I didn't feel any warmth between Melania and her husband, but I don't really think warm is her brand, and I don't think that I have ever picked up any warm vibes from her, although I can't really say that I have paid her that much attention over the years.
Check out the body language – she is pulling away. But doesn't she look exquisite?
My next thought was when the family came out for the first dance.
Why?
Why were they there? It felt as though I blinked and our beloved constitutional republic had morphed into a monarchy and this was it's official debut. It made me think of Imelda Marcos and her televised parties.
The weirdness of the first daughter taking the office of the first lady lingers, but the optics on the first family dance were intriguing.
Who comes out first? The important one. The princess.
You always have to look to the subtext. You always find the most interesting things tucked away in the subtext. With this regime if they are causing a flap up high with their right hand, look down to the left hand and see what's really going on.
The dance started out with Trump and Melania, Melania looking impeccable in the First Lady role.
But then out comes Princess Ivanka. In the image above where does your eye automatically go?
It pulls away from the First Lady, who should be taking priority on this stage, instead traveling over to the first daughter. Her princess dress establishes her as the leader of the Trump women. She takes the spotlight from Melania, and makes sure that the other females on that stage are her backup dancers. It's all her.
God it must be hell being Tiffany.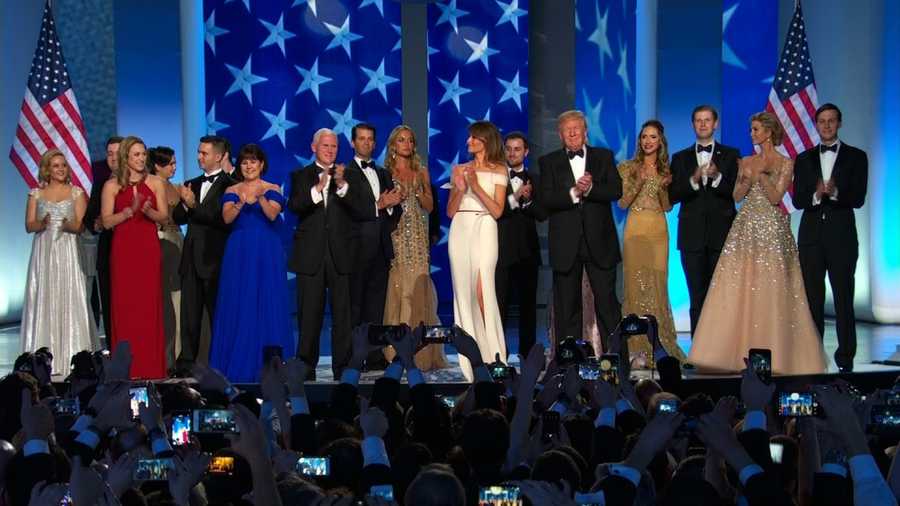 Where does your eye go? And who's dress stands out stylistically as being different from all the others??
There are no coincidences here. This was deliberate. And here is our subtext. Princess Ivanka asserting herself, her power, her will.
She is one to be watched. For as long as this administration lasts, keep your eye on her. All other Trumps are secondary to her and I find it fascinating.
Oddly enough I feel temporary compassion for Melania.
Do you think she chose to stay in NYC with Barron? Or is she being kept there? You know there is a fascinating story here. There is nothing going on at school for a 10 year old that should keep them from moving to Washington, to the White House. I wonder if she is jumping at the chance to get away from the Donald or if she is being banished so that princess Ivanka can be First Lady.
While we are on the subject of Melania, what is your take on the pussy bow? Was she flipping off the media or was she flipping the Donald the bird?
In a different set of circumstances I would find Melania interesting to follow. I loved Carla Bruni as First Lady of France. Another model, always well dressed and coiffed. But I don't care for the company Melania chooses to keep, and the fact that they are shilling her products on the White House website cheapens the institution. So I won't be watching.
But Princess Ivanka. She is another story altogether.
She is terrifying.