If you've been following me for a while you'll already know I absolutely LOVE Venice!
Venice is not only the most spectacularly beautiful city in the world, and the most unique city on earth, it is also an absolute foodie heaven.
Unfortunately most tourists who come here have no clue about the foods of Venice and end up ordering the wrong things at the wrong restaurants. My book Glam Italia! How To Travel Italy: Secrets To Glamorous Travel (On A Not So Glamorous Budget) goes into depth on how to choose a killer restaurant anywhere in Italy, and how to avoid dining at an overpriced, under quality tourist trap.
Today I want to tell you about 7 foods you MUST eat while in Venice.
Pastries
Venice is famous for its pastries. Which is handy when you consider the Italian breakfast is a cappuccino and a pastry. In my Venice book I tell you about specific places to go for a coffee and a pastry, and get into more depth on some of the really famous pastries of Venice. If you see frittelle (pictured below)in a pastry shop window you must try them. These are traditionally available during carnevale, but sometimes you can find them during the year as well.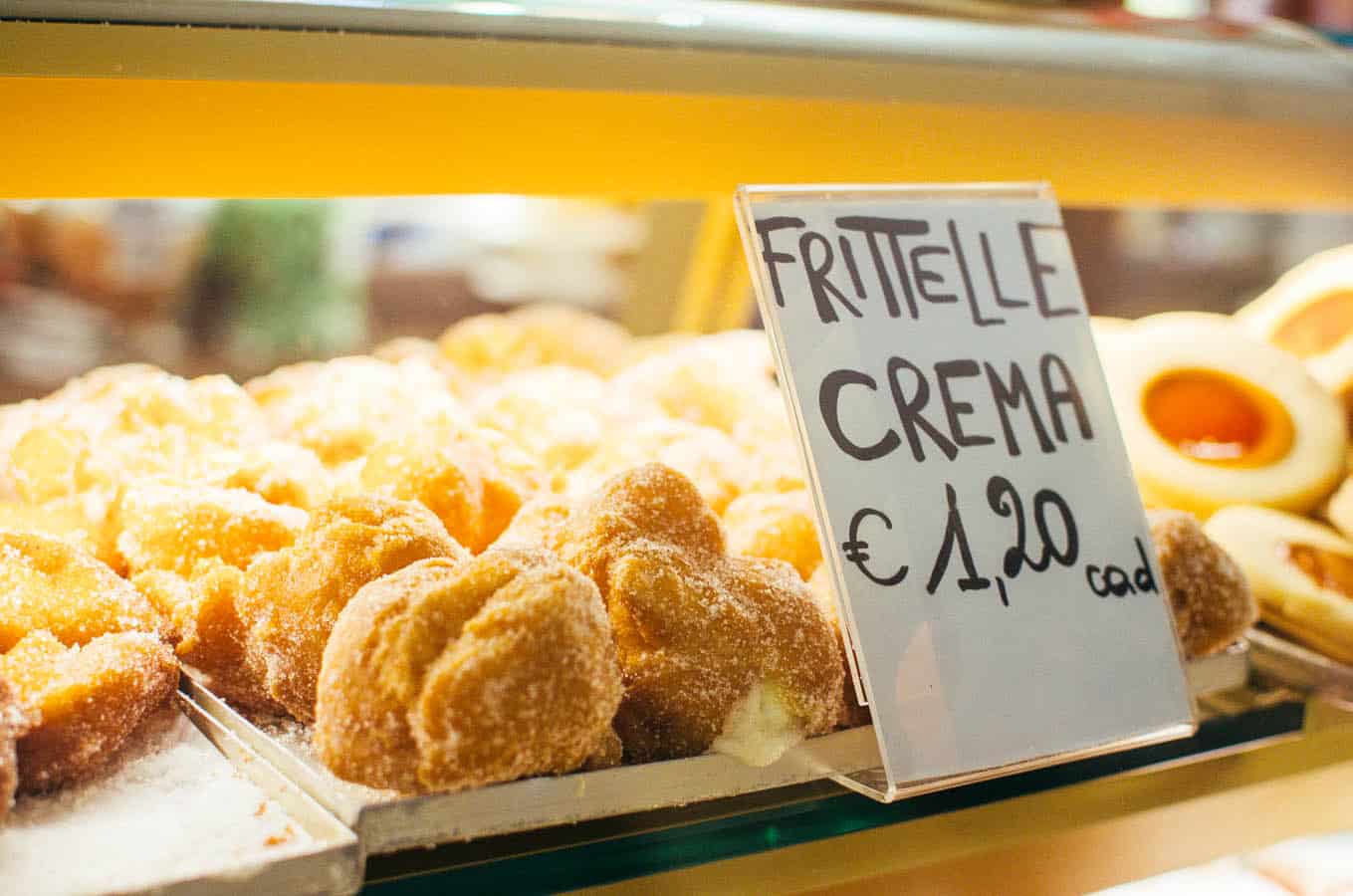 Venetian/Italian croissants come plain, whole wheat, or filled with jam, Nutella, cream or my favorite, pistachio cream. Most of my days in Venice start in beautiful Campo SS Giovanni e Paolo at Rosa Salva, with a cappuccino and a pistachio croissant.
Tremezzini
You will find these triangular crustless sandwiches all over Italy, but in most places I avoid them. Typically there are about 1000 other things in any eatery that are more appetizing than tremezzini. In Venice however, all of that changes.
The food pairings of Venetian tremezzini are out of this world, even when they don't necessarily sound exciting. The one in the photo above is asparagus and egg, which sounds meh, but is actually fantastic.
I get tremezzini at Rosa Salva all the time. The waiters know which are my favorites but also come over to tell me about something fantastic that's on the menu that day. They recently had a porchetta and eggplant tremezzini that was to die for.
But trust me on this one – try tremezzini in Venice and you will be hooked! (Just don't get them elsewhere around Italy.)
Cicchetti
I always recommend you bookend your Italian days with a killer coffee in the morning and an outstanding aperitivo at the end of the afternoon. Venice takes this a step further with their finger food snack culture, the incredible cicchetti.
These delicacies are once again food pairings specific to Venice and designed to be enjoyed with an ombra of local wine from the Veneto. An ombra is a shadow of wine – I tell you the full story about it in my Venice book. I take all my Glam Italia Tour groups on a cicchetti walking tour with a foodie guide, so the photos here are from guided walks where we split items on the plate. 
Normally you would order 2 or 3 pieces of cicchetti (at about €1,50 each) and an ombra of wine for €2 or €3. Cicchetti are available most of the day and all evening, so they can be a very inexpensive snack, late lunch, or sometimes I'll even have cicchetti for dinner. It's fabulous!
Sard in Saor
This is a traditional Venetian dish that you may find in cicchetti bars and also on regular menus as a starter.
There are variations on the recipe, some featuring raisins and pine nuts, some served alone, others of slices of polenta. But at its core local sardines are floored and fried, layered with caramelized onions and pickled in vinegar. It can be an acquired taste and not everyone will love them (I love them!) but you must at least try them once while you're here.
Octopus and Moeche
Octopus
My favorite dish in Venice is octopus on a bed of whipped potato, at Jonny's.
In the U.S. octopus generally resembles chewing on an old bicycle tire, but with less flavor. Not so in Venice! (Or anywhere in Italy) Here octopus is delicious and prepared to perfection. My tour group travelers tend to fall in love with it too – even those who cringe at the though of eating octopus! The texture is sensational, the flavor is amazing, and it's hard to only order it one time.
Moeche
This one is seasonal but if you're in Venice when they're on the menu you must try the local soft-shell crab. It too doesn't taste like any other soft shell crab you've ever tried, no doubt because of the parts of the lagoon they've grown in, and the way Venetians prepare them. They tend to be expensive but are so worth it.
Seafood Pasta
Venice is of course the city on the water, in a lagoon separated from the Adriatic Sea by a series of long, thin barrier islands. That means seafood is king here. Everywhere you go there are amazing fish options on the menu. You can't come to Venice and not have seafood pasta at least once!
One of the most famous pasta (and risotto) dishes in Venice is al Nero di Seppia, made from black squid or cuttlefish ink. It tastes delicious but does color your teeth and lips black while you're eating it.
Risotto
Unlike much of Italy, pasta is not the main carbohydrate here. It is definitely on every menu but so is rice (risotto) and polenta.
Even if you don't like risotto at home you must give it a try here in Venice, at a real Venetian eatery, not a tourist joint. Here in Venice risotto is cooked to perfection. Whether you opt for the delicate Go risotto in Burano or a seafood risotto (my favorite) or even a simple mushroom risotto, it just doesn't get creamier, more perfect, more delicious than in Venice.
Gelato
You just cannot beat the perfect cup or cone of gelato in Italy. In all of my books I talk about why you should only ever eat artisan gelato. This is gelato made by hand using local, seasonal ingredients instead of mass made chemical laden ice cream found in the tourist shops. Just a heads up: Italians wouldn't be caught dead eating the color added, chemical added fake stuff.
Real, artisan gelato is out of this world, and Venice has multiple artisan gelato shops spread out all over the city. Typically they will only offer a handful of flavors each day, based on what is in season. When you buy a gelato at one of these shops you not only support the owner and the staff who made the gelato by hand, but also the local fruit growers and the local milk producers in the Veneto.
The gelato in the picture above was fig and ricotta
Everything You Need To Know About Venice
My newest book Glam Italia! 101 Fabulous Things To Do In Venice gives you an insider's perspective on amazing things to see, do and eat in Venice. I take you away from the tourist crowds and into the Venice you've been dreaming of. I also point out loads of details you won't find in any regular tourist guide book, details that will make you fall in love with this spectacular city. This book is available worldwide on Amazon.
Do you belong to the newsletter? Each month I send out insider info on secret places in Italy, places you may not have heard about before but will definitely want to know about and/or visit! You can join the newsletter here