Hello Everyone!!
Have you had that ghastly cold/flu that has been everywhere this winter? I have. Twice. How does that even happen? Anyway, if you have been wondering where the blog posts have been the past couple of weeks, they've been sidelined while I have been trying to get better!
I'm nearly back to 100%, so better late than never!
Friends and clients and readers are always asking me about which skincare products I use. I am obsessed with skin care, I believe that to look our most gorgeous, whether we have a full face of makeup on or none at all, our skin must be in its optimum condition, so I really put a lot of effort into my complexion.
I have products that I use daily, products that I use weekly and products that I just use as needed. (Not shown here are all the sheet masks I use and the Reves de Sabine Rose Clay mask that I got from a photo shoot, and my eye cream, the tube of which is too beat up to photograph!)
I am a huge proponent of Korean skin care products and the multiple step Korean skin regimen, but it often confuses people when I try to explain the steps I do and how it all works. Invariably I get asked which specific products and brands I am using. I decided while I was cleaning out my skincare cabinet this weekend and getting everything ready for 2018 that I should photograph the skin care products I am using and put them in a step by step order so that you can see what has been working for me.
I buy my Korean Beauty products through Memebox. They now use Amazon as their fulfillment center, so I am putting Amazon links where I can .
I also get products sent to me by companies for my magazine work, and get others from my Zoe Report Box of Style and FabFitFun subscriptions. Some of those products make it in to the skincare favorites, others not so much! I don't like to speak badly about anyone's products, so if I don't like something I just don't talk about it.
I am a huge Tatcha fan and love love love their entire product line, but as a single mom they don't always fit my budget.
My Daily Skincare Routine
I think one of the most important components of your skincare wardrobe is your cleanser. If you are using the wrong cleanser for your skin type it sets off a chain reaction of everything going wrong. If your cleanser is too drying (think foaming cleansers and bar soaps) it strips your skin, leaving it looking parched. For oily girls a cleanser that is too drying actually makes your skin create more oil. If your cleanser is too heavy or greasy for your skin type it can make your skin feel slimy and slick.
Cleansing Oil
A cleanser should dissolve away your makeup and cleanse your skin without leaving a film on it. I have been using Memebox I'm Cleansing Oil
 for several years now. I use the formulation for normal to dry skin, but they also make I'm Cleansing Oil for Oily Skin. You can find it online here at Amazon.com
I only cleanse my skin at night and just rinse it in the mornings, but in the official K Beauty system you double cleanse both morning and night.
All of these Korean products are super concentrated, so you only use a tiny amount of any of them.
The next step is to apply an Essence. I use CosRx Advanced Snail Mucin Power Essence. It took me a long time to get on board with using products containing something called snail mucin, but am so glad I finally did! I had been reading about it but wasn't game to try it, and then I saw one of my girlfriends skin looking sensational, and when I asked her what she had changed she told me she was using products with snail mucin. You should have seen how fast I got online and started ordering!
This is the most amazing ingredient and my skin has never looked so good since adding products containing it into my skincare plan. Now I buy everything I can that contains snail mucin.
This essence from CosRx is nutrient dense and makes your skin glow. It boosts your skin's brightness, hydration and overall tone. I buy it online here at Amazon.com
Morning and night after cleansing (or rinsing) I apply the essence followed by this next product, The Scinic Snail All In One Ampoule Serum. Don't be put off by the name! My skin loves this product more than anything, and I always re-order it once I am half way through a bottle so that I am never without it! Again just a tiny amount goes a long way.
You probably don't need to use both products, but I do and I like to layer them. This ampoule further boosts the skin's hydration and its glow. It helps your skin to repair itself, diminishes redness and uneven color. When you have something working on hydration that goes this deep, your skin looks amazing all day. It also prevents and minimizes the fine lines and wrinkles that either show up or get worse because of skin becoming dehydrated. I find that makeup looks so much better when I have this on under my moisturizer, foundation looks super smooth.
During the day my next step is emulsion. This is a lighter texture of moisturizer that still is nutrient rich but doesn't have a heavy finish to it. The essence and the ampoule are busy working away underneath, super boosting the skin's hydration, so during the day I just use the emulsion. At the moment I have the Oolu Orchid Emulsion but you can find a similar product
I follow this with my Neutrogena Ultra Sheer Dry-Touch Sunscreen, Broad Spectrum Spf 100
 It is important that you use a broad spectrum SPF product every single day. Broad spectrum SPF's block both the UVA aging rays and the UVB burning rays and keep you looking youthful and pretty for longer!
At night instead of emulsion, after essence and ampoule I use MIZON All In One Snail Repair Cream
. This is a lightweight but powerful ultra-nourishing gel-cream moisturizer. Your skin does all of its repair work while you sleep, so it is important to use products that help improve cell regeneration and recovery. This one also helps reduce pores, acne scars and blemishes. It is wonderful. And it is ridiculously inexpensive.
Osea Facial Oil. I got this in my Zoe Report Box Of Style. I love facial oils, especially in the winter months, or if I'm somewhere hot and dry in the summer. Of course I live in Phoenix, so my summers are both hot and dry, so I use facial oils during those months, but if I'm going to be somewhere more humid I don't bother.
I don't know a lot about this company (Osea) but their facial oil is wonderful. I use it after the moisturizing step.
The final skin care step at night is a sleeping pack. This has the texture of a gel-cream, so is quite lightweight. Its job is to hold all the skin care products you just applied against your skin. It's like the sealing product, holding everything where it is supposed to be, and keeping them all working. It also gives your skin some more moisture, and moisture is the key to youthful looking skin!
As for the Donkey Milk part? I have no idea what it does – I just bought it because the name sounded so funny! I have never bought a Korean skincare product that has been less than amazing, and this one did not disappoint!
The Add Ons
I have several products for exfoliating. I rotate them and only use them once every week or two. Exfoliation should be based on your skin's needs.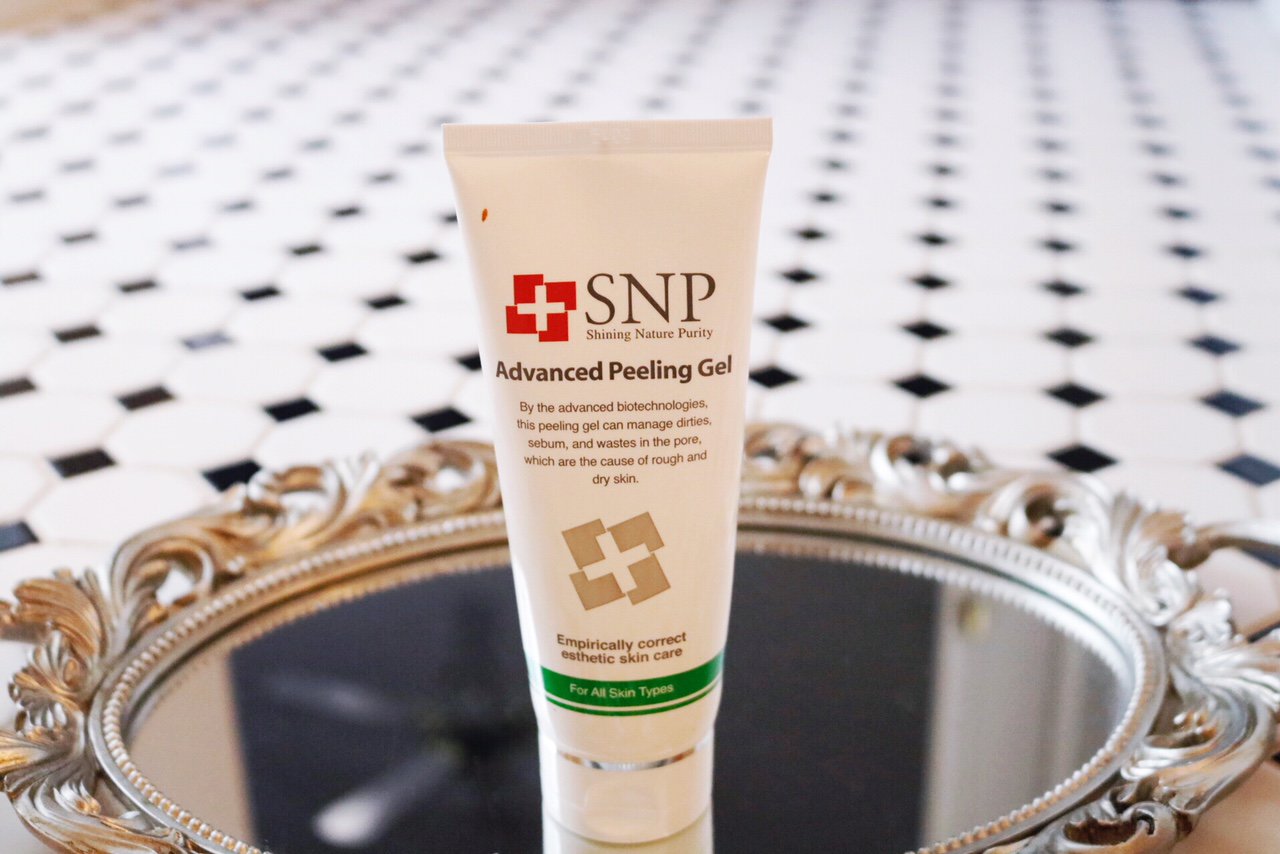 SNP Advanced Peeling Gel.
Once every week (or sometimes every other week) I will exfoliate my skin to keep the surface clear of dead skin cells and debris and to keep it nice and smooth. I don't believe in using scrubs on your face. I think they scratch off the dead cells on the surface of the skin but then also scratch the baby skin underneath, keeping your skin in a perpetual state of roughness and grittiness. So instead I prefer to use enzyme treatments like this peeling gel. You pop it on after cleansing and let it set for 15 minutes, then rinse it off and you have gorgeous, smooth skin!
This one is a Korean product that came in my FabFitFun box last spring. You can use it daily before makeup to keep your skin smooth, or less if you don't need daily exfoliating. You spray it on and then using circular massaging motions with your fingers lift away the top layer of your skin. It's pretty cool! I often use this on shoots when I need to smooth out a model's skin.
I have used this one for ages. Right when my previous jar was running out this full sized jar arrived in my Zoe Report Box Of Style, the timing could not have been more perfect! This is a water activated enzyme cleanser and exfoliant that gently clears away any dead skin cells and debris from the surface of the skin, leaving you with a lovely, glowing complexion. You only use a small amount, so a jar lasts a really long time.
This exfoliating mask has been around for years and is a celebrity favorite. It just arrived in the winter FabFitFun box so I have only used it a few times, but it is really lovely and very quick. You only put it on for 2 minutes then rinse it off, and you are left with beautiful glowing skin. You can find ExfoliKate at Sephora.
I have actually had several really amazing products from FabFitFun. The box is only $50 per quarter and they give you some really outstanding full sized skin and makeup products. You can read about their subscriptions here
I bought this one at Sephora a few months ago after hearing a lot about it from other people in the beauty industry so decided to give it a try. This is a nighttime retinol oil designed to work on fine lines and wrinkles, rough patches and dryness. I quite like it but it is expensive. Sunday Riley products are available at Sephora.com
This one was also in a Zoe Report Box of Style. It is a really lovely, intense water drench for the skin. It is quite lightweight so is a great option if you don't like the feel of heavy moisturizers. I often use it before makeup to make foundation look extra gorgeous. The trick is rather than rubbing it in like a lotion, lightly drum your fingers across your skin. You will almost feel water beads on the surface of the skin. I will do this about 5 minutes before I want to put makeup on. It's fabulous! I also really like to travel with this product when I'm going somewhere humid. You still need to hydrate the skin in humidity, but most moisturizers just feel slimy. This one is magic.
You can find Sunday Riley Tidal Brightening Enzyme Water Cream online at Sephora  and you can read about the Box of Style subscriptions here
Sonia Roselli Water Balm. This one is a makeup artist secret and as far as I know is only available on Sonia's website and Amazon. Developed for makeup artists, it is the ultimate pre-makeup treatment. It plumps up the skin, softening fine lines and wrinkles and giving it the most amazing hydration so that makeup looks gorgeous. You apply this one with a drumming of the fingers too and almost get a wet finish to the skin. You let it sit and soak in for a few minutes and then start the makeup application. Foundation looks absolutely beautiful when you use this product first. You can find it on SoniaRoselli.com and also here on Amazon.comhere at Amazon.com
A few years ago I did a shoot in Colorado and somewhere between the altitude and the cold dry air my skin took a beating! I even had windburn on the tops of my cheeks. I bought the Tatcha Indigo Renewal Treatment because it literally heals damaged skin. Indigo has fantastic healing properties. I have kept this product on hand ever since and use it as a rescue product.
Inside each Tatcha product there is a story written on a vellum scroll. I learned with this one that the ancient Samurai would wear cotton soaked in indigo next to their skin so that if they were cut with a sword the healing process would begin immediately as the indigo went to work. Tatcha has an entire line of indigo products, perfect for winter skin that needs healing. The indigo products from Tatcha are endorsed by the National Eczema Association. They are just that good!
This product isn't available at Sephora, you need to get it directly from Tatcha.com
I think it's a good idea to have a core group of products that you use every day and then have others that you rotate through, depending on your skin's needs. When you find the products and the system that makes your skin look amazing, use just those until your skin stops looking amazing. I am super loyal to my skincare products and hardly ever try new things because I my skin looks incredible, it took a while to find the perfect regimen, and why would I change a thing?
I think Korean women demand an enormous amount from their skin care products. If a product isn't performing extremely well and giving amazing results, the Korean woman will replace it with something that does. As such their products are extremely high performance.
American women tend to make their purchasing decisions based upon whichever celebrity is endorsing a product line, and don't have such high expectations for their skin care products. If your skin isn't looking amazing then you need to make some changes in the products you are using. You work far too hard to be wasting your hard earned money on products that don't perform for you!
I hope you found this post helpful, and will try out some of these items next time you feel your skin needs some extra lovin!
If you have skincare products that you absolutely love, please tell us about them in the comment section below.
xo
This post contains affiliate links. See
Disclosure Page
to learn how this blog uses affiliate marketing.