A lifetime ago when I was living in London I had to make a life altering career decision.
I had to either move to Paris or to New York.
At the time Paris was my absolute favorite city in the world and I held this naive fear that if I moved there it would just become the place I lived, and would forever lose its magic. What a fool – Paris will always be Paris!
I chose New York, wound up in Los Angeles, and life moved on. I often wonder what would have happened if my decision had gone the other way. Where would I be now? Would I be living in Le Marais? St Cloud? The 15th? Would I be married to a Frenchman? Would I have ended up in America anyway?
I always think about it when I'm in Paris. I was just there a few weeks ago and it felt as if with every magnificent corner that I turned  the city was looking back at me saying " Yes, but you didn't choose me…"
I am obsessed with travel blogs and travel Instagram accounts. I scour them at every opportunity. I'm always looking for new or quirky things to do in the cities I travel to, something interesting from another traveler's perspective. Travel guides can get boring and repetitive, but bloggers and Instagrammers have so many fascinating things to share, different, intriguing takes on places, with fabulous visual cues.
I study their work and then make endless lists of cool things to see and do, especially in the places I'm traveling to, but also the places on my bucket list. When I'm away and I manage to get a little free time I try to fill it with these new experiences.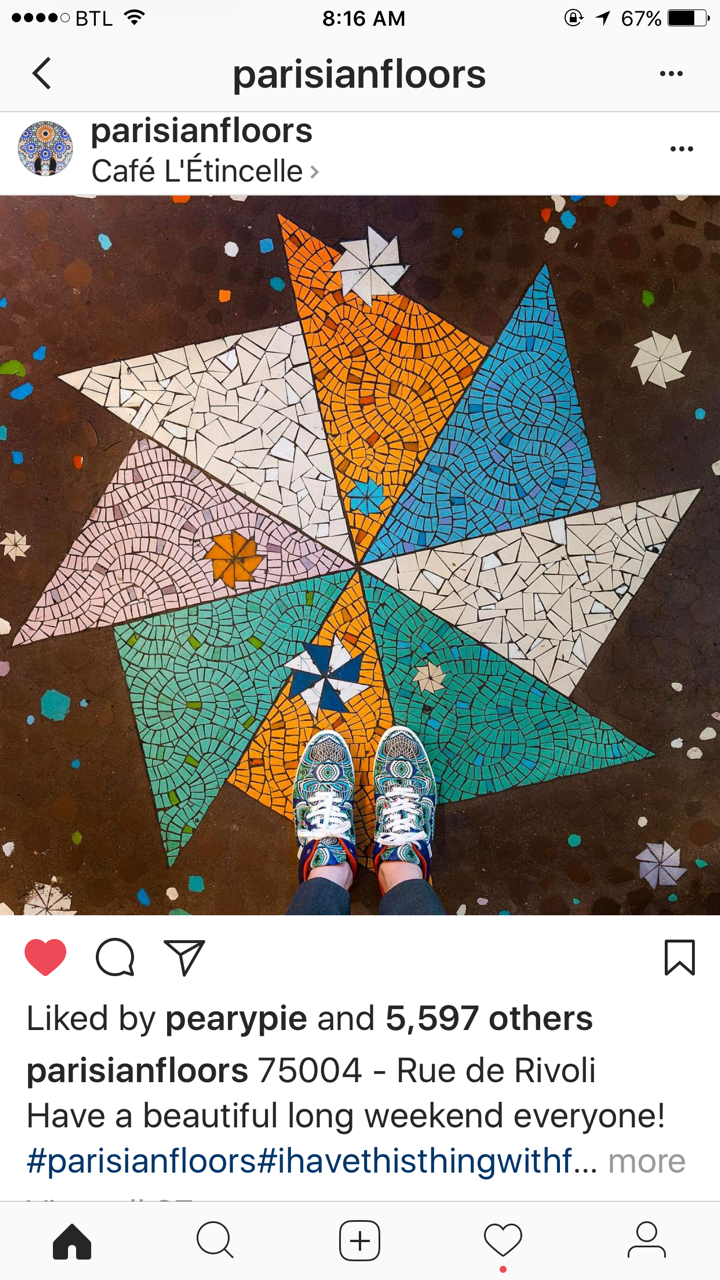 One Instagram that I absolutely love is photographer Sebastian Erras' beautiful @parisianfloors. He posts pictures of exquisite (and wickedly cool) mosaic floors around Paris, normally including his feet in super stylish shoes.
His Instagram page is just fabulous. Every time I look at it I ache to get back to Paris and track down all these wonderful places.
On my phone I have a list of about 40 of his floors in Paris that I want to see and photograph myself.
This past trip I was tour guiding one of my Glam Italia Tours. (This one was 6 days in Paris, 6 on the Italian Riviera and 2 in Florence) In free moments, and where possible for coffee breaks with the group, I tried to stop at places on my Sebastian Erras list.
If not for Sebastian's Instagram I wouldn't have known to go inside and look at the floor at Cafe Benjamin.
I may have chosen a different place to stop for coffee, but I got such a kick out of going to a place on my Sebastian Erras/Parisian floors list!
I thought about trying to do shoe pics like he does, but his shoes and his vision are what brings his stories to life.   So I abandoned that idea.
I only got to a few of Sebastian's cafes, and didn't get to the other places on my list, but that just means I need to get back to Paris sooner rather than later. Because after all, Paris is always a good idea…
You can find Sebastian's Parisian Floors Instagram feed here.
Do you follow me on Instagram? You can find my feed here.
Here come some important affiliate links.
I flew to Paris from Los Angeles on Air France and it was fabulous. I'm not sponsored by Air France and my flight wasn't free – I paid for it. The flight was fabulous. The seats were comfortable, the in-flight entertainment was great, the food was good, the service was just wonderful.
I used to fly Air France from Los Angeles to Paris all the time, I need to fly them more often.
I always travel with travel insurance. If I were to get sick and not be able to travel it would cover me and I wouldn't lose the money I had laid out for my trip. Travel Insurance also covers you for missed flight connections, luggage that doesn't arrive, and super importantly it covers you if something goes wrong medically while you are away. I always buy a policy that gives me $50,000 coverage to fly home with a nurse if something bad were to happen. But allowing for the cost of medical care here in the USA I would be better off staying there…
I use Allianz Travel Insurance and have done for years.