Have you been to Capri yet? Is it on your travel bucket list?
If it isn't, it needs to be.
Just twenty minutes from Sorrento by ferry Capri is the most chic island in the Mediterranean. From its staggering beauty to its fascinating history, exquisite cuisine and fabulous shopping, Capri has something for everyone.
Walk through the residential area up to Villa Jovis, Emperor Tiberius' 2000 year old palace and take in the breathtaking views of Naples, Sorrento and the Amalfi Coast. Ride around the island in a famous Capri convertible taxi, take a rowboat helmed by a singing Napolitan into the Blue Grotto, rent a local gozzo boat for an afternoon circumnavigating the island and swimming with a view of the Faragioni. Sit somewhere beautiful with a view to die for and enjoy the delicious local cuisine.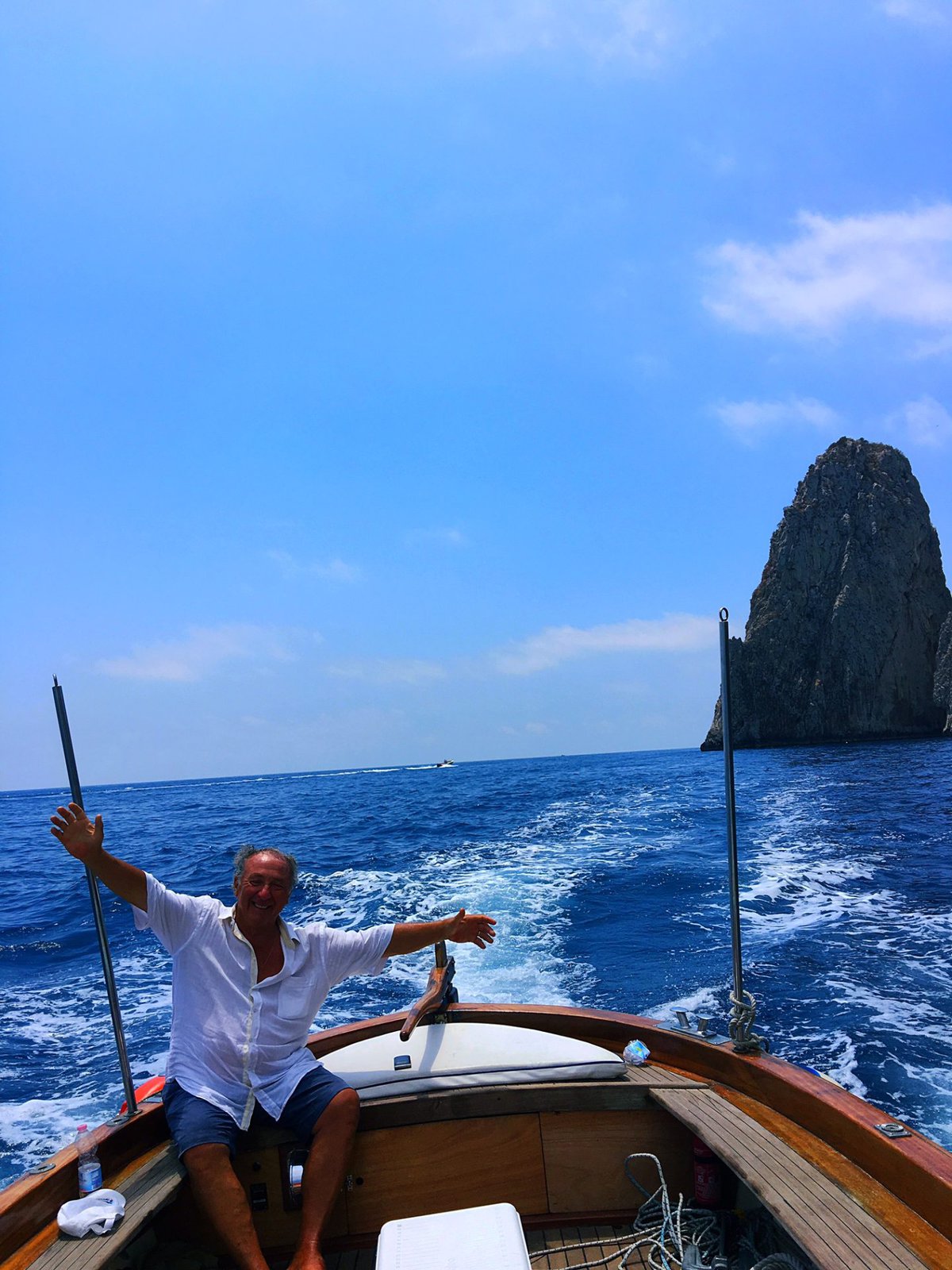 It's hard not to fall in love with Capri.
But what do you do if you are dying to get back to the island or dreaming of going there for the first time, but are stuck at home with travel bans and pandemic lockdowns?
Today I want to give you three ways to escape to Capri while we are stuck at home. These three things also make fabulous gifts for the traveler who couldn't get away.
Three Ways To Escape To Capri During Lockdown
Best-selling author Kevin Kwan (Crazy Rich Asians) has set much of his newest book Sex and Vanity on the island of Capri.
His writing style is so descriptive and alive, you will feel like you are actually there. His characters even frequent real life shops and restaurants that you too can visit once we open back up for travel.
Order A Food Box From Capri
The much loved Ristorante Michel-Angelo in the book is actually a real place, not a fictitious one! It was actually chosen as one of the top 10 restaurants on the Amalfi Coast! (See the list full here) Sadly they closed their doors for the last time at the end of the 2020 travel season but you can still buy their famous food boxes.
Their food boxes include their own fresh Extra Virgin Olive Oil, jars of their bottled tomatoes, their wine, a ravioli stamp and their cookbook.
For those of you who have been to Ristorante Michel-Angelo and like me are devastated that it has closed down, they now have a new business, Giardino Michel-Angelo. This is a huge vegetable garden overlooking the Mediterranean in Anacapri, where you can do everything from taking cooking classes to ordering a curated picnic to take on a walk (or a boat!) while you enjoy the wild beauty of the island.
** I featured the food boxes in a newsletter recently. I told my newsletter members that I don't know the owners, I just like the food boxes. The following week the owners reached out to me (there are thousands of members of my newsletter, and some had contacted Ristorante Michel-Angelo to order boxes shipped to their countries all over the world.) and we have since become friends! I will be ordering picnics for my tour groups when we are finally able to travel again, hopefully in 2021. You can join the newsletter here
A Podcast To Make You Fall In Love With Capri
The month after I sent out the Capri food box information, one of my favorite Italy-centric podcasts, Untold Italy, did an interview with Holly d'Esposito, one of the owners of Ristorante Michel-Angelo.
Her story is the stuff dreams are made of. She talks about arriving on the island as a tourist and asking her hotel for a restaurant recommendation. They sent her to – you guessed it – Ristorante Michel-Angelo. She walked through the front door and locked eyes with the owner, handsome Gianluca d'Eposito. The most gorgeous love affair rolled out from that moment and now the couple are married with two lovely little kids who are growing up on this island paradise.
If you've ever daydreamed of finding your true love and soul mate via a chance encounter on a beautiful island in the Mediterranean, or if the idea of escaping from real life for an hour to hear a beautiful love story that happened because of a magical twist of fate, check out the podcast episode here.
Holly also tells you about fabulous things to do while visiting Capri, indulging your wanderlust and giving you ideas for that next trip.
You're going to love it.
If you know someone who would love to visit Capri, consider buying them the Kevin Kwan book and/or the food box for a holiday gift!
Save This Pin