Venice is an amazing city to visit. It is completely unique and breathtakingly beautiful. 
The city is full to bursting with fascinating history, unbelievable old palaces that seemingly rise up out of the water, churches filled with breathtaking artwork, stunning museums, and gorgeous old calli to walk along and explore. There is something spectacular around every corner in Venice. And oh good Lord – the food! Venetian cuisine is divine!
So it stands to reason that during any visit to the city you will want to pick up some souvenirs or gifts to bring home.
The problem is, most of the kiosks and storefronts are selling crappy Made-In-China junk. Furthermore, these products are typically made in sweatshops on the other side of the world and have a negative impact on the Venetian economy.
Rather than waste your hard earned money on rubbish, I want to guide you toward some of the fabulous artisan wares you can buy in Venice. All of these are made by real Venetians, living in Venice, using the same methods used for over 1000 years.
By shopping with authentic Venetian merchants you help keep the craft alive and come home with something authentic to remember your trip by.
You already know about Murano glass and Burano lace, so let's look at 6 other types of Venetian goods you'll love to bring home.
1. Venetian Chocolate
I learned about this absolute treasure form my Cicchetti tour guide Monica. This place is known as the finest chocolatier in the city.
Vizio Virtu is an artisan chocolate workshop run by two completely fabulous women who clearly have their priorities straight. Chocolate above all else.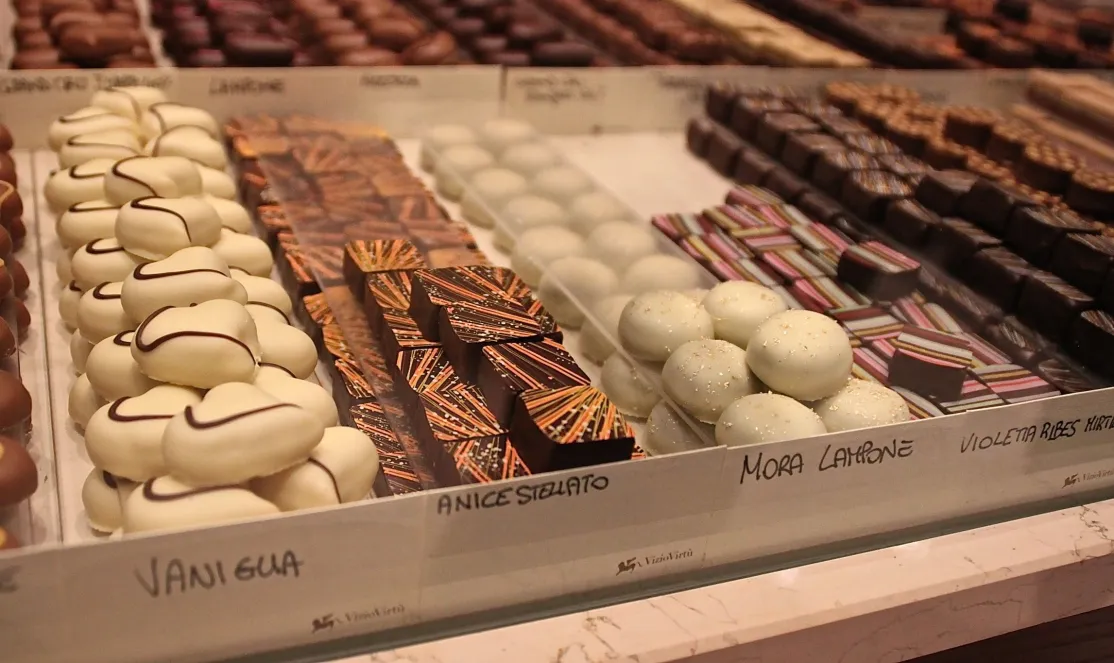 They only use the highest quality ingredients, from Sicilian pistachios to Piedmontese hazelnuts. Their chocolates and truffles make incredible delectable gifts and souvenirs, their handmade gelato is divine (eat a cone while you're there buying your gifts) and they even offer chocolate workshops.
Vizio Virtu is fantastic and not to be missed.
Address: Castello 5988 (3 minutes from Rialto Bridge)
Website www.viziovirtu.com
2. Paper Goods
Did you know that Venice was a pioneer in printing? In fact the Italic script was invented right here in Venice? It was first used in 1501 by Francesco Griffo, the typesetter for Venetian printer Aldus Manutius. Venice was also the home of modern music printing – in the 16th century Ottaviano Petrucci was able to secure a 20 year monopoly on printing sheet music. Prior to this sheet music was written out by hand.
Venetians discovered that using leather covers for books damaged the paper within, so started using beautifully marbled paper covers instead. Venetians became masters at the ancient art of marbling paper. You can still find marbled paper shops around Venice, many offering classes and demonstrations of this really ancient art form. Marbled paper is sold by the sheet, and artisans making these papers have travel sized cardboard tubes for you to bring them home in.
One of my absolute favorite paper stores in Venice is Plum Plum Creations, in the Cannaregio neighborhood. Arianna Sautariello is a young Venetian artist who amongst other things designs really cool, modern images of classic Venetian scenes, makes etching plates of them, then prints these etching in the old school way. Each etching is hand painted.
Did I mention they are incredibly cool?? These art the type of fresh artwork you can imagine framed and hanging in your home or office. Image via venezia.net
She also makes bookmarks and postcards and all manner of really special paper products. My Glam Italia Tour travelers always end up buying lots of pieces here. Arianna's artworks are affordable, easy to pack in your suitcase, and make incredible souvenirs. Be sure to check out her website: www.plumplumcreations.com
Conveniently, Plum Plum is very close to one of my all time favorite Cicchetti bars, Vino Vero, one of my favorite Venetian coffee shops, Torrefazione Cannaregio, and is just around the corner from the Jewish Ghetto. Add this to your must see list.
Address: Fondamenta dei Ormesini
Cannaregio 2681
3. Masks
Carnevale masks are an intrinsic part of Venetian history. They were first documented back in 1094, and were a part of Venetian life for the next 7 centuries until the fall of the Republic in 1797. Mask makers had their own guild or union and were recognized as artisans.
Along with the Carnevale masks they also made Commedia dell'Arte masks for actors. You can still buy both types of masks and they make amazing souvenirs.
They also are incredibly ripped off – a loophole in the law states that even if the smallest piece is added by hand in Italy, it can have both a handmade label and a Made In Italy label. Consequently crappy plastic masks are shipped in from China, some sweatshop worker glues on a feather or a piece of ribbon, and they can legally label the knock off mask as Made In Italy and Handmade.
Rather than buying a $10 knock off mask that was made in a sweatshop in China, support local Venetian mask makers who still make their masks authentically. Look for mask shops that either have a full workshop on the premises or at least a partial workshop.
My favorite mask shop, and the one I take all my Glam Italia Tour groups to is Kartaruga. This is a family owned and operated business. They used to have 2 locations in Venice but unfortunately their main workshop got severely damaged in the November 2019 floods and then once Covid hit they were no longer able to keep both open. The main workshop is now on the mainland, but they have a partial workshop in the remaining store, where you can take classes or watch the master mask makers in action. On top of that, Francesca Cecamore who owns and runs the store is also the president of the Mask Makers Association in Venice.
Although you will see masks for sale around every corner in Venice, there are only a handful of authentic mask makers still in business. You can visit Kartaruga, just 4 minutes walk from Piazza San Marco, or find more authentic make shops on the Venezia Autentica website.
Kartaruga
Address: Calle delle Bande, Castello 5369
Website: www.kartaruga.com
4. Coffee
Did you know that Venice introduced coffee to Europe and the western world??
For centuries Venice was the merchant trade capital of the world. All trade between east and west went through the port of Venice.
Coffee was considered the drink of the Muslims, so the church tried to get Pope Clement VIII to ban the drink. He decided to try a cup before banning it, and liked it so much, he famously said:
"Why, this Satan's drink is so delicious that it would be a pity to let the infidels have exclusive use of it."
The first coffee houses (in the western world) were in Venice. The oldest coffeehouse in the world that is still running now is Caffe Florian in Piazza San Marco.
Suffice to say Venetians are absolute masters at making coffee. From their bean selection to the roast, to the grind, Venetian coffee is off the charts brilliant.
Unfortunately, because there is such a massive cruise ship population wandering through the center of town, a lot of coffee houses and hotels don't bother making fabulous Venetian blends. There's no point going to the time and effort for a mass market, Starbucks palette. However, Venetians don't drink the mass market swill, they go for the good stuff, and if you know where to go it will rock your world!
As much as I am in Venice I always, always, always bring home coffee. The following are all artisan coffee roasteries. This is definitely not mass market coffee! Here are my three all time favorite places to get coffee in Venice:
Girani
This is the oldest artiginal coffee rotary in Venice, and supplies most of the best 5 star hotels in the city.
You simply cannot get better coffee than at Girani, and this is the first choice for coffee snobs and aficionados alike.
They have multiple varieties but my favorite is Fassina.
Coffee from Girani is an amazing gift or souvenir to bring home.
The business is just a roastery, but if you want to try a cup first, whip into the bar next door – they serve Girani. It's also really cool to visit the roastery and have them explain it all to you while you watch.
Address: Campo Bandiera e Moro o de la Bragora, 3727, (5 minutes walk from Piazza San Marco)
Website:www.caffegirani.it
Caffe del Doge
Just around the corner from the Rialto Bridge you'll find one of Venice's best kept secrets, caffe del Doge. It is literally 2 minutes away from the worst of the tourist crowds, yet the only people you'll see here are locals and travelers in the know.
Grab a cappuccino and a pastry and sit outside at one of the few tables, then rinse and repeat.
They have an extensive coffee menu, but if you're there when they're not busy they will walk you through it. If it is busy just order from the blackboard. You cannot go wrong!
After a couple of cups you'll understand why you need to bring some home!
Address:Rialto, Calle dei Cinque, 609,
Website: www.caffedeldoge.com
Torrefazione Cannaregio
This is another of Venice's really fantastic coffee shops and roasters. This time we're in Cannaregio, not far from the Jewish Ghetto. The coffee bar is wonderful, with a really cool interior, and the coffee is tremendous. Torrefazione is a favorite with locals and also travelers who've been clued in (like you!)
You will totally get hooked, but that's ok because Italians drink coffee all day, so you can drop in for another cup every time you're in the area. (Venice is really small, so you're technically always in the area!)
Address: Fondamenta dei Ormesini, 2804,
Website: www.TorrefazioneCannaregio.it
5. Gondola Goods
Did you know it take more than 10 different types of craftspeople to make a gondola? Every part of the gondola is made by hand right here in Venice – none of it happens in a factory somewhere on the mainland
From the squero where they make the wooden boat, to the remeri where they make the oars and the oarlock (the forcola) to the metal workers who make the fero at the front of the boat, every step of the process is fascinating. All of the workers involved in making everything from the gondola itself, to the cushions you sit on, to the gondolier uniforms, all belong to an association called El Felze. This association regulates the trades and protects the workers.
Gondola related products have to be one of the most iconic souvenirs you can bring home, but unfortunately they are also hot sellers for the rip off merchants. So let's look at two types of gondola related souvenirs you can buy, and where you can buy them.
Gondolier Shirts
There is only one place in all of Venice that sells real gondolier shirts. Any gondolier style shirt not bought from here is a rip off knock off.
The Emilio Ceccato shop is a one minute walk from the Rialto Bridge, so right in the heart of where you are going to be anyway. Royalties from all sales of gondolier clothing go directly to the El Felze association and are used to safeguard gondoliers and the different types of artisans that make gondolas.
Address: Campo San Polo 16/17
What's Nearby: the Rialto Bridge
Website: EmilioCeccato.com
WOODEN THINGS
The gondoliers' oars and oarlocks are hand crafted by the remeri. There are only 4 remeri in Venice, and every forcola and oar you see on every gondola in town has been handcrafted by one of them. Each forcola has been custom built for that particular gondolier.
Each remero has his own work shop and store where you can buy handcrafted wooden souvenirs, including scaled down versions of the focola, or even full sized sculptures to ship back. These are tremendous to visit, and even if you only buy something as small as a key ring, you get a wonderful souvenir and your travel dollars have made a difference.
Paolo Brandolisio
Address: 4725, Calle Corte Rota, Castello
Piero Dri
Il Forcolaio Matto (the mad forcolier)
Address: Ramo dell'Oca, Cannaregio 4231
Saverio Pastor
Address: Fondamenta Soranzo detta de la Fornasa, 341 Dorsoduro
Franco Furlanetto
Address: Rio Tera dei Nomboli, San Polo 2768b
Join The Newsletter! Do you belong to my newsletter yet? If not, join the thousands of readers who each month get to discover my favorite secret towns and villages, the ones the tour buses don't go to. You can join the newsletter here
Glass Beads And Jewelry
We know about Murano glass chandeliers and vases, but did you know there is fabulous handcrafted glass jewelry in Venice?
There are two jewelry makers I want to draw your attention to:
The Impiraressa
For hundreds of years, tiny 'seed beads' were used around the world as trade beads. They were also used to adorn clothing of wealthy European women.
These colorful, tiny glass beads were made on Murano and hand threaded onto skeins by women called the Impiraressa.
Venice has a modern day impiraressa, Marisa Convento. World famous and written up in every major travel publication, Marisa makes beautiful jewelry, coral branches, flowers and embroidery pieces. Every piece is made by hand in the traditional fashion, and all of it is sensational. She has pieces at every price point too.
You can find Marisa's shop inside the Bottega Cini, a cooperative store for high end artisans in Dorsoduro. Check out her website at www.MarisaConvento.com
Alessia Fuga
On Murano, just a 2 minute walk from the Basilica Santi Maria e Donato you'll find another fantastic artisan workshop, this time belonging to jewelry maker Alessia Fuga.
Alessia makes glass jewelry like you've never seen before. Her pieces are beautiful and are available at all price points. Be sure to check out her website www.AlessiaFuga.com and visit her workshop while on Murano.
I hope this blog post will encourage you to seek out some of Venice's amazing artisans, and spend your souvenir dollars with them. When you buy from a local craftsperson your dollars stay right here in Venice, and contribute to the local economy. When you buy knock off, Made In China tourist junk your tourist dollars bypass Venice and head over to Asia or wherever the sweatshop is that made it.