It's no secret that I have been totally wowed by Korean skincare (K-Beauty) for a very long time.
I write about it allll the time. I get so annoyed at over priced skincare products in department stores, that are all consumed with packaging and with their celebrity endorsement, and that make almost no difference to the condition of your skin. I like products that make a huge difference to your skin, a difference that you can see and feel in the first few days.
And that's what happens with state of the art Korean skincare products.
I'm also enthralled with the K-Beauty 10 Step Skincare Regimen and how they layer their products.
Many of my readers want to try it but don't know where to start, and the thought of suddenly going to a 10 Step Program is far too overwhelming, so today lets talk about one Korean skincare product that you can add into your current skincare program. It can be your starter Korean Skincare product.
Essence.
This is a category of skincare product that for the most part we don't have here in America as part of our normal skincare routines, with the exception of SK II's Facial Treatment Essence
The closest thing to it here would be a serum.
Serums are typically heavy and leave a film on the skin. They are designed to have a few active ingredients that penetrate more deeply than a moisturizer, and deal with specific skin issues.
Korean essences tend to be much more lightweight and at the same time more concentrated.
You use an essence after cleansing and toning and before moisturizing.
What I love is that they disappear into the skin and don't leave a slimy film on the surface. (If you have that extra layer on the surface of the skin makeup will slide around and disappear).
What are your skin concerns? Maybe you have a dull complexion and dark spots. Or maybe you have blackheads and enlarged pores but your skin is also dehydrated? Maybe you are concerned with aging and your skin is dry.
Whatever skin concerns you have there is an essence for each one.
Another thing I love about essences is that you don't have to break the bank buying them. The first time I bought essence I didn't know what to get, so I bought several different ones by It's Skin for only $11 each. And they were fantastic!
Some good Essences to try are the It's Skin Power 10 series.
The Its Skin Power 10 YE Effector revives skin and improves it's texture and clarity.

The It's Skin Power 10 SYN AKE Essence firms and rejuvenates the skin, and goes to work on fine lines and wrinkles.
The Power 10 Li Effector is all about brightening the skin and going after skin imperfections caused by the sun's damaging rays. Freckles, sun spots and redness are targeted, and it also soothes irritated skin.
The Power 10 VC Effector is all about Vitamin C. It brightens skin, refines skin texture and gives you visable results within a few days!
Ampoules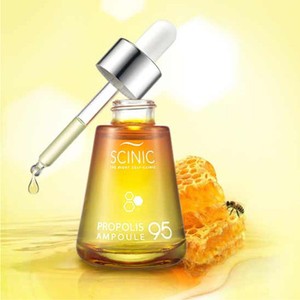 Not sure about trying an essence? Another option is to make an Ampoule your first K-Beauty product. An Ampoule sits on the other side of serum. It's super charged, super potent and has higher concentrations of the active ingredients. Ampoules are like a super booster for your skin.
You use a small drop after cleansing and toning, before moisturizing.
Again you choose one that is specific to your skin concerns. If I am more concerned about hydration and maybe a little less concerned about Vitamin C, I will buy a super hydrating Ampoule and a Vitamin C essence.
Scinic's Propolis Ampoule helps your skin's cells to regenerate healthier and stronger, giving you a complexion that is clearer, firmer and brighter. And it's only $20!


The CosRx Centella Blemish Ampoule is to clear up troubled skin, give some sebum control and provide a protective barrier to help your skin recover.
(Actually I buy all kinds of different essences and ampoules just because they are so affordable and yet so high performance)
Once you start using Korean skincare products there really is no turning back. Your skin looks so amazing!
I buy my Korean beauty products on the world's largest online Korean Beauty store, Memebox. Everything ships from California so it gets to my house within a couple of days.