The best way to travel around Italy is by train.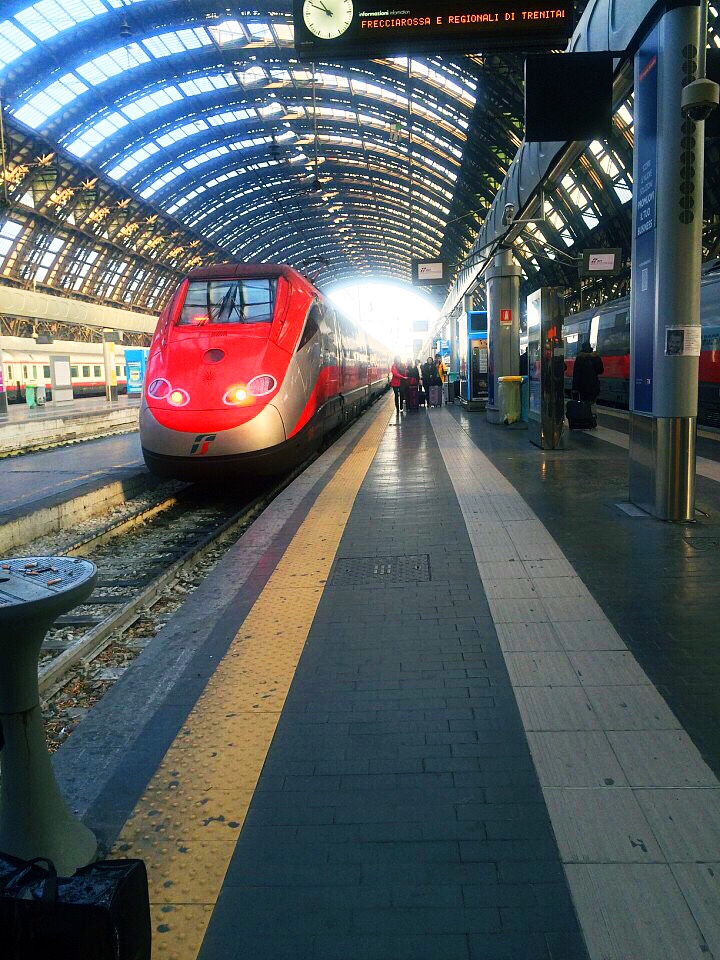 Italy has the most amazing train network, it runs like clockwork, connects all the major cities and gives you high speed access to the entire country. If you are traveling in Italy the train system opens up so many opportunities to you – you can buzz around and take quick day trips that would otherwise take hours to drive. The fast trains have comfortable leather seats that allow you to sit back and enjoy looking out at the majesty of this gorgeous country through huge panoramic windows.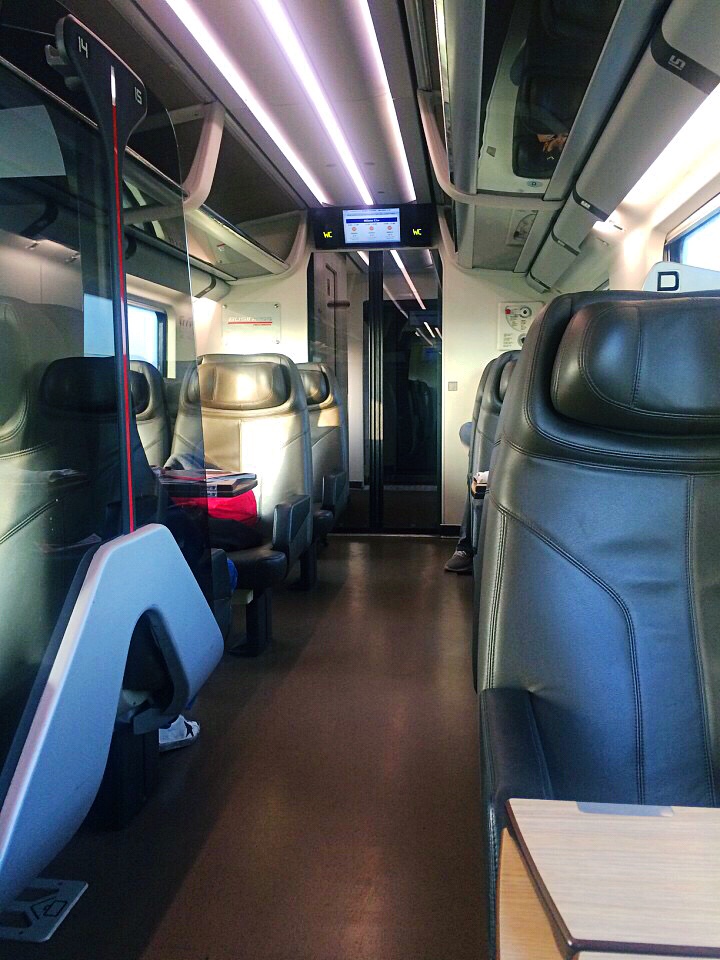 This post contains affiliate links. (See Disclosure)
The fast trains in Italy are amazing. Super clean and efficient, they glide you in comfort across the country at 280 kph. (Why don't we have trains like this all over America???) The fast train from Rome to Florence, which is roughly the same distance as Phoenix to Las Vegas or maybe Phoenix to Los Angeles, takes an hour and 15 minutes.
There are two main train companies operating across Italy. Trenitalia and Italo. Both are excellent, but if given the choice I use Italo.
If you can plan your train travel ahead of time you can make it super simple and save yourself lots of money.
I normally buy train tickets as soon as the online ticketing is available, 3 months ahead of the travel date. I use the Rail Europe website, because although it costs an extra $7 per ticket I find the website to be less glitchy and easier to maneuver than the Trenitalia and Italo websites. Also Rail Europe is all in English.
The trains have various classes – Executive, First, Second etc and are priced accordingly, although sometimes it makes no sense. I've bought first class seats before that have cost less than second class seats. Train travel is really quite inexpensive though, and is such a genius way to get around. It is much faster and much less expensive than renting a car or flying, and just so easy.
If you buy your tickets online you can just print out your boarding pass and it doesn't need to be validated. (More on validating ahead.)
If you are purchasing your ticket in the train station you have 2 options, the self-serve kiosk or the ticket counter.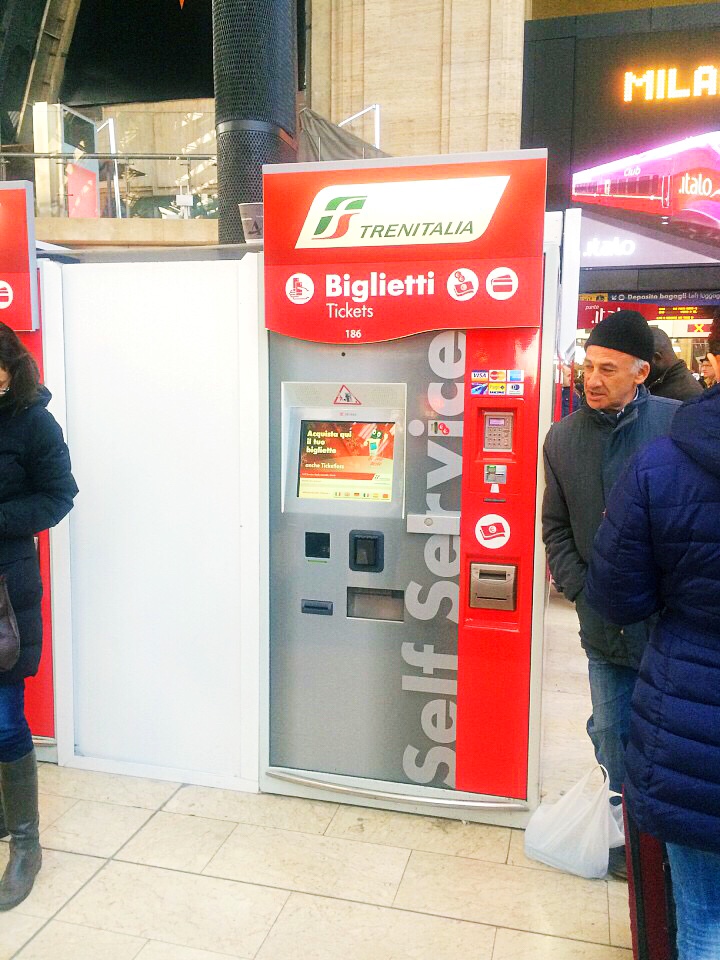 The kiosk is really easy to use, but will either just serve Trenitalia or Italo. You can select English and then just follow the prompts. If you are unsure of what to do or don't know which train company to use you can go to the counter and get help. There are also representatives of each train company in the concourse, and they are always happy to help you use the kiosk. They are always in uniform – don't get help from non-uniformed folks hanging around, they may be nice folks or they may be pickpockets. (I actually learned the Italian train system by random people helping me in train stations
Want more help with your trip to Italy? My book Glam Italia! How To Travel Italy: Secrets To Glamorous Travel (On A Not So Glamorous Budget)Gis packed with helpful information to take all the stress out of your trip. Available worldwide on Amazon.com
Once you have your ticket in hand you need to figure out which Binario or platform your train is departing from. Your ticket will have the train number on it. In this picture it is train 9521. You can look for that train number on the departure board, and next to it will be the name of the final stop.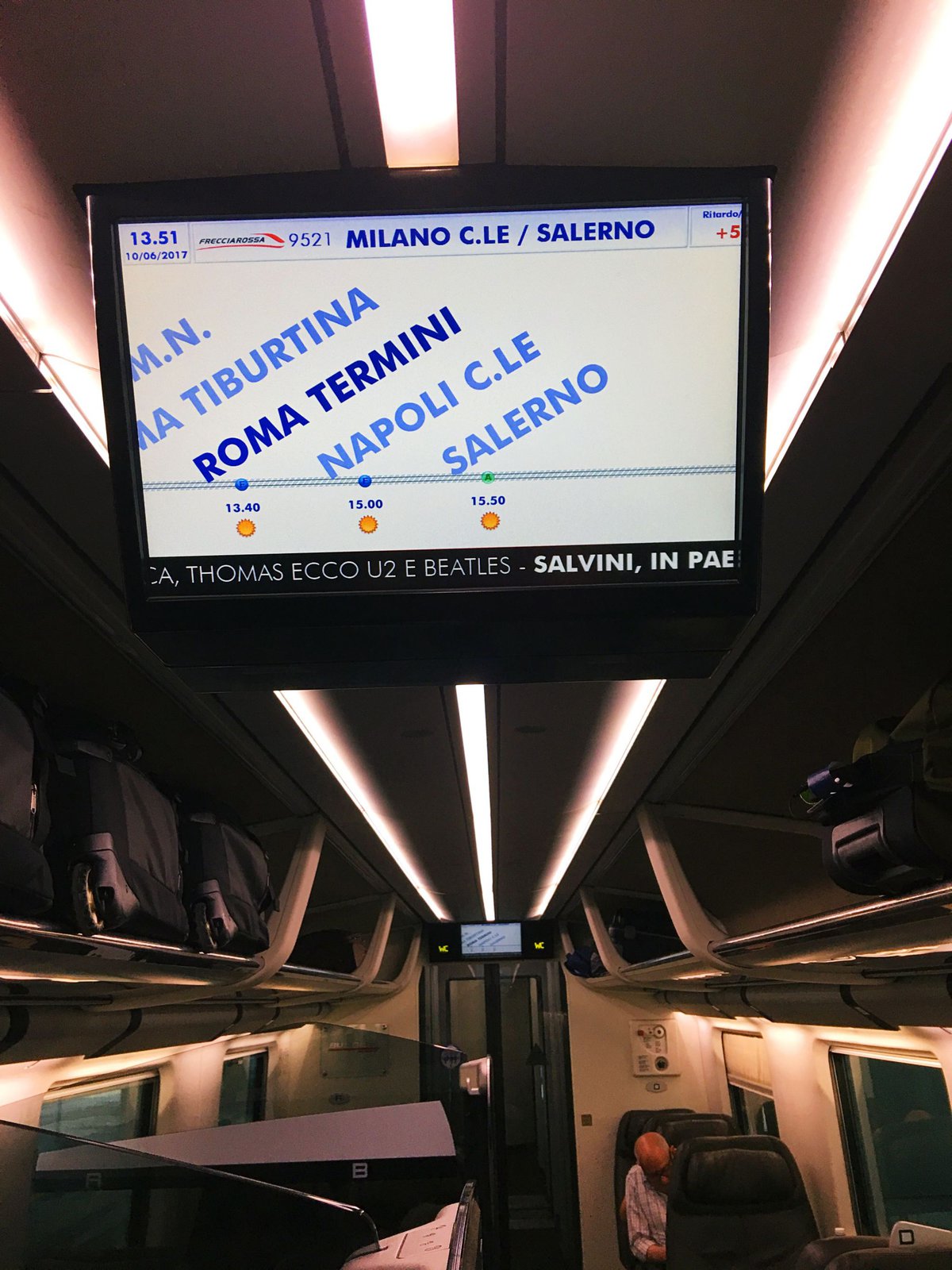 Let's assume you are in Rome and are traveling to Naples, and you just bought a ticket on the 9521. Using the picture above it tells us that the 9521 starts in Milano and ends in Salerno. Even though you are traveling to Naples (Napoli) the departure board won't say Napoli, it will say 9521 to Salerno.
The departure boards will be easily visible, and will be in several places in the station.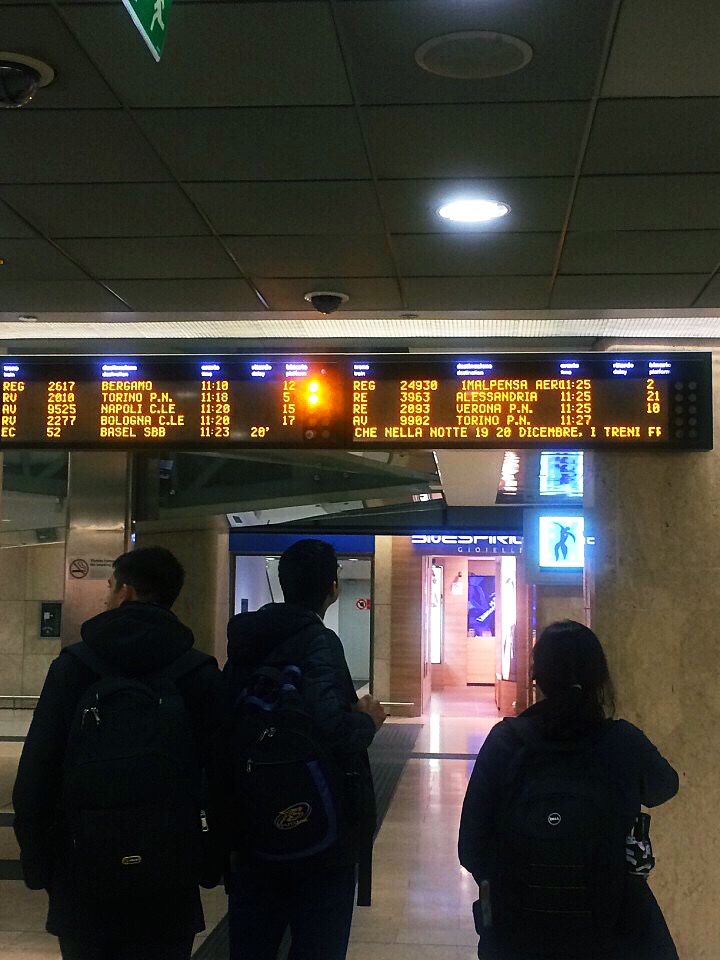 You need to look at the board that says Partenze this means departures.
Arrivi means arrivals. Don't get them confused!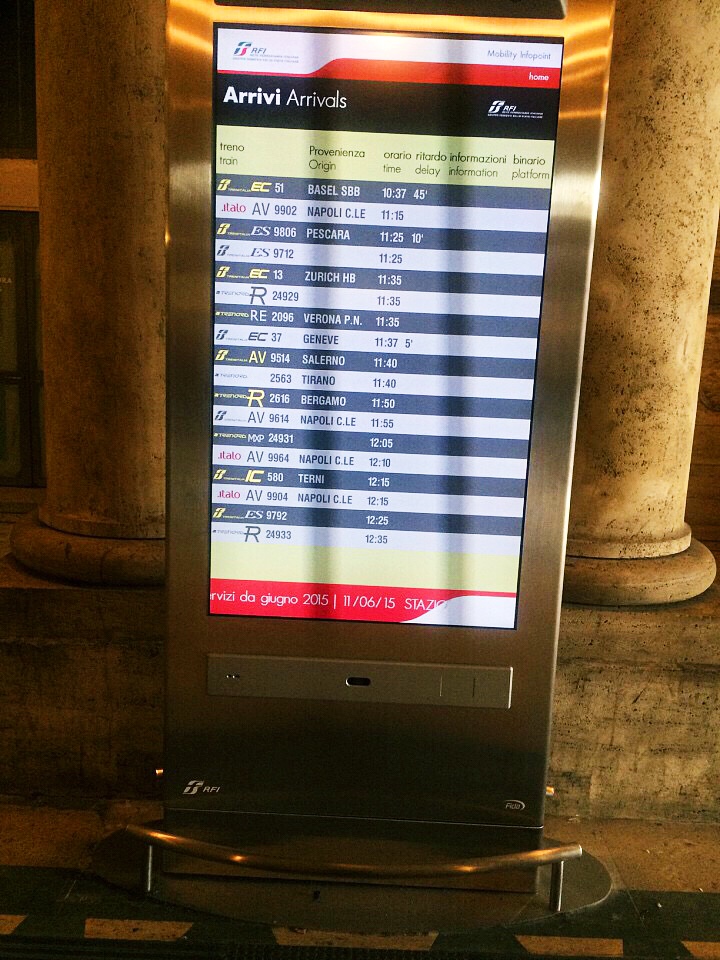 Remember that the name of the city will be in Italian, not English. Naples is Napoli, Florence is Firenze, Venice = Venezia etc.
In some train stations you need to show your ticket as you pass through from the main concourse to the platforms side of the train station. Others you need to show your ticket as you pass through security on the platform itself.
If you bought your ticket at the station, either at the kiosk or at the counter you will need to validate it before getting on the train.
The validation machines are all over the place and look like this.
It's a good idea to go ahead and validate it as soon as you buy it, just in case you end up running for your train and don't have time. The train conductor will check your ticket while you are en route. If you haven't validated it you will face a heavy fine, tourist or not.
If you bought your ticket online and printed out the boarding pass you don't need to validate it.
Your ticket has some other important information on it. It tells you which carriage number you are on (Carrozza) and what your seat number is. (The little local trains don't have assigned seating but the fast trains trains do.)
10 minutes before your train departs the departure board will tell you which platform it is departing from. Now as you make your way along the platform there will normally be screens along the way telling you where each carriage/coach number will be stopping. Your train may already be on the platform, or it may be arriving any minute. Find the number that corresponds to the carriage number on your ticket.
When the train pulls in you will see that each carriage has a door at either end. On the door it will tell you rows 1- 13 or 14 – 28 (or whatever row configuration that carriage has.) It doesn't matter if you get on at the wrong end, but if you are dragging luggage around it helps to get on at the end your seat is on.
When it comes to luggage there are different options. Some trains have a luggage bay at one end of the carriage. Europeans travel much lighter than Americans do, so the luggage areas often aren't designed for giant American suitcases. That means you need to hustle and get on the train quickly before all the space is gone!
There will be overhead racks for your carry on bags, and many trains have a space between the rows of seats where your suitcase can slide in.
In the picture below you can see the large overhead space for luggage, and if you look behind the conductor's legs you can see the wheels of a suitcase poking out from between the space between the seats.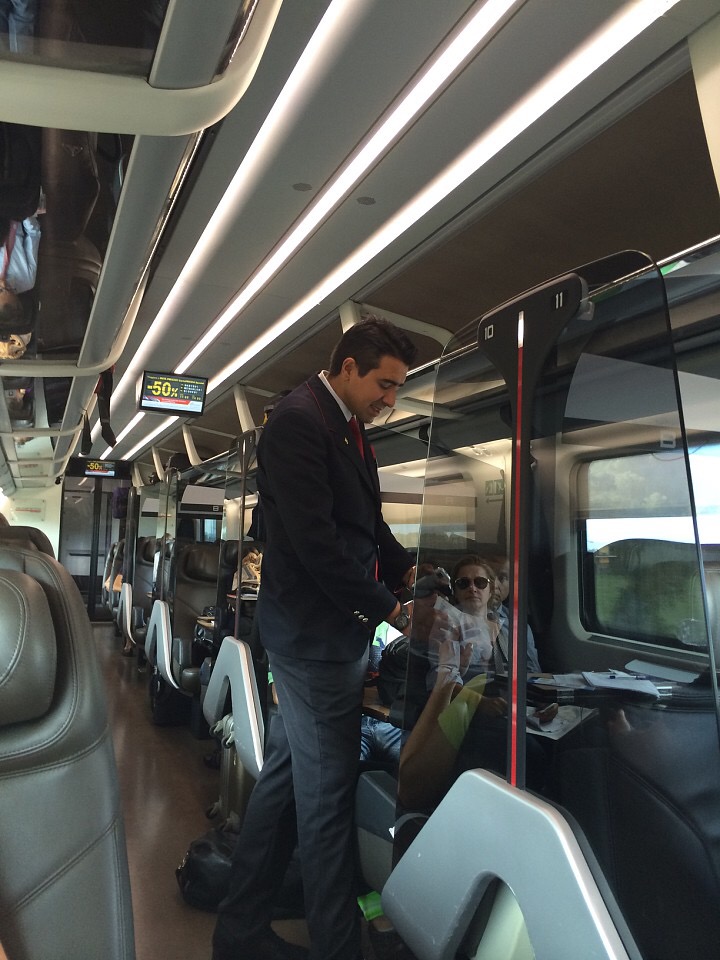 You need to move quickly and get you bags put away, because the train will get moving right on time. It is super annoying when you are trying to get to your seat and there are tourists in the aisles with their bags, putzing around, not knowing which way is up! Get to your seat, put your carryon on the rack above, slide your suitcase into the space between your row and the row behind yours, and get out of the way.
Keep your ticket on hand. The conductor will move from carriage to carriage checking all the tickets.
Sometimes these dudes are just ridiculously handsome!
You will be served a coffee or cold drink plus a snack on most intercity trains. There will also normally be a buffet/restaurant carriage on the train. The bigger trains stations have really good food options, so we often buy a panino or a salad to eat on long train trips. If you are in the executive or club car they will serve you a meal on longer trips.
Related Post: How To Rent Cars In Europe
I really hope you will use the fast-trains in Italy to travel between cities. It is such fun, easy and efficient way to get around the country.
If you have any train tips that I may have missed, please add them to the comments section below.
If you felt the information in this post was helpful, please share it on your Pinterest and in your social media!
My new book Glam Italia! How To Travel Italy is now available worldwide on Amazon.com! It is full of helpful tips, guides, translations and advice for anyone traveling to Italy. I hope you will get a copy and use it to help you while you are traveling in Italy!
Related Post: Learn to speak and understand Italian confidently, whether it's for an upcoming trip to Italy or just for fun! See THIS POST
Related Post: 10 Things You Absolutely Must Do In Rome
Related Post: 10 Things You Absolutely MUST Do in Florence