GETTING SICK IN ITALY – WHAT YOU NEED TO KNOW
Getting sick while you are on vacation is no fun at all. We plan to be healthy, but still it can happen, you wake up feeling like death warmed over, your tummy is in knots or maybe you have a splitting headache. If something major happens, such as your appendix gets going or you break a bone, obviously you will go to the hospital, but what about the other stuff?
This past summer I had a makeup job in Belize the week before I went to Italy. I woke up my third day in Europe with a nasty cough that progressively got worse, to the point where I had to sleep sitting up. It was miserable. It turned out I had breathed in spores in Belize that then took up residence in my sinuses and wrecked havoc on my summer. The bright side of the experience was that I got the opportunity to work my way through the Italian medical system, and see how incredibly functional and affordable it is!
Had I been in the US I would have high tailed it to my nearest Target/Walgreens/ CVS store and loaded up on DayQuil and NyQuil, but they don't have those products in Italy. I normally travel with a small kit of OTC medicines in case something goes wrong, but this time I had left the bag at home in the name of packing light. (Never again!)
The first medical stop was to see a doctor. The owner of the vacation rental I was staying in hooked me up and got me an appointment. The doctor was great. He asked a million questions, including "Belize??? What the hell were you doing there?? Do you have any idea how many crazy illnesses they have in Belize???"
Then he went to a cabinet full of drawers and pulled out a packet of antibiotics, a nasal spray, an inhaler (that costs 10x more in the USA) and wrote me a prescription for some cough medicine. It was brilliant! None of this waiting an hour at the pharmacy like you do here. A basic prescription comes prepackaged and ready to go. Why don't we have that here??
Next I went to the pharmacy to get my cough medicine. Again, it was super efficient. Everything is prepackaged and ready to go. No waiting around.
Because I was going to be moving around the country I couldn't come back for a follow up visit, so the doctor wrote me some other prescriptions in case I needed them.
Normally your first stop isn't to a doctors office, normally you start at the pharmacy. 
Pharmacies are easy to find in Italy because they have a big green cross in neon outside. It is a very different pharmacy experience than you have in America. 
The DayQuil/NyQuil/Benedryl products that we buy over the counter here aren't sold over the counter there. In Italy you will speak to a pharmacist, and this is going to feel like you are speaking to a doctor. They will ask you tons of questions about what's going on, so they can diagnose you correctly and give you the right products. If you want something for a cough they will ask you all about the cough, where it is coming from, is it wet or dry, and then decide which is the best option for you.
Normally the first stop isn't a pharmaceutical, but will be a natural remedy instead. They do the same in New Zealand – it's amazing how many ailments that we medicate in the US that they treat and cure overseas with non-pharmaceutical products! 
Across the course of traveling through Italy for 6 weeks with a never ending cough I was able to experience many, many pharmacies. They are all independently owned, not giant chains like they are here. In each and every one whomever was helping me asked tons of questions then made a decision specific to my needs. When I got to San Gimignano and was still coughing, the pharmacist said I needed to see another doctor, then organized it for me.
This doctor wrote some more prescriptions including a steroid to stop the cough. I ran back to the pharmacy and once again they just opened drawers and pulled out the boxes of medications. There was no waiting around, no pharmacy techs counting out tablets, instead the prescriptions are already in boxes waiting for you.
I speak Italian pretty well, but I don't speak medical jargon. (I don't speak mechanical Italian either. If you need your car taken in for an oil change and tire rotation I don't know any of the words!) I found that in every pharmacy I went to up and down the country, they spoke English, or enough English for us to communicate.
I am a big believer in bringing some OTC meds with you in case you do catch a cold or get an upset tummy etc while on your trip, but if you don't have what you need don't worry.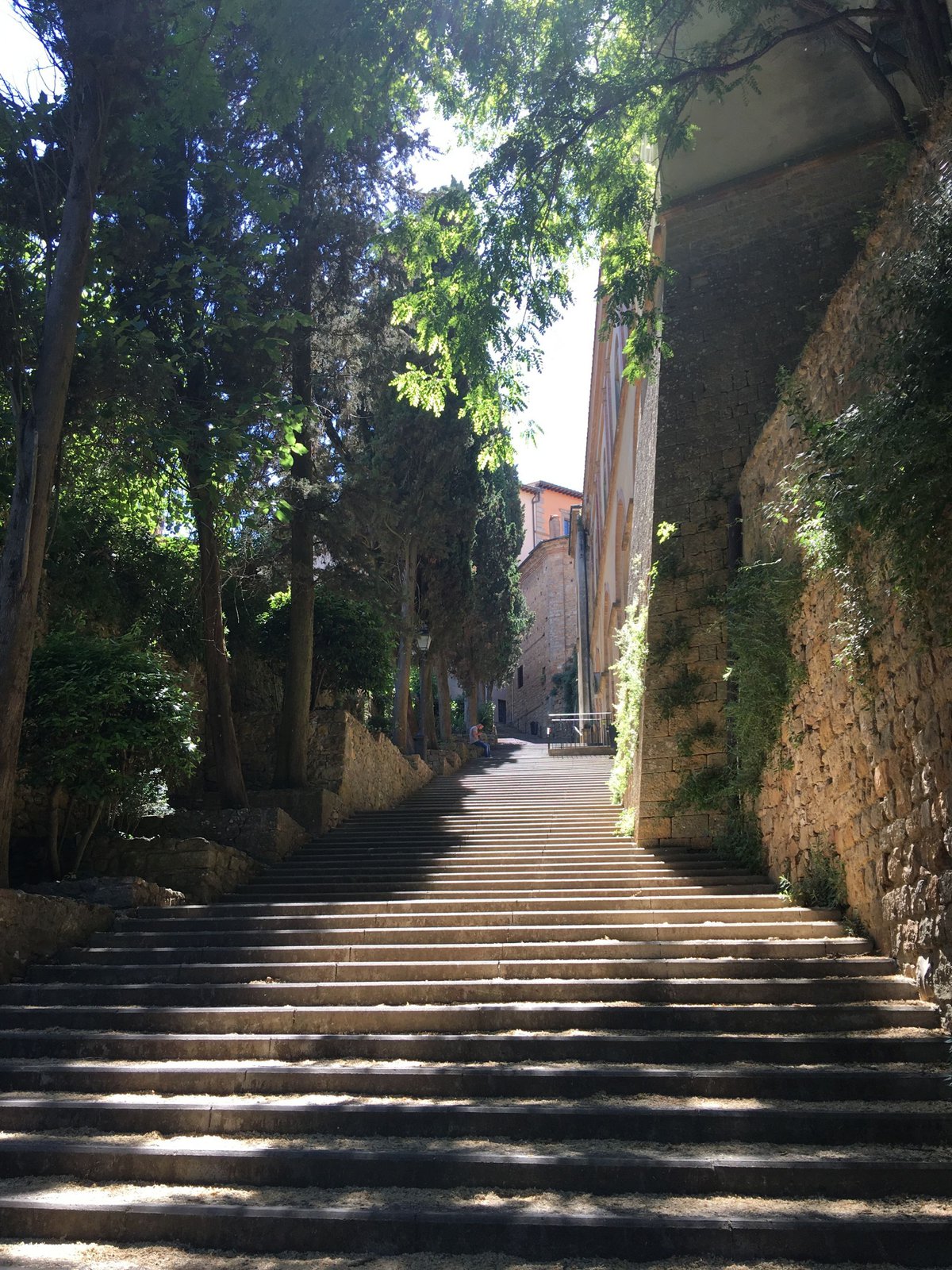 What To Do If You Get Sick In Italy
Don't get freaked out!
Act on it immediately. You may need to take a day out of your trip and sleep it off – whatever you have to do to nip it in the bud. You are better to deal with it quickly and stop it from getting worse, than to get really sick and ruin your trip. If it is a tummy issue you really need to act quickly because public bathrooms are few and far between in Italy.
Go to your nearest pharmacy and expect to speak at length with the pharmacist or the tech. They will sort you out. 
If your illness is beyond their ability to help they will help you find a doctor, and in most cases a doctor who speaks English.
If you do need a doctor and they can't help you find one, your hotel or your landlord can help you.
 Italian OTC (Over The Counter) Equivalents
You won't find Advil, Motrin, Excedrine etc in Italy, but you will find these equivalent products.
Asprin = Aspirina
Ibuprofen products, like Advil are Brufen, Moment, and the best one for headaches – Nurofen.
Acetominophen products, like Tylenol are Paracetamol are Tachipirina and Efferalgan.
Naproxen products, like Aleve, are Momendol, Naprosyn and Naproxene.
Antihistamines: Reactine and Zyrtec, and a product called Telfast which is close to the American Allegra. The pharmacist will probably recommend a nasal spray as well.
Medicines To Pack
I recommend packing a small first aid kit when you travel. Make sure you have bandaids, a small tube of neosporin, a small tube of the painkiller that works for you (Excedrine/Tylenol/Motrin). You may encounter plants or air that sets off allergies you weren't expecting, so pack an antihistimine. I bring Zyrtek with me because I find it works quicker and better than Claritin.
You should pack for tummy ailments too – something for upset stomach and something for a backed up stomach. Being in a place with different water from home and with different food from home could set you off in either direction.
Pack an insect repellent. Italy has some hungry mosquitos! But if I'm there you will be safe because they will buzz right past you to come eat me! One cool trick I learned was to pack a few tablespoons of baking soda. If you get bitten (or like me, eaten alive), mix a teaspoon of baking soda with just enough water to make a paste, paint it over your insect bites and let it dry. Once its all the way dry, rub it off rather than washing it off. It takes the redness, the itch, and the swelling out of insect bites really quickly! You can use the same trick for sunburn.
If you have OTC medicines you recommend packing, please tell me in the comments section below!