One of the ways I find out about new places to visit in Italy or new things to see and do in my favorite Italian cities is through books. I love to read and I love to read books set in Italy, especially the books where someone moves to Italy, buys an old home and builds a new life.
Through the books listed below I have found wonderful restaurants all over Tuscany (Frances Mayes' books) discovered the Aeolian Islands (Laura Fraser's book) explored Umbria (Michael Tucker) vacationed in Pontius Pilate's birth tow (Michael Rips) relived thousand glorious moments in Rome (Anthony Doerr). I have found new places to visit in Venice (John Berendt and Barry Frangipane) and had a private viewing of a Picasso that has never been hung in public (Daphne Phelps)
If you are planning a trip to Italy, or just enjoy thinking about Italy, here are 15 books set in Italy that you need to have on your reading list. These books have Amazon Affiliate links. Read the Disclosure Page to learn about how this blog uses affiliate links.
As much as I love the tactile experience of reading a physical book I mostly buy books on Kindle now. I don't actually own a Kindle but instead have the Kindle app on my iPad and read books there. It is especially efficient when traveling!
15 Books Set In Italy To Add To Your Reading List.
I was given this book in 1998, shortly after it was first published, and fell in love with every word. Reading Frances Mayes' account of buying an old, run down house in Cortona, and then its slow but steady refurbishment reignited my love of Italy and propelled me into traveling back to Tuscany. I have read all of Frances' books and through them have found some fantastic little towns to explore, some wonderful restaurants (I have eaten at every restaurant in her books!) and have learned to cook many of the dishes she tells us about.
If you have seen the movie Under The Tuscan Sun you can still read the book. The two stores are very different – the only common thread is that her name is Frances, she is a writer and university professor, she finds her house in Cortona and the house is called Bramasole. In real life she was already married to Ed when they bought the property.
Under The Tuscan Sun is a must read for anyone traveling to Italy, and especially those traveling to Tuscany. You will love walking through Cortona with Frances' stories in mind, and seeing Bramasole is just wonderful (if you have read the book!)
Order your copy of Under The Tuscan Sun here on Amazon.com
I found this book by accident and have re-read it many times. Laura Fraser's autobiography starts with her devastating divorce, her methods to try and mute the pain, and her eventual trip back to Italy to stay with friends and figure out a new life plan. A friend in Florence convinces her to spend a few days on the island of Ischia, where she happens to meet a professor from Paris, and begins a years long affair. Throughout the book the pair meet up for little vacations in Italy, as well as London and Morocco.
Every divorced woman, every unhappy wife, every female looking for some excitement in her life should read this book!
Apart from the inspiration and the intoxicating wondering what if…. An Italian Affair introduces you to some fabulous places in Italy that are well off the beaten path. After reading this book I had to go to the Aeolian Islands to see them for myself, and visit the places she talks about, and have since had many gorgeous vacations there.
Get your copy of An Italian Affair here at Amazon.com
Barry and Debbie Frangipane decide to skip out on the Florida rat race for a year and move to Venice. Barry's account of setting up their temporary home and living in the most unique city on earth for 12 months is absolutely intoxicating! Equal parts hilarious and fascinating, The Venice Experiment will leave you wanting to go there, eat at Barry's favorite places, walk the streets he takes you along in Cannaregio and live in Venice for a while.
Get your copy of The Venice Experiment here at Amazon.com
Have you read Midnight In The Garden of Good and Evil? Shortly after the film of the book came out author John Berendt moved to Venice, arriving the day after the world famous La Fenice opera house burnt to the ground. The City of Falling Angels is a fascinating and funny account of Berendt's entry into Venetian society, his investigation into the opera house fire (equal parts intriguing and entertaining) and the mysterious goings on in the art world of Venice.
Berendt makes his characters compelling and their quirky behavior entirely captivating. As with the previous book on this list you will want to explore the author's Venice, eat at his restaurants, drink at his wine bars and walk the streets he frequents. Venice will take on a whole new magic for you after reading The City of Fallen Angels.
Get your copy of The City of Falling Angels here at Amazon.com
After my first trip to Sicily I had to read every book I could find that was set on the island. I found this book by accident, but the timing was perfect as I had just spent time in Taormina, the town it is set in.
In the late 1800s British businessman Robert H Kitson fell in love with this fantastic little town on a hill in Southern Sicily. He bought a piece of land and in 1898 built a villa on it, overlooking the Ionian Sea. The villa, named Casa Cuseni became a hangout for Kitson's artistic friends. Creatives such as Roald Dahl, Tennessee Williams, Henry Faulkner and Bertrand Russell all sought refuge and inspiration at Casa Cuseni over the years. Greta Garbo loved it as did Picasso.
In 1948 Kitson died, and willed the villa to his favorite niece Daphne, who had loved childhood vacations in Taormina with her uncle. The book picks up with Daphne's story, from her moving to Sicily to look after the villa, to her refurbishing and maintaining it, the artists who came to work in residence there, and her interactions with the locals, including a mafia don!
Daphne lived at Casa Cuseni until her death in 2005 at age 95. Her relatives didn't want to leave dreary old rainy London to live in sunny Taormina (which just kills me!) so they sold the villa. It is now a bed and breakfast and museum.
I went to visit Casa Cuseni last time I was in Taormina. The villa is still stunning! I was also incredibly lucky to be given a private viewing of the painting Picasso left at the villa, a painting that has never hung on a museum wall, only the wall inside Casa Cuseni. I would never have had that amazing experience had I not read this book!
A House in Sicily is a wonderful read and will leave those who have been to Sicily aching to go back, and those who have never been, dying to go.
Get your copy of A House In Sicily here at Amazon.com
On the day his twin boys are born author Anthony Doerr finds out he has won the prestigious American Academy of Arts and Letters Rome Prize, a paid year in the Eternal City with a writing studio, to work on a new book.
Four Seasons takes you step by step through that year, mixing the wonder of Rome with the angst of being a new parent. Times two!
I particularly loved this book because the Doerr's were living around the corner (and up a giant flight of stairs) from the apartment I rent every year in Rome. I know every street he walked along, the bakery and every other store he talks about. I can even picture the faces of the baker and his son!
While reading Four Seasons I made long lists of places in Rome that he talks about, some that I need to revisit, some that I hadn't heard of before. I really loved this book!
I would love to have a coffee with Anthony Doerr and ask him if he ever went back to visit, find out if sunsets on the Janiculum haunt him (as they do me) and talk to him about living in the Trastevere. Four Seasons In Rome is a wonderful read.
Get your copy of Four Seasons In Rome here at Amazon.com
If you loved Under The Tuscan Sun, this book is for you! Food and travel writer Diana Armstrong bought a 400 year old house in a tiny town on the edge of Umbria. Somewhere South of Tuscany is the story of the joys and the difficulties that come with buying and fixing up an old house in Italy. Armstrong's love of food is woven throughout the book and she provides you with simple recipes for all the meals she talks about, whether cooking for herself or for friends and family who come to stay.
The book of course introduces you to a menagerie of local characters, including the owners of the towns palace, Palazzo Monaldeschi. The palazzo was built centuries ago by the Monaldeschi's, a prominent family from nearby Orvieto. When the Monaldeschi family ran out of heirs the palace was sold to the Cosenza family, who feature in the story.
The little town where Armstrong bought her house is Lubriano, a one road town perched on the crest of a hill, with stunning views including the view of Civita di Bagnoregio. The single road is only 9 feet wide and every home has a front door opening directly onto the street, keeping the neighbors close! There are only 900 inhabitants in Lubriano, and there are no signs on any of this businesses – everyone knows which business is behind which door.
Lubriano is tiny but picturesque. I was there briefly a few years ago, prior to reading this book. Now I want to go back, just to see it again one more time.
Get your copy of Somewhere South of Tuscany here at Amazon.com
" rel="noopener noreferrer">
This book is perfect for anyone who has ever daydreamed about having an Italian romance.
The first in a series of autobiographies, each book is just wonderful, but need to be read in order.
Marlena di Blasi was a food writer and chef living in St Louis. A magazine she was writing for sent her to Italy on assignment. While there they asked her to go to Venice, a city she had always avoided, to write an additional piece. She begrudgingly went to Venice and promptly fell in love with it, so much so that she planned a trip for the following year with a group of girlfriends.
While in Venice (a year later) she was having coffee with her travel companions when the waiter came and told her she had a phone call. No one knew she was there, so she declined to take the call. The same thing happened each day as the group stopped in for their morning coffee. On the last day of their trip she finally agreed to take the call. The man on the other end was Fernando. He had seen her across the piazza a year before, but only in profile. He had dreamed about her every day for a year, and then low and behold she walked into the coffee shop he stopped in every morning! He was shy by nature and completely overwhelmed, so instead of approaching her he tried calling her.
Within months Marlena sold her house and her restaurant, and moved to Venice. A Thousand Days In Venice tells the story of their first three years together living on Lido island. At the same time as she makes you fall in love with the city she also takes you through the trials and tribulations of working through a new relationships, moving to a new place where she knew no one and where the local society was less than welcoming. You will find yourself rooting for her all the way.
Subsequent books track their life and romance as they move around Italy. Fernando and Marlena are still happily married, and she is still writing gorgeous books.
Get your copy of A Thousand Days In Venice here at Amazon.com
This book reads like a biography but is actually a novel.
Set on the Ligurian Coast it is the story of an almost-love affair. In 1962 while Elizabeth Taylor and Richard Burton were making headlines in Rome, an ingenue arrives at a remote hotel just beyond the Cinqueterre. The combination of a little intrigue, 1960s Hollywood, an actress,a novelist, and an innkeeper weaves a gorgeous story spanning 50 years that will keep you captivated all the way to the last sentence.
Beautiful Ruins is an absolutely wonderful book. If you have visited the Cinqueterre area you will love it even more.
Get your copy of Beautiful Ruins here
at Amazon.com
I read this autobiography years ago and followed every book in the series, and recently re-read them all. They are wonderful!
Annie Hawes and her sister Lucy leave the grey rainy weather in England to spend a season grafting roses in the sunny warm climate of Liguria (the region of Italy along the Mediterranean that shares a border with France and Monaco.) Their story takes place in a tiny town on a hill overlooking the ocean, where the townsfolk, who have lived there forever, think these two pale British girls who drink cappuccinos after lunch and have all kinds of unusual (British) behaviors are crazy. Their interactions with the locals are hilarious and would be enough of a story on their own, but along the way Annie finds a very run down old cottage on the hill, tucked behind the trees. She buys the cottage, which is more like a large shed, for a little less than the price of a used car, and begins remodeling it on an almost non existent budget. The series of books takes you through Annie's life in Liguria over the course of many years.
Extra Virgin will open your mind to the endless possibilities of buying a home in Italy on a tiny budget, building a new life in a beautiful place where the sun shines all the time, the food and wine are both plentiful and wonderful, and the gregarious and fun loving people make every day an adventure!
Get Your copy of Extra Virgin here
at Amazon.com
Michael Rips and his wife move to Italy for a year so that she can work on her art while he writes a book. They live in a tiny, ancient town 50 kms from Rome, whose claim to fame is being the birth place of Pontius Pilate.
Michael spends his days sitting at an outdoor cafe in the main piazza, writing his book and observing the eccentric local life taking place around him. Not only is he a masterful story teller, but both he and the towns people are hilarious! I loved this book so much I had to go find the town myself and stay there for a vacation. It was every bit as fantastic as the book indicated.
Get your copy of Pasquale's Nose here
at Amazon.com
Did you ever watch the TV show LA Law? I watched it religiously, so was thrilled when one of the lead actors, Michael Tucker, wrote this book about buying a home in Umbria with his wife, fellow LA Law actor Jill Eikenberry. A welcome break from books set in Tuscany, Living in a Foreign Language is a lovely introduction to Umbria, Tucker is endearing and funny, and you will no doubt be left wondering how you too can buy a home in Italy.
Get Your copy of Living In A Foreign Language here
at Amazon.com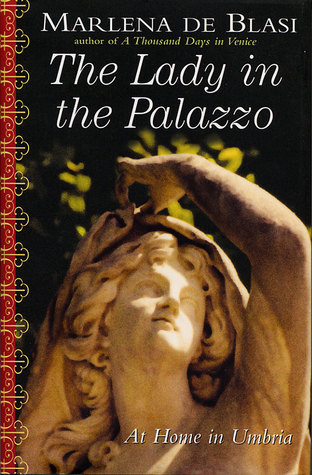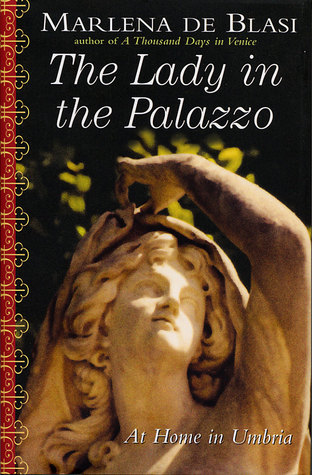 This is the third book in Marlena di Blasi's autobiographic series. After three years living in Venice and three years living in Tuscany Fernando and Marlena decide to set down some roots in Umbria, buying a palazzo in Orvieto. From the difficulties they have purchasing the palazzo, to the inherent struggles newcomers face when moving to a town whose inhabitants have lived there for generations, this book marries real life hardships with the magic of living in Italy, wrapping it all up in a gorgeous love affair. Of course there are a host of intriguing and funny characters, some history and intrigue, and above all Marlena's beautiful style of writing.
Every time I go back to Orvieto I find myself looking out for her as I wander around. I would dearly love to meet her, and after reading this book I am sure that you will want to see inside her house every bit as much as I want to!
Get your copy of The Lady In The Palazzo here
at Amazon.com
Get your copy of Head Over Heels at Amazon.com
I am finishing this list with a novel by romance writer Elizabeth Adler. After the death of her cheating husband, the protagonist in this story returns to Amalfi to the home she lived in as a child during the happiest years of her life. Her father had been a famous author, and while he moved her to live with friends in America he lived a wild life in Amalfi before his untimely death.
Now living in the house in Amalfi she is faced with the memories of her father, the unusual relationships and behaviors of the wealthy family who own the land the house is on, the mystery of her father's death, and of course, a romance of her own.
I don't normally read romance novels, but I loved this book for its locations. If you have been to the Amalfi Coast you will recognize all the places she goes, and if you haven't been there this book will leave you dying to go!
Get your copy of The House In Amalfi here
at Amazon.com
Of course I can't lave without telling you about MY book! Glam Italia! How To Travel Italy, The Secret to Glamorous Travel On A Not So Glamorous Budget is essential reading for anyone planning a trip or just dreaming about traveling to Italy. Learn everything you need to know in order to create your perfect Italian vacation. From where to go, where to stay, how long to stay in each place, how to get around the country – you will have all the information you need to put your dream trip together.
On top of that I have step by step guides to using the Italian train system, how to order coffee in Italy, which foods and wines to order by region (what you eat and drink in Florence is quite different to what you order in Venice or Rome, or anywhere else in the country). I have guides for shopping, getting your sales tax back at the airport, beaches in Italy – there is so much in this book! I also have some useful phrases for you, a chapter on what to do if you get sick while you are away, and many other really useful and helpful things for anyone traveling in Italy.
Get your copy of Glam Italia! How To Travel Italy HERE at Amazon.com