Positano is synonymous with Italian glam. This incurably chic, picturesque little town is the most famous of all the towns along the Amalfi Coast. You have probably seen it at least 100 times in movies and on social media, and I am guessing you already know how beautiful it is!
Whether you are stopping in for a day, staying nearby, or staying in Positano itself, here are 10 things you really need to do in Positano:
10 Things You Absolutely MUST Do In Positano
1. Hike The Pathway of the Gods
If you need to burn off some gelato, or maybe rack up some gelato credits, you cannot beat a walk along the Pathway of the Gods.
This 5 km hike starts by Praiano and walks you along the top of the hill to Nocelle, above Positano. The views are sensational! It is recommended that you wear decent hiking shoes. The hike is medium difficult.
About Nocelle: I am fascinated with this little hamlet sitting on top of the hill. (well, way up there anyway!) Roughly 450m above sea level is has remained largely untouched by tourism, even though Positano below it is the hub of tourist activity on the coast. Nocelle has the most spectacular views of anywhere on the coast.
More intriguing is that the people of Nocelle live to a very old age and always have done. For centuries the only way in and out of Nocelle, and thus the only way for the locals to get to and from work on their fishing boats and in the town of Positano, was for the to walk the stairs. There are 1700 stairs – I had thought it was only 1200, but have been corrected. So every day the people of Nocelle walked down 1700 stairs to go to work, then back up again at the end of a long hard day. They lived on a Mediterranean diet, and as such lived to be old and healthy.
My very dear friend Adriano leads my tour groups along the path, you can book him for this walk or for many other fabulous local hikes at il.duomo trekking. Find him on facebook HERE
2. Stay At or Eat At Hotel Villa Gabrisa
My favorite hotel in Positano is the beautiful Hotel Villa Gabrisa.
Hotel Villa Gabrisa has lovely rooms facing the ocean with giant patios and local ceramic tables set among the foliage – the quintessential Positano experience is sitting on the patio enjoying breakfast or an early evening glass of wine with a view!
Hotel Villa Gabrisa is right in the heart of Positano, an easy walk to anywhere. If you have a little romance on the mind this is definitely the place to stay, but it is also perfect if you are traveling alone and want to feel madly glamorous!
Not only is this boutique hotel an absolute gem, but it also has the most wonderful restaurant. I have spent many fabulous evenings sitting at one of the outside tables, breathing in Positano, looking out over the water and enjoying a meal to die for. Don't miss this one!
3. Shop For Linen
Positano is a wonderful place to shop for linen. From flowy white linen pants, dresses and skirts and tops to beach cover ups the local shops have it all! White linen is ideal for the hot sunny Amalfi Coast days.
4. Buy Lemon Soaps and Candles
I love to walk through the market street and potter around at the shops down by the waterfront. I always stock up on lemon soaps and candles, both for my own home and also for Christmas gifts.
The soaps and candle both hold their fragrance for years. I put Positano lemon soaps in all my drawers to keep folded clothes and lingerie smelling lovely. Soaps that I bought 10 years ago still smell exquisite!
5. Mangia!
The food along the Amalfi Coast is fabulous! Especially for seafood lovers.
Everything is fresh and grown locally and the Campanian cuisine it just wonderful. Pair your meal with an icy fresh and crisp glass of local Fiano wine.
6. Take a Boat To Capri
From the little port in Positano boats go back and forth to Capri throughout the day. Take the earliest crossing you can so that you can spend more time on the island!
Depending on where you are staying some hotels have complementary crossings.
If you budget allows for it hire a private charter and sail your way over to and around Capri!
7. Visit The Grottos
Take a boat trip along the coast to explore some of the grottos. My favorite is the Grotto Smeraldo (Emerald Grotto), just outside of Positano. It was only discovered in 1932, and is really quite spectacular.
8. Wander Aimlessly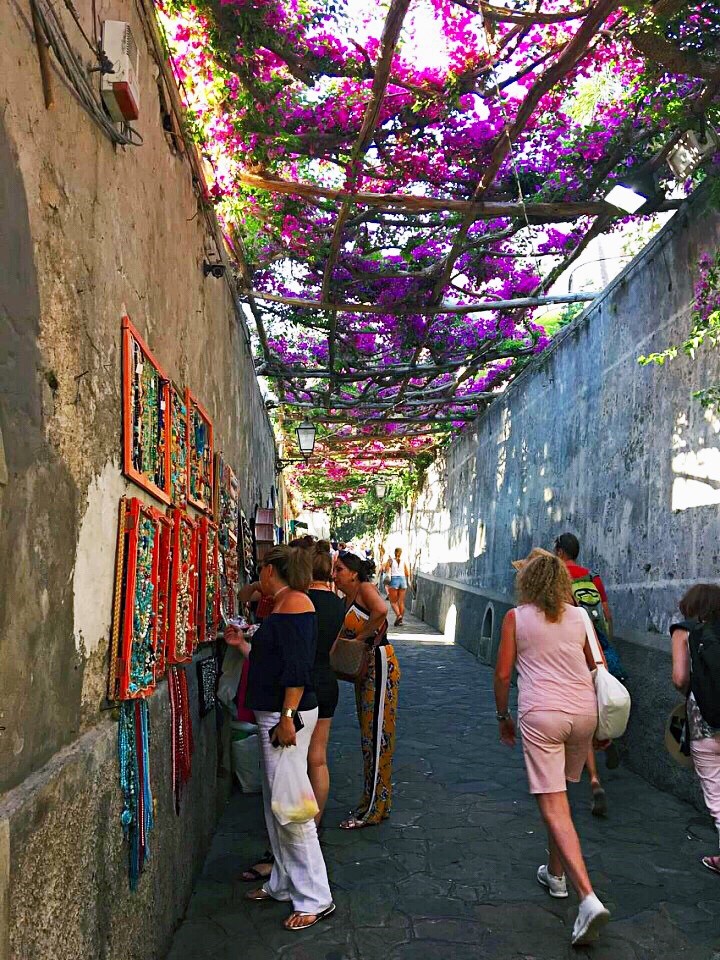 Positano is tiny, so it is easy to wander around town and not get lost. Pay attention to the tiny details – the interesting little things that most travelers blow right by, such as the interesting doors, little buildings, views of and from people's gardens.
9. Hit The Beach (glamorously)
In the name of all things glamorous you have to spend some time sunning yourself on the beach and swimming.
break out your most sensational bikini, rent a chair and an umbrella at one of the lidos along the beach, order something fabulous to drink, and keep telling yourself that yes, you really are here and this really is your life!
10.Buy Ceramics
The Amalfi Coast is a fabulous area to buy hand crafted Italian ceramics. You really are spoiled for choice as you wander the coast road, especially around Positano and Praiano.
These ceramics are all handmade (fatto a mano) normally onsite. They also are hand painted (dipinto a mano), so normally no two stores have the exact same pattern.
Whether you are shipping a set of dishes home or just buying a couple of pieces to bring with you (as I have done many times!), you will love having this reminder of such a lovely place.
The images above were all taken at Lizart in Praiano
While you are in the area you may want to check out these posts:
RELATED POST: THINGS TO DO NEAR AMALFI – THE PALACE AT CASERTA
RELATED POST: THINGS TO DO NEAR AMALFI – THE GREEK TEMPLES AT PAESTUM
RELATED POST: THINGS TO DO NEAR AMALFI – 8 THINGS YOU MUST DO IN NAPLES