Are you going to Rome this year? or ever? Then you need to know about the best Rome travel guidebook. Because I wrote it!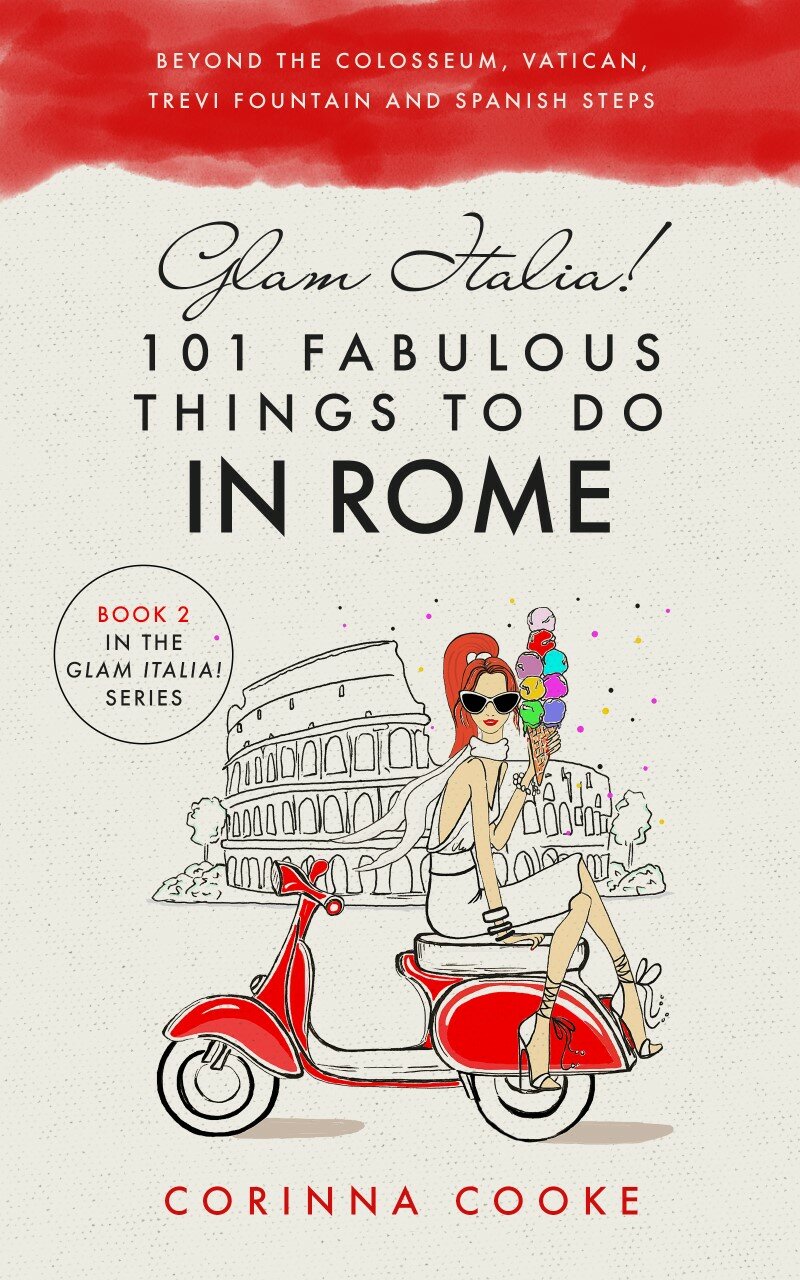 I am so excited to tell you that my new book is finally here! Glam Italia! 101 Fabulous Things to Do in Rome: Beyond the Colosseum, the Vatican, the Trevi Fountain, and the Spanish Steps is now available worldwide on Amazon.com
Did you know that Rome is the 3rd most visited city in Europe and the 12th most touristed city in the world? Every year millions of people come to Rome. The problem is, most of them just hit the same handful of major tourist sites – The Colosseum, The Forum, The Vatican, the Trevi Fountain, the Spanish Steps, plus a few others. So everywhere they go they have to deal with huge crowds, long lines to get in, too many selfie stick selling vendors, and pickpockets. They eat at tourist restaurants close by the big sites and overpay for underwhelming food that no self respecting Roman would ever eat. And at the end of it all they are happy to leave the city in the rear-view mirror.
I on the other hand LOVE Rome. I just absolutely love this amazing city. I spend a lot of time in Rome every year and along the way have discovered incredible places to visit and things to do that the tour buses don't know about.
You will not even believe how many staggeringly brilliant sites there are in Rome, hiding in plain sight, right under your nose, just around the corner from the big tourist spots! Even better, hardly anyone knows about them. You can look up the street and see (literally) thousands of people waiting to get into a well known attraction like the Colosseum, then walk inside one of these mind blowing places and have it all to yourself, or maybe share it with a handful of others in the know.
What's In This Book?
In Glam Italia! 101 Fabulous Things to Do in Rome I don't tell you about the big sites – you already know about them! Instead every page is devoted to telling you about places you probably haven't heard of before. (You may know of a few of them but chances are you won't know them all). Rather than just tell you the name of a building, set of ruins or place to visit, I tell you the story behind it. The stories are at time hilarious, frequently intriguing and other times just plain crazy!
Glam Italia! 101 Fabulous Things To do In Rome is broken up into 18 categories:
* 13 Places To Discover Ancient Rome
* 12 Places To Find Underground Rome
* 5 Special Places To Look for At The Forum and Palatine Hill
*10 Fascinating Churches and the Intriguing Stories That Go With Them
* 11 Really Unusual Things To See In Rome
* All About Piazza Navona
* The Battle of Bernini and Borromini
* The Caravaggios in Rome and Where To Find Them
* 12 Magnificent Museums In Rome
* The Ghosts of Rome
* 8 Fantastic Markets In Rome
* What To eat In Rome
* Where To Go Wine tasting In Rome
* The Best Instagram Spots In Rome
* The 7 best Places To watch The Sunset in Rome
* Rome After Dark
* 10 day Trips From Rome
* Tips For Travelers To Rome
There is something here for everyone. If you're not into ancient history, art and churches you can enjoy learning about the best markets, the ghosts of Rome and the best Instagram spots in the city.
How To Use This Book:
The last thing I want you to do is to try and see everything in the book! Instead read it all and then pick and choose items to add to your itinerary. You may not be interested in Caravaggio, but after reading some of the crazy stories in the chapter may decide to pop around the corner and go see one of them.
You may not have any interest in visiting churches, but find yourself intrigued with the story behind one of them and decide to go inside for a quick look.
You may want to add to your itinerary a market or two, a couple of underground Rome sites, and a museum before snacking on Rome's best street food, taking in the sunset, going wine tasting and then seeking out the city's famous ghosts. It's all easy, close by and walkable!
If you are coming to Rome on a cruise and have only a few hours in town, chances are you will choose to spend that time visiting several of these places instead of spending 3 hours doing the Vatican or the Colosseum. If you are here for a few days you will find lots of places to add to your existing plans, or maybe replace some of them!
Each place in the book has a What's Nearby section at the end so you can see just how many cool things are all grouped very close together. In fact almost everything in this book is within a mile radius of the Largo Argentina, a fantastic ancient site in the very heart of the historic center of Rome. You won't need a taxi – just walk from one to the next!
Which Formats Are Available?
Glam Italia! 101 Fabulous Things To Do In Rome is available on Kindle and the Kindle App, and within the next two weeks (late May 2019) will also be available in paperback.
If you have one of the Kindle Unlimited Membership Plans plans you can download it for free! (These are plans where you can download books for free on any kindle device or on the kindle app) You can download the Kindle App to any Android device HERE or to any Apple ios device HERE
Generally the digital/eBook/Kindle version of any book is much cheaper than the hard copy as there is no manufacturing cost.
I sincerely hope you will get a copy of Glam Italia! 101 Fabulous Things To Do In Rome. If you are on Pinterest please share the pin below to your boards. If you are on social media please share this post!
See you in the piazza,
Corinna
XO
Do you belong to the Private Members Newsletter? Get bi-weekly information to help you plan the ultimate trip to Italy! Join the newsletter HERE