When you are planning a trip involving airline travel one consideration is which class to book your flight. Most of us end up booking economy tickets, yet dream about riding in the front of the plane in the luxury and decadence of first class.
If you are in the financial bracket that can afford first class all the time this post may not be for you. But if like me you typically travel on a budget, here are 8 times you may want to consider booking your flight in Business/First class.
Domestic Flights
Personally I don't bother with paying the extra (or heaven forbid, wasting miles) on flying first class on domestic flights. Here in the U.S. most domestic flights are no longer than 5 or 5 1/2 hours. For the extra cost of first class you get a slightly bigger seat (1.5x) get to board early and get a free glass of crappy wine or non-top shelf spirits. For the cost differential you might as well just buy yourself a couple of drinks and just ride in the main cabin.
International Flights
My theory with international flights is that if the flight is less than 8 hours, for example Chicago to Dublin, which is 7 hours, it's not worth the extra cost. If a flight is 8 hours or more it can be a really great option to turn left when you are boarding!
Some of the benefits flying Business or First class internationally include extra luggage allowance, use of the club lounge in the airport (which can be worth its weight in gold), early boarding – there are an average of 300 people getting on this flight so it helps to get ahead of the crush, and in most cases have a separate entrance onto the plane.
You get greeted by name, escorted to your seat, your coat is hung up for you. There are pre-flight champagne, a la carte menus and you eat from real plates, have real cups and glasses, and best of all you have a wide seat that lies down flat so you can sleep. It's fabulous!
Related Post: 10 Best Tips To Help You Sleep On A Plane
When Should You Fly First Class?
Let me preface this by saying I am a single mom so don't normally factor first or business class flights into my travel budget.
I generally find that most international flights seem to have a hybrid first/business class instead of the old school economy, business and first class configuration. When I talk about first class for the most part that is the first/business combo.
I tend to buy economy tickets but by using the tips and tactics I tell you about in my book Glam Italia! How To Travel Italy: Secrets To Glamorous Travel (On A Not So Glamorous Budget)
I get upgraded a lot. Not quite half the time I fly, but close to it. I doubt I will ever spend $6000 on a business class ticket, but I do sometimes pay for an upgrade – I just don't pay much for it.
But let's look at 8 times you might want to fly first class
1. When It Is A Really Long Flight
I have a personal (budget) rule that I won't pay to upgrade to business class on any flight that is less than 8 hours. On international flights anything under 8 hours is in my mind not worth the extra cost – I'll keep the money for shopping.
However when you are flying 8 hours or more, I think it is really worthwhile, especially if you get a good deal on your ticket. Flying from Los Angeles to Australia or to the main hubs in Asia can take 14 to 16 hours, with L.A – Asia being the hardest route on your body for jet lag. I do my best to get upgraded or find a deal on a business or first class seat on those flights.
2. When You Have To Work
If you have to work during the flight, be that prep for a meeting or get a paper written etc, that business class seat can be a Godsend. Not only do you have the benefit of a good sleep and arriving well rested, but also your seat table converts into a really good desk space too.
One of the flights to Milan that I flew up front on had seats that converted into office style leather chairs that turned to face the window, where the side panel turned into a perfect desk space. It was really cool, and if you were working (I wasn't) would have been incredibly functional.
Want to know how I fly around the world for free? Read this blog post where I explain it all!
3. When It Is A Special Occasion
Another great time to splurge and fly first class/business class is when it is a special occasion. Honeymoons, anniversaries, major birthdays all are great opportunities or excuses to turn left when you board that international flight!
4. When You Are Exhausted
When you arrive at the airport completely exhausted, flying business class or first class can be a game changer. Having the ability to lie flat in a comfortable bed-chair with a fluffy pillow and a comforter in the quiet that happens in front of the engines (no annoying engine hum to keep you awake) is just fantastic.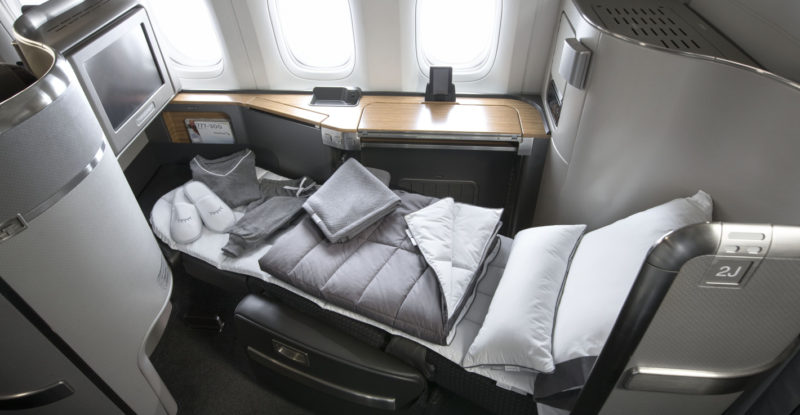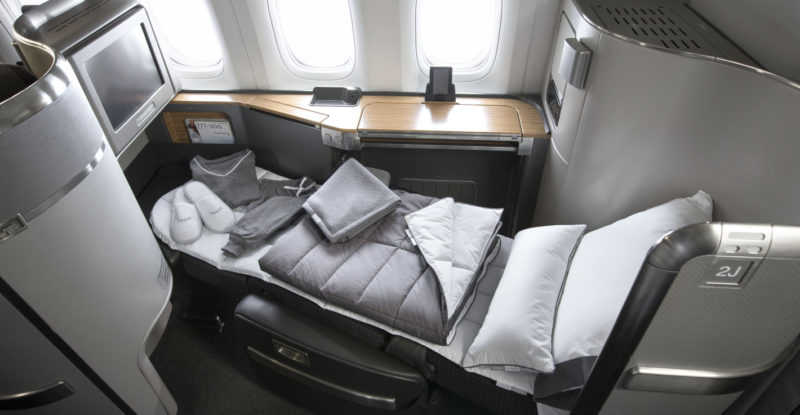 A couple of years ago I arrived at the airport in Los Angeles beyond exhausted after having worked 7 days per week for weeks on end. I was flying to Paris to work and wasn't looking forward to being in a cramped seat for 12 hours. I was upgraded to business/first class, and although I barely slept because it was too fabulous to miss one minute of, I still arrived at Charles de Gaulle feeling rested and ready to take on the world!
Want to know how I get upgraded so often on international flights? I go into detail on how I do it in my book Glam Italia! How To Travel Italy: Secrets To Glamorous Travel (On A Not So Glamorous Budget)
5. When You Need Pampering
Sometimes life gets difficult and you just need pampering. (I pretty much always feel like I need pampering) If I had the disposable income available I would fly up front all the time, but of course I don't and can't. But if you need or feel like being pampered in the air and your budget allows for it, try flying business/first class at least once in your life.
6. When Jet Lag and DVT Are A Real Concern
Jet lag happens due to crossing multiple time zones flying east/west. You can't get jet lag flying north/south. There are many factors that contribute to jet lag and travel fatigue but I sincerely believe that lack of comfort on long flights contributes to them. I have never deplaned from business/first class and felt anything less than fantastic. If you have to bop off that long international flight and roll into a garden party looking your most fabulous, this could be the answer!
RELATED POST: HOW TO BEAT JET LAG
DVT or Deep Vein Thrombosis is very, very serious. Also known as an economy class disorder, it doesn't happen nearly as much in business class or first class. Basically DVT is deep vein blood clots that primarily occur in the lower legs, sometimes upper legs. Those clots can then dislodge and work their way into the lungs causing pulmonary embolism. DVT can be fatal.
I always recommend taking an aspirin before you fly to thin out your blood, (in case that actually works) and to wear compression socks or hose to keep pushing the blood and fluids up and stop them pooling in your lower extremities. Studies have shown that keeping the feet/legs elevated on long haul flights is a powerful remedy. If you are at risk for DVT and have a long flight coming up, getting an upgrade or buying a business class seat can be invaluable.
If that isn't in you budget it is worth your while to pay for an exit row or bulkhead seat and once the seat belt sign has turned off put your carry on bag on the floor in front of you and rest your feet on it. Most Premium Economy seats have a bar that comes down below the seat in front of you to rest your feet on. When it comes to DVT you have to do whatever you can to avoid it.
7. When The Price Is Right
Sometimes you can get lucky and find deals where Business/First class doesn't cost much more than economy. This is especially true on days that aren't popular flight days. Always check the prices the consolidators have and click on their business and first class options as well as economy. Every so often you will find a flight that is priced too low for Business/First. When you see it, grab it!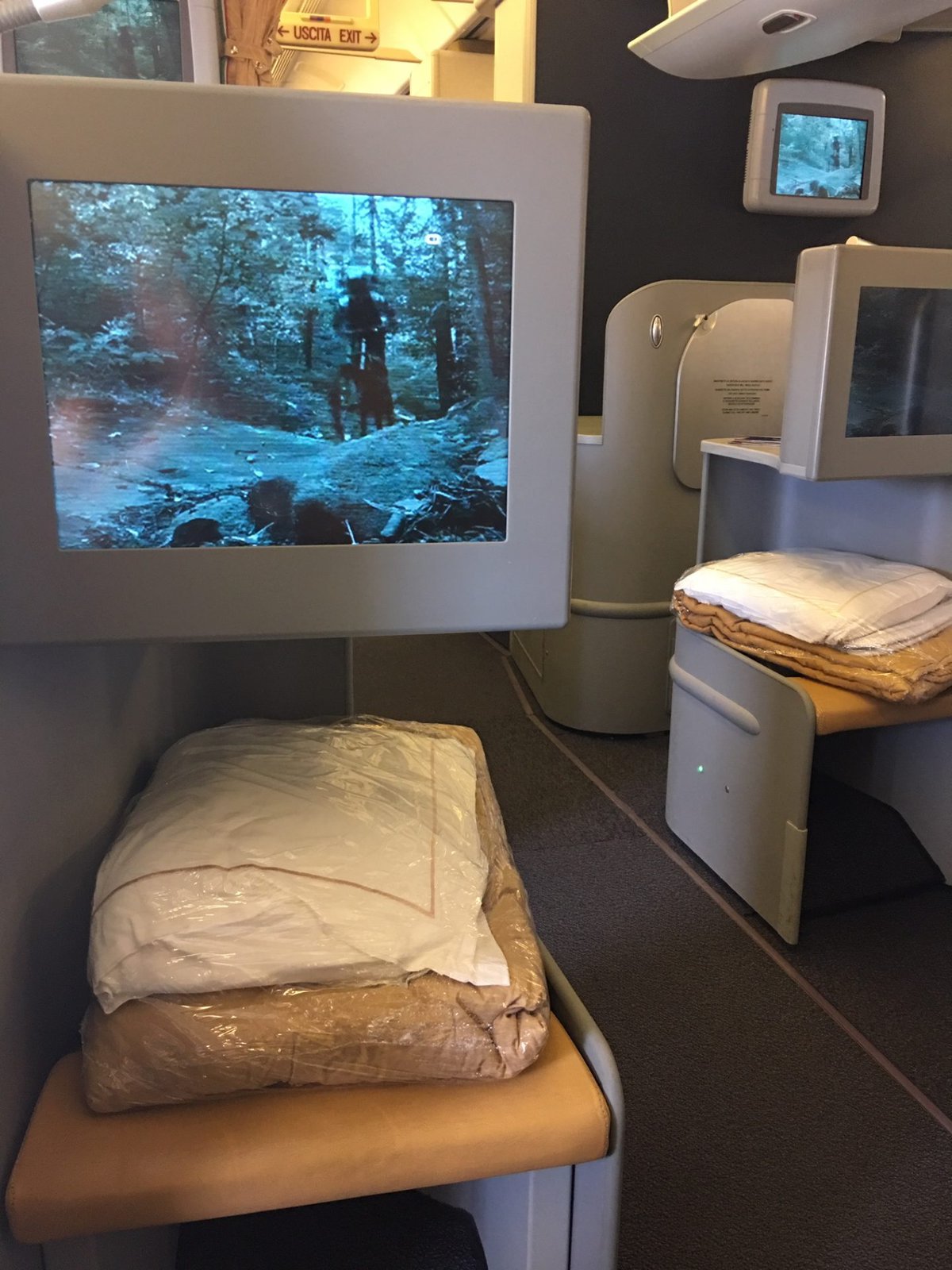 8. When The Timing Is Right
Other times you can get lucky and find your way into an airline computer glitch. Should you find some ridiculously low fare, jump on it. If you don't someone else will, or when you come back after thinking about it the airline will have already corrected it.
And sometimes the airline just makes mistakes. Last year I flew Los Angeles – Amsterdam – Rome. The airline emailed me and offered me an upgrade on the Amsterdam to Rome connection for $221. Normally I would have declined as it was a short flight, but I had to get through passport control in Amsterdam and back to the gate, and I figured a business class connection might help me. Somehow the airline's computer messed up and instead of just putting me in seat 2A on the Amsterdam to Rome flight it put me in 2A all the way!
On top of that there was bad weather in Amsterdam and we had a four hour delay. The upgrade gave me entry into the club lounge in Amsterdam and then when my business class flight arrived into Rome too late for me to catch my train to Florence I was comped a hotel room for the night!
Keep your eye out for airline errors and take advantage of them.
Bonus
Does the thought of planning a trip or getting organized to leave on one feel a bit overwhelming or stressful? I have a set of Free Resources to help you plan, organize and get ready for your trip. These are the same travel planners, questionnaires and checklists I give to my Glam Italia Tour travelers. This is a set of PDF's that you can use over and over. Get Your Free Resources HERE