Have you ever dreamed about owning a home in Italy?
I dream about it every day. Literally. In fact I figure that if I sell about a million more books I can actually buy a place in Italy!
Realistically you can buy a home in Italy and in many cases you really don't need a fortune to be able to do it. You just need some really good guidance.
For me the dream of owning a home in Italy started in 1998 when my mother gave me a copy of Frances Maye's iconic book Under The Tuscan Sun. I was living in Los Angeles at the time, a city where anything is possible, so I let myself fall under Frances Mayes' spell and imagined having my own house in a little Tuscan town. From then on I read every book I could get my hands on about buying and renovating homes in Italy, or more to the point, books where other people had done it.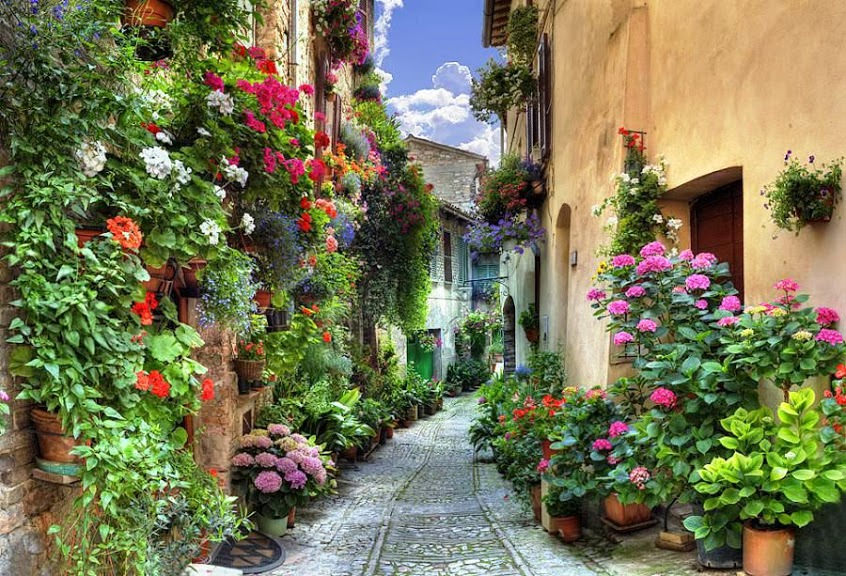 Then in my endless travels to and from Italy I wound up meeting plenty of expats who had done it themselves. Bought old homes, renovated them and now are living there either part time or full time. One of my very dear friends bought a 1000 year old abandoned house in Basilicata, did an unbelievable renovation on it, making it into apartments, one of which she lives in and the others she made into Airbnbs.
I think that more than anywhere else in Europe Italy affords us unbelievable opportunities to buy a home in an incredible old town with sensational views, a history that goes back to the beginning of time and a chance to really take part in the dream.
There are so many little towns and villages all over Italy that are slowly becoming abandoned or where the population is drastically diminishing. The young folk move to the big cities for work, or leave the country altogether and there is no one left to take over the properties. The property values drop as the population dwindles and more and more homes becomes available to buy.
Some of these towns try to entice buyers with offers of homes for 1 euro or other incredibly low rates paired with a commitment from you to invest a set sum of money into renovating the property or into settling there for 5 years and opening a business – there are lots of variables.
I have a friend who bought a rundown house for 8000 euros and then spent around 50,000 euros on the rebuild, not only getting an incredible home to live in at a totally manageable price, but also being able to generate income from it with a seasonal bed and breakfast business.
I have other friends who are wealthy enough to buy whatever they want, so a massive villa in Tuscany is an easy purchase.
Obviously if you are planning on buying a house in Venice or Florence or Rome or any highly populated place the costs will be sky high. On the other hand if you buy in Puglia or Abruzzo or Molise for example it can be incredibly cost effective.
The Downside Of Buying Property In Italy
In reality buying a property in a foreign country can be fraught with pitfalls, money traps and nightmare scenarios. Even if you speak the language well chances are you don't speak real estate Italian or legalese Italian or renovation Italian. The system for buying property there is different, the taxes are different, the rules are different.
For example you can buy a home that had an unapproved addition put on generations ago. The addition doesn't come to the attention of the authorities until the property sells, and now you are legally responsible for removing it and returning the property to its "legal" state at a crippling expense.
A New Service Available To Foreign Buyers
A friend of mine from Australia who lives in Italy has recently been getting written up in magazines and publications all around the world for a new service that she provides to foreign property buyers in Italy.
Nikki Taylor has created a program called How To Confidently Buy Property In Italy.
Using her extensive knowledge both in Italian Real Estate and in investment banking she has created a service that helps guide foreign buyers to both understand and streamline the property buying process.
What The Program Covers
*The property buying procedure in Italy
*Where in Italy should you be looking, based on your lifestyle requirements
*How to avoid very common and very costly mistakes when buying property in Italy
*The additional costs and taxes that come with buying property in Italy
*How to mitigate currency exchange risk
*How to arrange an effective buying trip from your home country.
On top of this her program has a team of bilingual professionals to help you navigate the big stuff. She offers an Italy based property lawyer, an accountant, Visa and Immigration expert and a Currency expert. Each of whom can guide you through the complexities and hidden loopholes that come with buying property not only in a foreign country but in a foreign language.
Rather than being specific to one area or town Nikki's program is designed to help you wherever you are looking to buy in Italy.
Her service runs as a 5 week course you can take with weekly live question and answer sessions. She also has a book available on Amazon called How To Confidently Buy Property In Italy that goes into much more depth about the service she provides. The book is available on Kindle or if you don't have a kindle (like me!) you can get the book on the Kindle App.
It's easy to see why major publications around the world are writing about her brilliant program and service. The main stumbling blocks that were deterring me from seriously contemplating buying property in Italy have all been addressed by Nikki, so now I know that when the time is right for me I can step into her program and confidently buy a home in Italy.
Get your copy of How To Confidently Buy Property In Italy on Amazon HERE
Want more information about Nikki, buying houses in Italy and her world renowned program? You can contact her via her website here
Do you have my books? Both International Best Sellers are available worldwide in Paperback and eBook format. Glam Italia! How To Travel Italy (Secrets To Glamorous Travel On A Not So Glamorous Budget) and Glam Italia! 101 Fabulous Things To Do In Rome.
Are you on my Private Members Newsletter list? The newsletter comes out twice per month with all kinds of insider information about traveling in Italy. Click here to join the newsletter.
Share this on Pinterest!