Italy is known for making the best coffee on earth. Once you've enjoyed daily coffee in Italy you find nothing can compare to it when you get back home.
Whether you have an Italian coffee lover to buy a gift for or whether you just want to up your own home made coffee game, these options will help you to make fantastic coffee, Italian style.
This post contains Amazon affiliate links. All products are available on Amazon.com or on my personal Amazon storefront, Amazon.com/shop/CorinnaTravels, linked here.
Coffee Machines
Let's look at three types of Italian coffee makers. They run the gamut price wise from the $20 mark to upward of $500.
The Moka
Every Italian home and every vacation rental in Italy has a moka. They make caffe, also known as stovetop espresso.
Most will have several in different sizes from the teeny tiny one cup model to the larger 9 cup plus models. Just remember a cup is about 1.5 ounces. I normally use a 3 cup moka for myself plus 1 person, or a 9 cup model if there are more of us. Typically here in America we drink a slightly longer espresso, around 3 or 4 ounces.
The Bialetti Moka
The traditional moka is the easily recognizable Bialetti model. The Bialetti moka comes in many sizes. I have linked the large 9 cup model, but click around and see them all. In general the 3 cup or the 6 cup will be ideal for most people.
I normally use Lavazza Crema e Gusto or Illy coffee when I make coffee in a moka.
The Alessi Pulcina Moka
I'm fascinated with the design of the Alessi Pulcina moka. Not only is is chic and modern, it was designed by Michele de Lucchi in conjunction with Illy Coffee to improve the design and function of the coffee maker. It has multiple cool functions but one of them is a boiler that stops dispensing coffee at just the right time so that it doesn't get a bitter aftertaste. The shape also enhances the rich aroma of the coffee, and the spout which was modeled on a chicken's beak lets it pour without spilling a drop.
Alessi make multiple different modern looking mokas but this one is my favorite.
There are two types of Italian coffee that I like to use in my moka (I also use them in French Press coffee.)
I love Illy's Moka coffee. They also have fabulous coffee for espresso machines, French Press and for American drip coffee.
I particularly love Lavazza Crema e Gusto. I drink it everyday in Italy and for the last several years have been drinking it every day at home too. You can buy individual bricks of it for around $8 but once you fall in love with it, and you will, you can buy multi brick packs for arund $3 per brick.
The Nespresso
There are several different options with Nespresso machines. The main thing to consider is whether you want the original line, which makes espresso and lungo coffee ot the vertuoline which also makes more of a traditional American size cup. The original can only use original size pods and the vertuoline can only use the larger, dome shaped vertuoline pods.
The original line uses a 19 bar pressure method to make espresso and the vertuloine uses a centrifugal system. The vertuoline capusles are barcoded and tell the machine what temperature and water volume is best for that specific coffee.
Vertuoline pods are more expensive than the original line pods, which should be factored in if this will be your primary coffee maker. Nespresso brand pods are 70 cents each for original line and $1.29 each for vertuoline. There are plenty of excllent off brand pod options for the original line that run around 39 cents each, but the vertuoline only has the Nespresso option.
The Inissia and Essenza
The Inissia (now being replaced with the Essenza) is the entry level model. I have had this machine for years. Both the Inissia and the Essenza run on the same principal, the two main differences being the Essenza's more modern, sleek look and the new design is quieter than the Inissia. While they are phasing out the Inissia you can find some good discounts.
Both machines use the original size pods and make espresso in 1.5 ounce and 5 ounce serving sizes. Both machines are lightweight and take up very little counter space. Each has a 24 ounce water resevoir. Both machines have the option of coming with a milk frother or without. If you are on a budget you can get the same style milk frother at Target for under $30.
There are multiple models and multiple size options available in the original line.
The Vertuoline
The best seller in the Vertuoline range is the Vertuo Plus Espresso and Coffee Machine. Vertuoline machines don't come with built in frothers, but the Nespresso brand Aeroccino milk frother can be bought with it separately. All Vertuoline models make 5 different sizes of coffee vs the 2 sizes you can make with the Original line models.
The Vertuo machine is larger than the VertuoPlus. With a 40 ounce water holder and a larger used pod reservoir it makes a good choice for someone who either drinks more coffee or who has more coffee drinkers in the home or workplace.
Crema
There is some debate about the quality of the crema between the Original line and the Vertuoline machines with the latter promoted as having a thicker layer on the surface. This may well be a marketing ploy to attract new buyers.
To understand the crema equation you first need to understand the differnce between the two lines. The Original line uses the traditional pressure method to make coffee. This involves using higher temperature water which extracts more oils from the grounds making a richer, stronger, more flavorful coffee.
The Vertuoline uses a centrifugal force to whip up extra crema. The coffee doesn't come out as hot and the brew method makes a milder cup of coffee.
What Is Crema?
Crema is the tan foam like substance that forms on an espresso. It is caused by a chemical reaction during the brewing process involving pH and coffee oils. It tends to be a little acidic due to the increased pH and the CO2.
Some people think crema is an indication the barista used fresher beans to make your espresso, but its normally an indicator that inferior Robusta beans were used. With Nespresso machines the Original line's thinner crema is closer to the real crema you get when frsh Arabica beans are used. Vertuoline's thicker crema could be from higher percentages of Robusta beans or it could be because of the high speed spinning used in the extraction process.
Which Machine Should You Choose?
My best advice when choosing a Nespresso machine is if you enjoy real espresso and espresso drinks (like cappuccino) and don't want to buy a big espresso machine, then the Original line is the one for you.
If you prefer longer coffee drinks or coffee machines that make a full cup like American style coffee, then the Vertuoline maybe the one for you.
Espresso Machines
There are loads of options for anyone wanting the full espresso bar experience, from relatively cheap machines to very expensive ones. I'm showing two mid range options.
The De Longhi La Specialista has dual heating systems so you can be frothing milk while making espresso. It also has an integrated grinder, a handcrafted stamping station and a knock box. The Specialista is easy to clean and has an award winning design. This machine costs around $750. You can read all the features it offeres here.
The Breville Barista Express Espresso machine also offers on demand grinding, precise temperature control and milk foam texturing. It has a few less feature than the De Longhi but it did make the list of Oprah's Favorite Things, so there's that.
Again, there are plenty more options for espresso machines, so you should click around and do more comparisons before buying.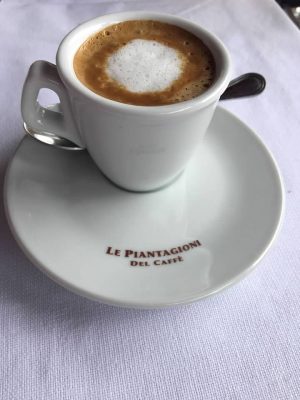 You can see more Italian Coffee making options including refillable nespresso pods and gorgeous espresso cups on my Amazon storefront in the Italian Coffee Style section. My storefront is Amazon.com/Shop/CorinnaTravels. I have lots of interesting things for travel enthusiasts, from books to clothing to gadgets to coffee!