I just got back from 2 months of traveling in Italy leading my Glam Italia Tours.
It was so fabulous and we had so much fun. You can see some of the places we went and the fun things we did on my Instagram page @CorinnaTravels. Along with the images on the grid I also stored some of the Instagram stories I made while in Italy in the highlight section.
While I was away I had so many messages from readers asking about my luggage and my travel wardrobe, and although I tried I just couldn't get back to everyone. With that in mind today's post answers (hopefully) all those questions.
A post like this feels too sales-y for my newsletter, where I try to just talk about special secret places I find in Italy. If you are a member of my newsletter I will be linking this post in an upcoming issue. If you don't belong to it yet, you can join the newsletter here.
The post contains affiliate links.
LUGGAGE
The first element of a successful travel wardrobe is having the right luggage. I don't want my clothes and belongings getting all scrunched up and needing extra maintenance (ironing). I also don't want to break my back lugging a suitcase or duffel up and down stairs, on and off trains and through busy airports. If you heard the episode of the Untold Italy podcast where I talked about travel packing (you can listen to it here) you I talked about the time my soft-sided luggage sat out in the rain on the airport tarmac and arrived to New York soaked through. With that lesson under my belt I always travel with a hard-sided suitcase. For the past 6 years or so I have used the Medium Suitcase from Away Luggage.
I have it in the sand color. The medium allows me to pack for 2 weeks or 2 months if needed, but I also use it for short work trips. This suitcase has been everywhere with me, up and down the U.S, to Australasia, and many many trips to Italy as well as Paris and Barcelona trips. It has already traveled more than most people do in a lifetime and is still in excellent condition. I should probably scrub the exterior as that is one of their features – you can clean it and keep it like new. But I never bother!
The other piece I have traveled with this year is the Away Everywhere Bag. I got this before I went to Italy in June and nearly sent it back, thinking it would be too small. I am so glad I didn't because this bag is an absolute MVP! It is the perfect cabin bag when you fly, doubles up as an excellent day bag when needed, and frankly has been indispensable these past 2 months of tour guiding. It comes in both leather and in water resistant nylon, which is what I bought. I kind of wish I had bought the leather one, because this bag is so killer, but the nylon has still been genius. One of the reasons I nearly sent it back was the handles initially seemed a bit flimsy, but again I am so glad I kept it! This bag is an absolute workhorse and is incredibly strong and durable while still looking quite chic.
Sunglasses
I had so many people ask about the sunglasses I wore all over Italy this past two months. Sunglasses are such an important part of a travel wardrobe. Not only to protect your eyes from the sun, but also as a great fashion accessory that can make a simple outfit look very chic. I like oversized sunnies because they can hide a multitude of sins while making a great statement!
Normally I splurge and buy designer glasses each year for my Italy trips but this year I got this pair on Amazon for $14.95 Funnily enough I got more comments and questions about these cheapie shades than any designer pair I have ever worn. I absolutely loved them and am ordering another pair as a backup in case they aren't selling them next year.
EARRINGS
I don't normally wear earrings as I am allergic to everything. I got these Pavoi earrings on Amazon after a blogger talked about being allergic to earrings and these ones working for her. They are the only earrings I can wear, so I got the hoops in two sizes. I travel with the small ones, and wore them every day. They were super inexpensive at $12.95, and despite being worn everyday for more than a year are still like new! You would think at that pricepoint they would be tarnished, but they're not even slightly discolored.
MY TRAVEL CAPSULE WARDROBE
I try to work from a core basics travel wardrobe and then add fun pieces to brighten it up. Some pieces are around year after year, while others are just a one season lucky find. I base my travel clothes around having a couple of great pants, a couple of really functional skirts and some good, versatile dresses.
I also throw in a cropped denim jacket, a merino sweater and a scarf.
I wear a lot of white tops, most of them from the Chico's travelers collection. White always feels fresh and clean and it goes with almost everything. Chico's traveler fabrics are tremendous. They wash easily, hang out to dry and don't need ironing. I have worn them while traveling for about 10 years and just swear by them. I also pick up t-shirts and long sleeve t's from Nordstrom. Theirs tend to be decent quality and hold their shape nicely, which is important if you want to wear them multiple times while you're away.
SKIRTS
I found this skirt on Amazon The Drop. It is part of their permanent collection and comes in tons of colors. It is cut on the bias, which is lovely on slim girls but is also fabulous for curvy girls like me. I bought it in the lime green and in red, and am ordering it in the leopard print and black for winter.
One of my challenges on this trip was that I was arriving at the end of August and was going to have at least a month of very hot weather, followed by cooler through cool weather and then potentially cold weather. So with limited suitcase space I had to plan items that would work with all temperatures. These skirts were great with blouses and t-shirts in the hot weather, but when it turned colder I wore the red one with a black merino sweater and also with a tan sweater I picked up in Italy. The skirt was great both with summer sandals and also with sneakers when it got colder.
I love that the bias cut swishes a bit when you walk, and has enough fabric to let you walk all day up and down the hill towns of Tuscany, or stride through the streets of Rome without feeling confined.
PANTS
This year I traveled in (and wore to death) Eddie Bauer Ankle Departure Pants. I got them in olive (they call it Dark Thyme) and in black, and they were the most versatile pants I've ever had. Firstly the cut again is great on slim girls but is also very flattering on bigger girls like me. I flew in the black ones and then throughout the trip wore both the black and the olive. During the hot months they were awesome with blouses and t's. I wore them with sandals and with sneakers and they always looked chic. When it got cold I wore them with sweaters that I bought in Italy (at OVS, the Italian version of Target).
These lightweight pants can be washed in the bathroom sink (I had a washing machine everywhere I stayed) and hung out to dry overnight. They are the perfect travel pant. During the last 3 weeks I was in Italy there was a cold snap and I ended up rotating through my 2 pairs of departure pants and one pair of white jeans every single day. Having pants that dried overnight was a lifesaver! I found the best price on the Eddie Bauer Departure Pants here on Amazon.
SWEATER
You seriously cannot beat merino when you travel. It temperature regulates so works in temps as cold as freezing but also up to 75 degrees (23 celcius). It is as thin as a t-shirt fabric, so your suitcase isn't filled up with bulk. Merino wicks away moisture from your skin and also has an anti-smell property, so you can wear it several times before needing to wash it. This sweater got worn to death on the second half of this trip. Merino is also the perfect fabric to wear when you fly. It's hard to believe something so lightweight and thin can be so incredibly warm!
I buy merino base layers from Icebreaker on Amazon. A simple merino crew neck, lightweight sweater is an essential travel piece in all but hot weather.
DRESSES
I wear dresses more than anything when I travel. They always look chic, they're cool and breezy in hot weather, you can wear them with a sweater and sneakers when it gets cooler, and they do a great transition from a day sightseeing to an evening out.
This year I traveled with really inexpensive dresses. Some of them were dresses I've had and traveled in for years – if you've followed my travels you'll already have seen them on heavy rotation. But I did pick up a couple of new dresses from Amazon's Essentials Collection this year that should be available for a while.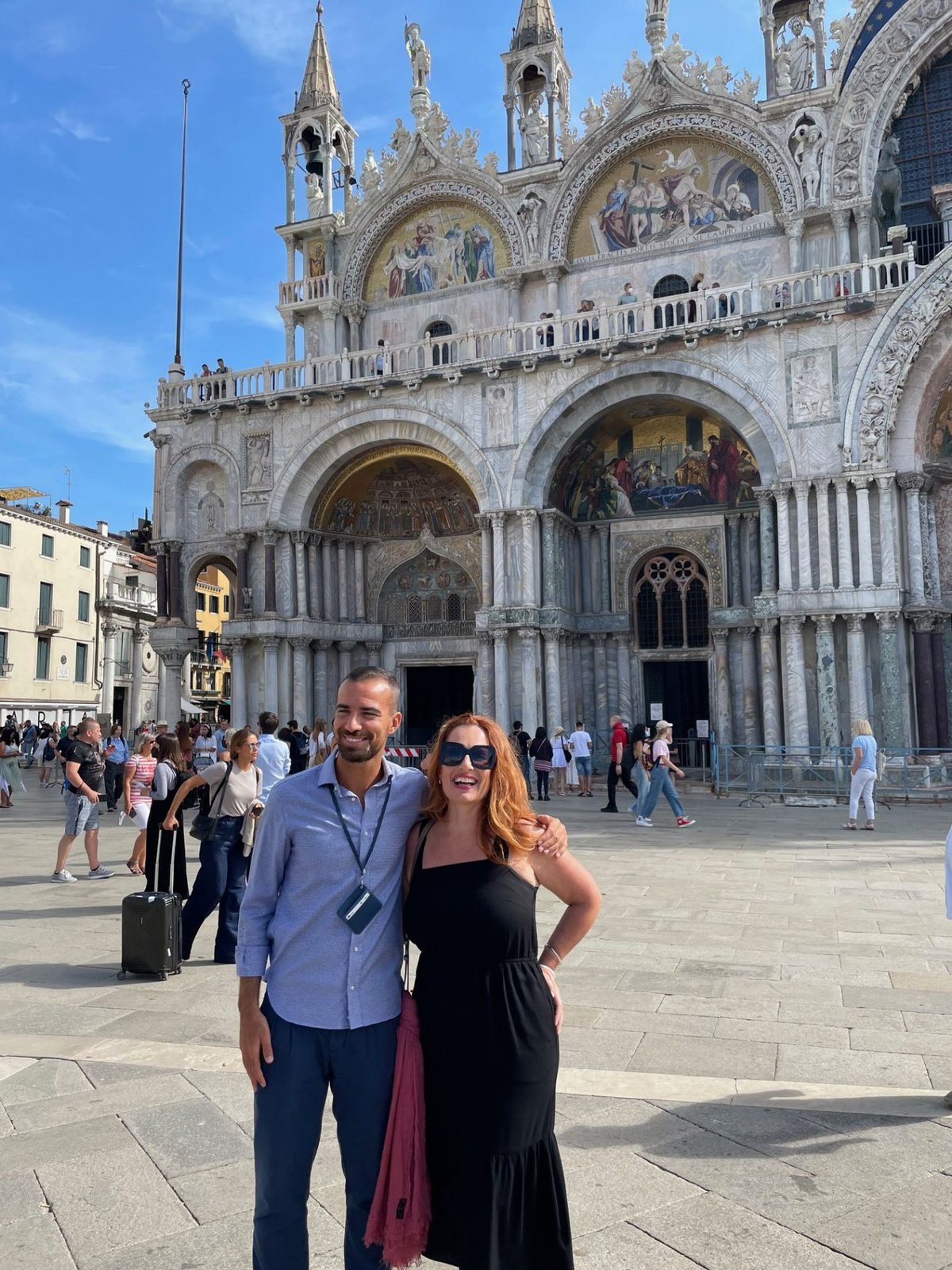 This black dress comes in multiple colors but I loved it in black. The simple square neckline is always pretty and flattering. The wider shoulder straps allow for bra straps to remain hidden, the cinched waist and tier at the bottom help give a more hourglass shape. It was so inexpensive that I was sure it would fall to pieces and be left behind when I came home, but it is still is fantastic shape, even after having been worn so much. It runs a bit large, so order a size smaller than you normally wear. I got it here on Amazon.
It is also great with a denim jacket, and when we got into cooler weather I wore it with a sweater.
The same goes for this dress I purchased on Amazon. I've never met a stripe I didn't like! This one is in a t-shirt type knit fabric that is perfect for travel. It was easy to launder, which is a major deal when you are planning on wearing the same pieces over and over on an extended trip. The Amazon Essentials Women's Tank Maxi dress is ankle length and very flattering. It was fabulous during the hot months and I wore it with a denim jacket or a sweater when it started cooling off. Once the really cold weather hit I packed it away, but realistically it is a good 3 season dress if you have some layers. It comes in a variety of colors too. The stripe is temporarily out of stock but the solid shades are still available.
This pink floral dress was a major win. I ordered it from an Old Navy ad on Instagram, of all places. The first one I bought in my normal size but it was way too big, so I got a second one a size smaller and saved it for traveling. As you can tell from my social media it really did get worn to death this summer. The elastic in the back is starting to stretch out, so I need to find some way of repairing it, because I loved this dress so much and it was a one time thing which won't be back next year.
SHOES
I travel with one pair of really good sandals that are comfortable, support the foot and ankle and that I can walk ten miles per day in if needed. For years I have worn the Mirabella by Sofft. I keep track of my steps via the iPhone app, and know I can get 315 miles out of a pair of Mirabellas! I buy a new pair every other year.
I also travel with a good pair of white sneakers. They have to breathe, be super supportive, and look decent.  After knee surgery last year (meniscus, nothing exciting) the physical therapist got me to buy these Under Armour Charged Assert 9 sneakers.They might just be the best sneaker I have ever had. They got worn half to death and when I got home I just threw them in the washing machine, and they look as good as new!
MASKS
This year and quite possibly for a while in the near future, masks were essential for travel. Italy never dropped their indoor mask mandate, (although they may do before long) so you had to have masks with you everywhere you went. On the international flights you were required to wear a surgical mask the entire time, so having quality masks was essential. I like to wear the KN95 surgical masks because they have that extra ouch in front of your mouth and nose which stops you from sucking your mask against your face. They also fit the face the best and don't have open spaces for germs to get in. I figure if I have to wear a mask it might as well be on that is the most comfortable and that lets me breathe as easily as possible. I took these masks because the box gives an assortment of colors, and these masks in black and in white.
As you literally cannot go inside anywhere without a mask, I had a couple of spares in my handbag all the time. These masks were individually plastic wrapped which was really handy. KN95 masks seem to go through spells of being sold out, so I bought mine well in advance.
I hope this helps you planning your travel capsule wardrobe for Italy (or anywhere in Europe). A good rule of thumb is to have 4 bottoms, in my case 2 skirts and 2 pairs of pants, then 6 or so tops that go with all of them. This way you can mix and match and keep making new outfits. Italy gets really hot in the summer, so I like the convenience of wearing sundresses too. I also take one denim jacket, one merino sweater, a scarf, a pair of sandals and a pair of sneakers. This rounds out my travel capsule wardrobe, giving me lots of options and getting me through every circumstance from rainy days to dinner parties!
Have you read my best selling Italy travel books? Glam Italia! How To Tavel Italy: Secrets To Glamorous Travel (On A Not So Glamorous Budget), Glam Italia! 101 Fabulous Things To Do In Rome, and Glam Italia! 101 Fabulous Things To Do In Florence are all available worldwide on Amazon