I love Paris.
I love wandering aimlessly through the Latin Quarter. I love breakfast in Montmartre. I love picnics and drinking wine sitting by the Seine at night. I love exploring the arrondissements far from the tourist grind.
Paris is so much more than the Eiffel Tower and the Louvre, Notre Dame, the Champs Elysees and the Arc de Triomphe, although I do love them all.
Paris is a city that needs to be experienced. Rather than racing headfirst on a sprint through the monuments, slow down, stroll and breathe in this glorious city.
Instead of waiting in line for 3 or 4 hours to go up the Eiffel Tower or walking through the human crush on the Champs Elysees, both of which are time vampires and will burn valuable hours of your time in Paris, leave the tourist trail and try some of these options for a completely different and totally fabulous experiences in Paris.
Participate In Café Life.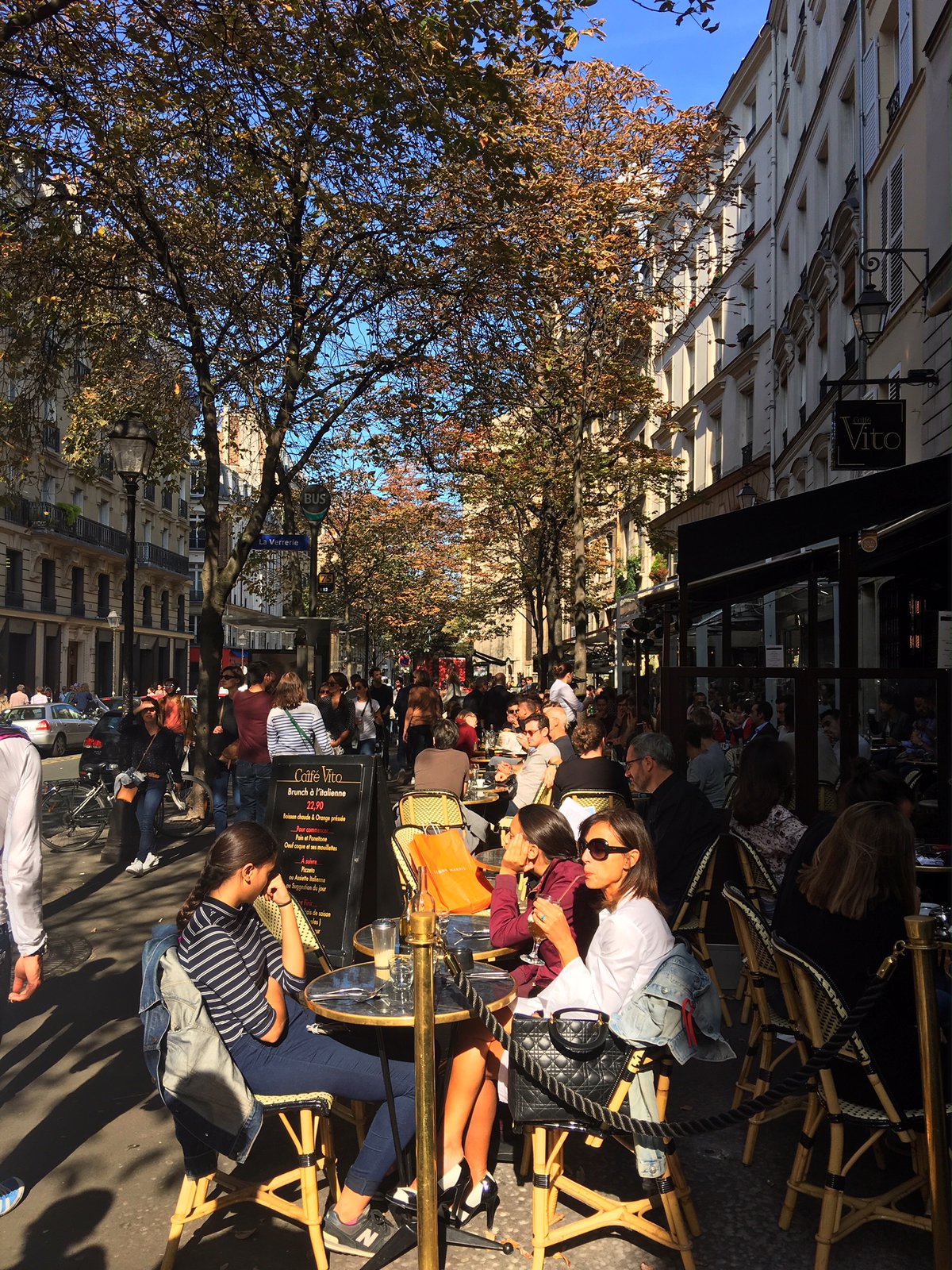 Wander down any street that sits away from the tourist zones so that you can have a more authentic experience. Look for a café with no tourists, but with locals sitting there instead (they are literally on every street, so not hard to find), sit outside and enjoy a Parisian breakfast. Order a café au lait and a brioche or a croissant, and watch the world go by or read a book or newspaper. Breathe in Paris and for just a moment imagine that you live here, and this is your life!
Read A Book In Place Des Vosges
Take some time out from the madness of the city and duck into the beautiful Place Des Vosges with a book. You will be surrounded by French families, French workers on their lunch breaks, friends and lovers takin time out from their day to enjoy this lovely square.
Lie in the grass or sit under the trees on a bench, either way relax and soak up this quintessentially Parisian experience.
Shop For A Picnic On Rue Cler
The French truly appreciate le pique – nique, maybe more than any other people. Rue Cler is a food shopping street in the beautiful 7th arrondissement, where you find bread, meats, cheeses, fruits, wines – everything you need for a dinner party or brunch, or the perfect picnic.
If you tell the vendors that you are shopping for a picnic they will get involved and help you pair the perfect cheeses (one hard, one soft) with your choice of cold meat. They will choose a perfect wine, the right bread, the right fruits. On my most recent picnic shopping adventure on Rue Cler in each shop I went into the sales people wanted to see what was in my shopping bag, what I had chosen so far, and then would get into big discussions about what would be the perfect choice to go with it. It was hilarious and fun and wonderful. In one store they refused to sell me a baguette because they said theirs was inferior and would ruin the picnic! They told me to buy my baguette at the boulangerie down the street where the bread was much better. I can't even tell you how much I enjoyed the whole process! And we had the most perfect picnic ever.
Have An Evening Picnic At Champs De Mars
Now that you have bought your picnic items, head over to the Champ de Mars, a long narrow park at the foot of the Eiffel. If you plan it right you can get there and get settled in in time for the tower to light up. I always bring a table cloth and paper plates from home so that everything is lovely. I promise you, if you take the time to shop for a picnic and find yourself stretched out in the grass under the Eiffel with a glass of champagne in your hand as the tower lights up, you will be loving life and enjoying a slice of Paris that most tourists miss.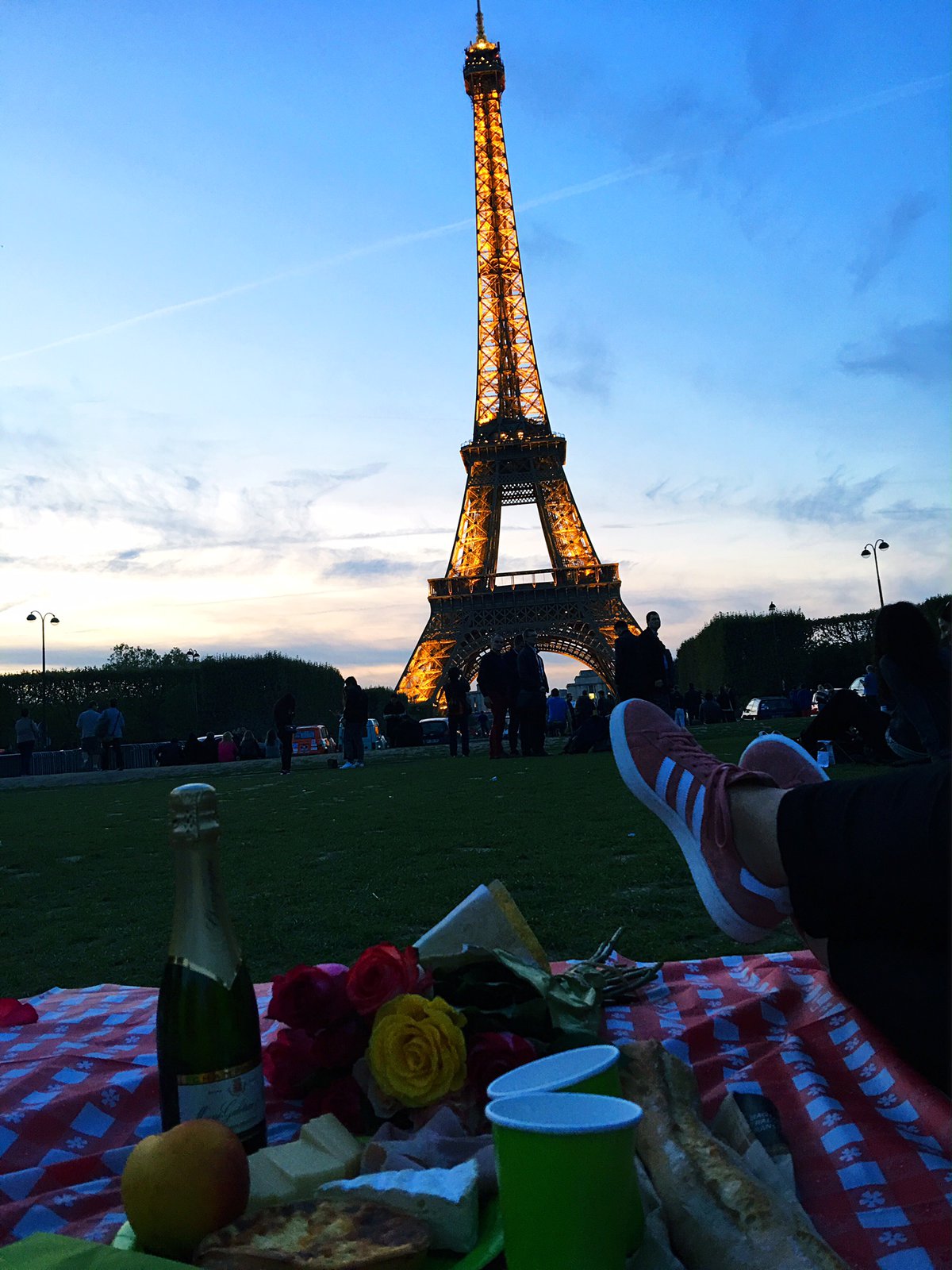 Wander The Seine At Night.
To truly appreciate the beauty of the lights that begot Paris the appellation "City of Lights" you need to actually go out and see them. Walking along the Seine at night you will be overwhelmed at the beauty of Paris all over again. Sit on the bridges and take in the stunning views of the river lit up on either side, and the bateaux making their way through the water.
Rather than taking a dinner cruise, where you are either looking at your food and your companions and missing the view, or neglecting your meal and your companions to take in the view, just walk. You will see French couples smooching under the stars or enjoying a glass of wine with their legs dangling over the river walls. Others will be walking home from dinner, arm in arm. Paris is exquisite at night – make sure you go walk it, even in the rain.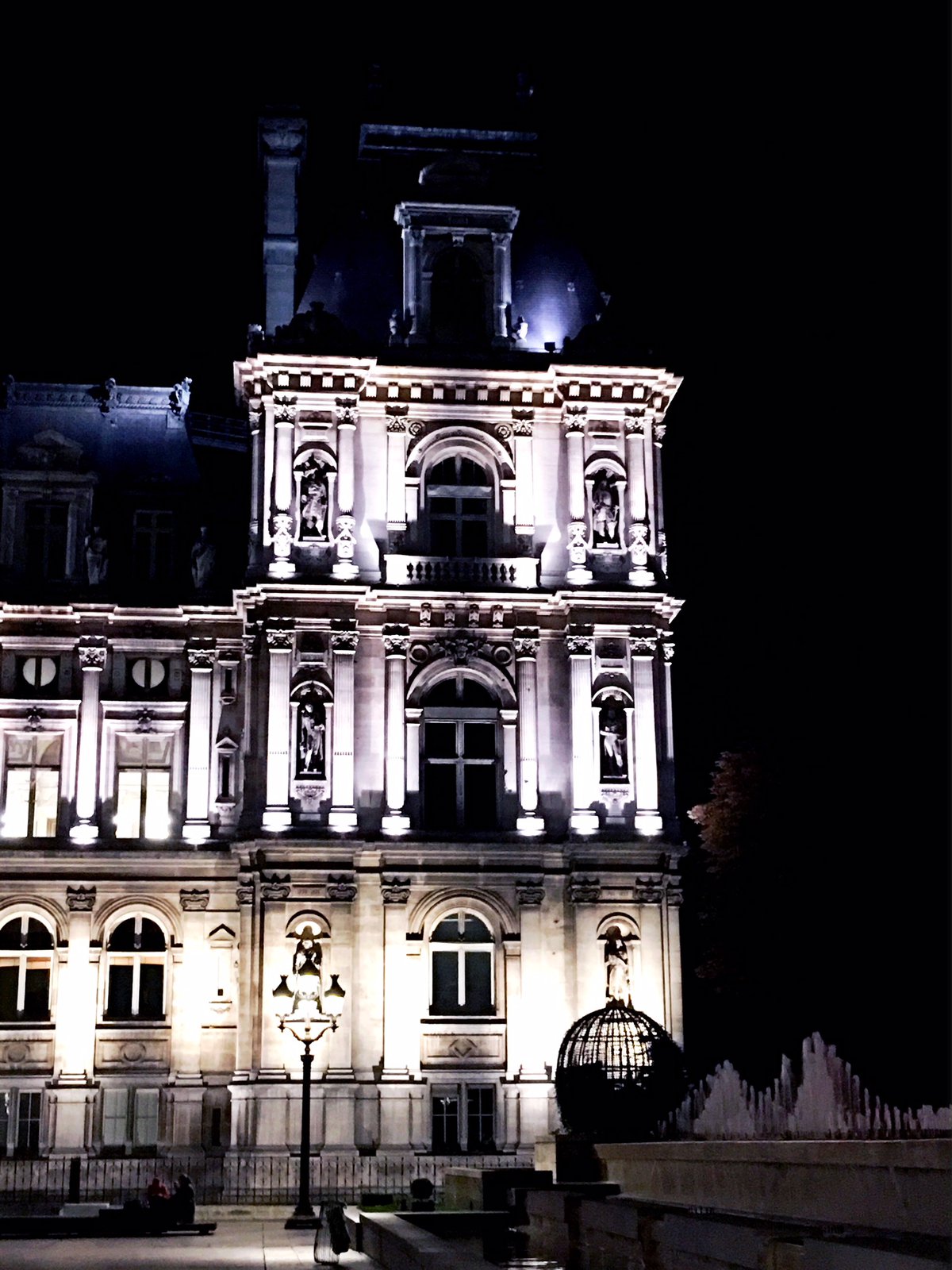 Explore Canal St Martin
From Place de Republique at the top end of le Marais, walk a couple of city blocks to the fabulous Canal Saint Martin. This 4.5 kilometer waterway has become a super vibey, cool area, lined with shabby chic shops and cafes. It is trendy but not touristy, the people you will see are Parisians going about their daily lives.
Once a working class area, Canal Saint Martin has evolved over the past 5 years into one of the coolest areas in Paris. Stop for lunch at one of the cafes, walk up and down all the little streets and be blown away by the gorgeous boutiques that you find tucked away far from the main roads. It is easy to lose yourself for an afternoon at Canal St Martin, and the experience is quintessentially Parisienne.
Have Dinner In The Marais
The Marais is one of my absolute favorite parts of Paris. Wander up to Parc de Temple and you will find yourself far from the tourist crowds, in a world that is distinctly Parisian. There are endless outdoor cafes and bistros, where you will sit shoulder to shoulder with locals going about their normal lives. Which, of course, is what makes it fabulous! You won't see bottles of ketchup on the table and the menus probably won't have any English, but the food will be amazing and the experience unforgettable.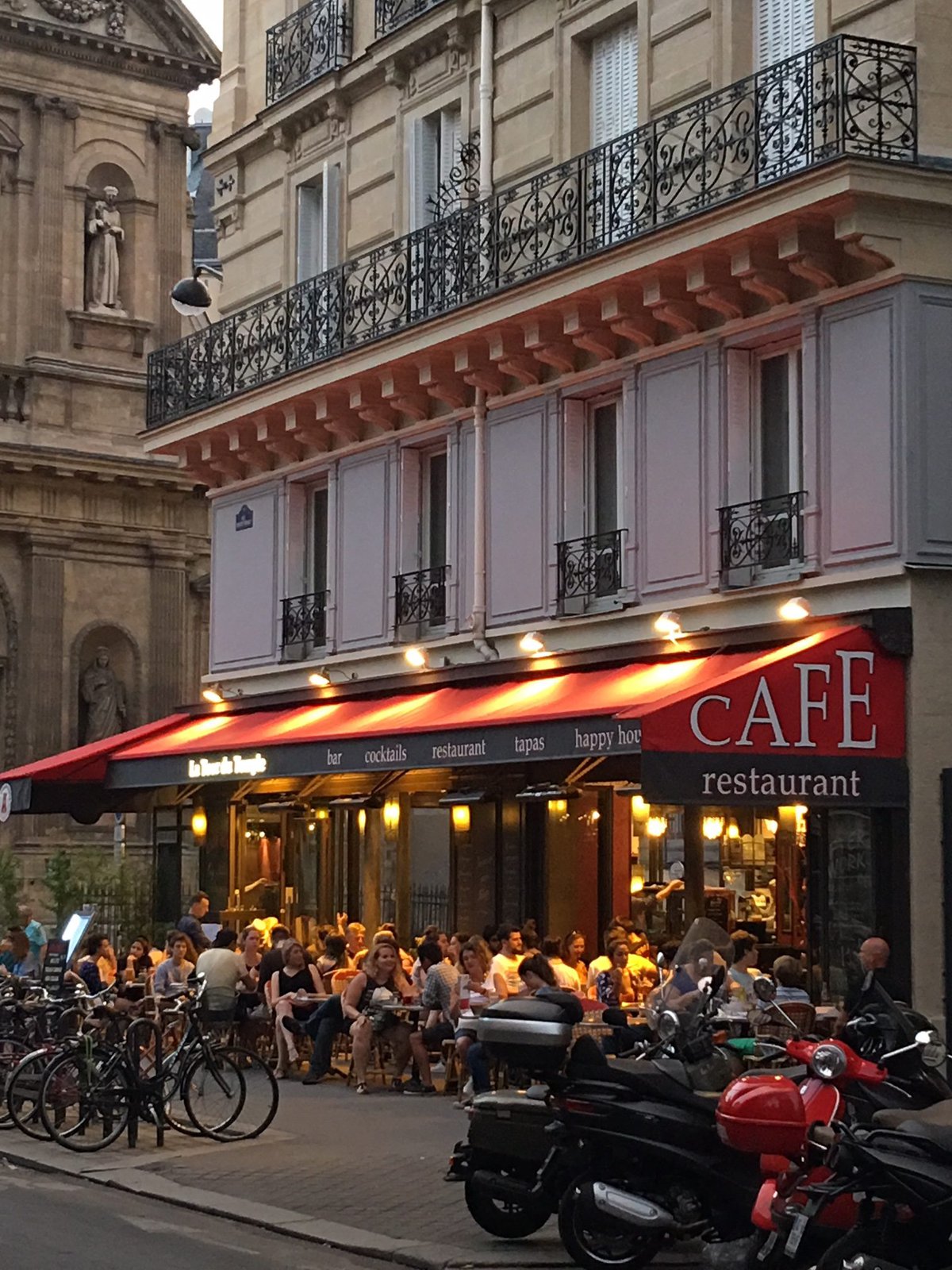 Take time to watch the locals. Parisians put their phones away and actually look at each other and talk. It's just fantastic. I love watching the men out with their significant other (or maybe just a date). Unlike men in America the Frenchies' eyes aren't scouting around to see what else is out there, instead they look at and interact with the woman they are with. It is intoxicating to watch. In fact the last few times I have been to Paris both alone and with friends and my tour groups I have made it a point to tell them to watch. It doesn't seem to matter where in Paris we are, the story is beautifully the same.
Explore new Arrondissements
The Paris Metro is super easy to use and is super efficient. For next to no cost at all you can open up the entire city to yourself and buzz around everywhere. Choose an outlying/higher numbered arrondissement on the map, jump on the metro and go explore! Paris is full of endless fantastic places to stumble upon.
Earlier this year I accidentally discovered the 20th, I recently visited friends who live in the 10th, a few years back I went to visit a pro makeup store in the 15th. Every time I find myself in a new part of Paris, a city I have been to too many times to count, I am awestruck all over again. Paris is like an onion with never ending layers to peel back. The more you explore, the more you will fall in love with this city, and I truly believe the best of Paris lies far from the tourist areas.
As you explore the different arrondissements you will find little shopping streets, courtyards and squares, delicious little pieces of history that the masses will never venture out to find.
You are not likely to be disappointed if you venture away from the main tourist spots!
If the Metro feels too daunting take advantage of Uber. Uber is quite inexpensive in Paris and there are drivers everywhere.
Shop A Flea Market
Perhaps the most famous flea market in Paris is Les Puces de Saint Ouen, know to everyone as Les Puces (the fleas). Les Puces is the largest antique market in the world and gets up to 180,000 people coming to browse per weekend.
Easy to find, Les Puces is situated in one of the poorer parts of the 18th arrondissement, metro stop Porte de Clignancourt on Line 4. Hilariously this is Fox News' "no go zone" where they say police won't go, but it's actually a bustling market town!
The market is open on Saturdays and Sundays as well as Monday mornings. The best time to go is on a weekend morning. Have a coffee, watch everyone arrive and wander around. Chances are you won't be shopping for antiques to ship home but you can find really cool souvenirs. A fantastic, low cost souvenir is the antique postcard. They average at 1 euro each and make for wonderful keepsakes.
As with any crowded place you need to hang on to your handbag and beware of pickpockets. The markets are huge so you may want to download a map of the markets before you go.
Make A Movie Tour
So many amazing movies have been made and set in Paris. Rather than burn hours waiting in lines to see the main tourist sites, make a list of places from your favorite movies and go on a movie tour.
Paris is an easy city to find your way around, the metro and Uber making everything accessible to you. I guarantee you you will have far more fun exploring the streets where your favorite movies happened than waiting hours to go up the Eiffel! To get you started you could go to the pyramid at the Louvre from The da Vinci Code, Montmartre and Canal Saint Martin from Amelie, and if you want to find the steps where Hemingway picks up Owen Wilson in Midnight in Paris, head past the Pantheon up Rue de la Montaigne to the church of St Genevieve, and walk around the back. Maybe Hemingway will come find you too!