There are many fabulous day trips you can take from Rome. I had been wanting to check out Hadrian's Villa (Villa Adriana) and Villa d'Este for ages, and this past summer I finally made my way there.
Villa d'Este is a story of extreme wealth, corruption, and the Catholic Church, three fabulously suited bedfellows. The more you research the various Popes and Cardinals the more you wonder where all this chastity and celibacy and saying Hail Mary's for bad deeds comes from. They certainly weren't living it!
The Villa
Villa d'Este is a 16th century villa built by Cardinal Ippolito d'Este, one of the wealthiest cardinals of them all. During this time when the church ruled everything and there was no free press to report the goings on, Popes and Cardinals were marrying and having mistresses and orgies and generally getting up to no good. D'Este had a wife and 4 sons, which I find endlessly entertaining.
He took an enormous amount of land from the locals to build his spectacular villa, and robbed no end of marble and travertine from Hadrian's place down the hill. At one point he had 12 lawsuits against him, but he didn't care, he was building his palace anyway.
The villa would be quite sensational on its own, with its frescoes and mosaics and glorious views. On a clear day from the terrace you can see all the way to St Peter's Dome.
The Gardens At Villa d'Este
The most famous part of Villa d'Este are the gardens and their fountains. D'Este diverted the Aniene river to provide water to one of the most spectacular series of fountains and water exhibits you will ever see.
It all happens on several levels, working their way steeply down the hill to the bottom of the garden.
All the fountains and water exhibits are powered by water. It is completely brilliant, especially when you factor in the sheer size of the gardens – they are enormous. You will notice too as you move through the garden that all the fountains that line the way have water flowing at the same speed. You don't see any gushing while others drip, it is all synchronized and balanced.
One highlight is a huge fountain that plays Renaissance music several times per day.
Make sure you find out what time the musical fountain is scheduled to play and time your visit to be in front of it when it does. It is quite incredible!
As you are walking down to the musical fountain the walls are lined with gargoyle-like sculptures with water flowing out of their mouths.
Part way down you see two fountains the man of the cloth had made for the pleasure of his sons.
A pair of female creatures with giant boobs from which water arcs out. I wonder if he gave himself a round of Hail Mary's to make up for it?
You can spend a really lovely afternoon wandering the gardens at Villa d'Este.
They really are a work of art, and are visually astounding from every angle, wherever you are on the property.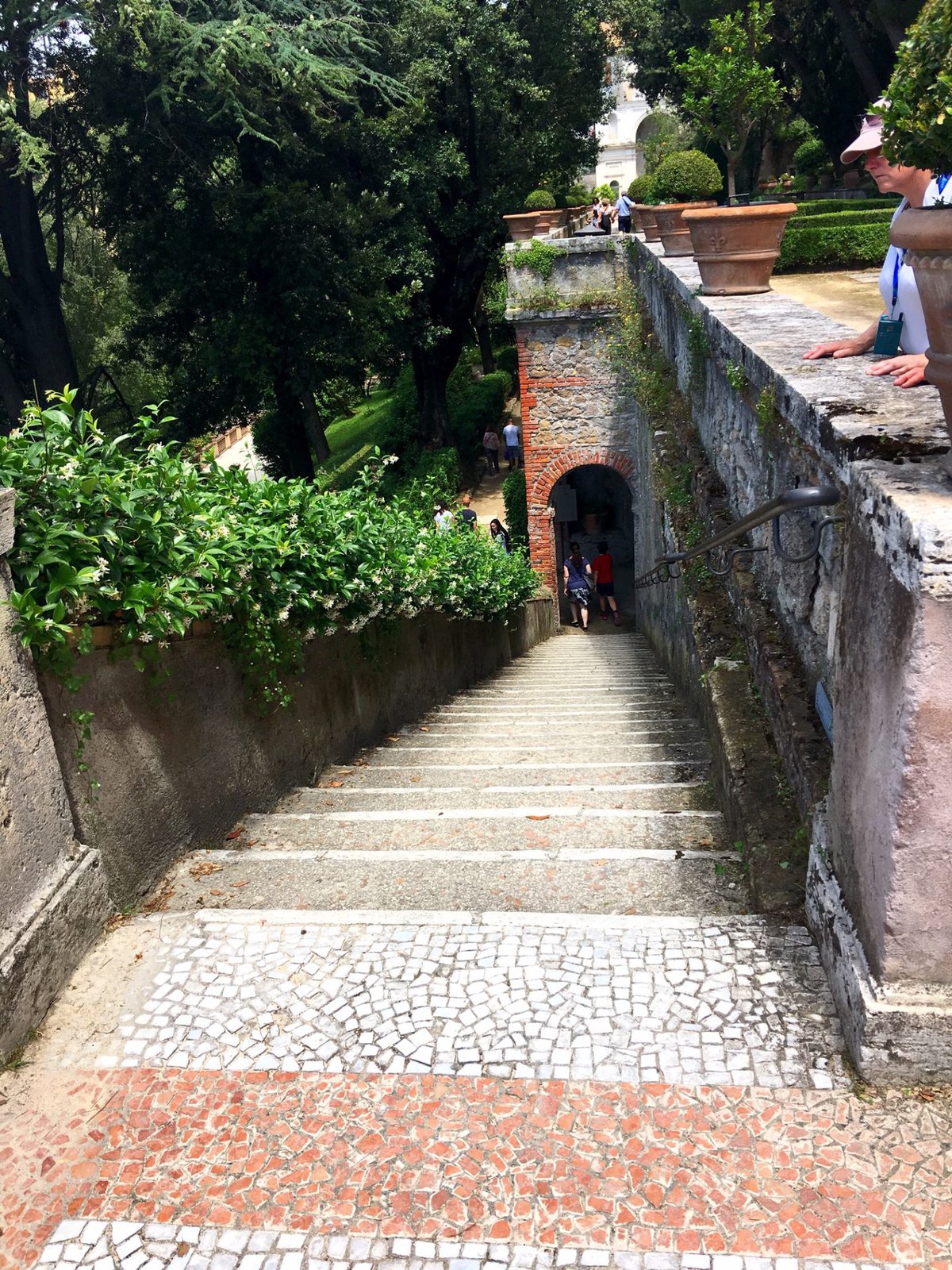 The gardens are quite steep. You can take an elevator back up from close to the halfway mark, but you still need to be able to walk well to get to that point. As such I don't recommend it for anyone with bad knees or hips, or for anyone who has trouble walking.
Villa d'Este is in Tivoli, only 15 miles from Rome.
Day tours combine Villa Adriana (Hadrian's Villa) in the morning and then Villa d'Este in the afternoon.
When I was at Villa d'Este Rome was having a very hot spell, so it was nice to take a day outside the city and enjoy the shade as well as the break from the heat.
If you are traveling to Rome any time soon you will love my new book, Glam Italia! 101 Fabulous Things To Do In Rome. It will be available exclusively on Amazon.com by late March or early April 2019. Everyone on my Private Members List will get early notification of the book's release, as well as the chance to get special early-bird pricing. You can join the list here.
Have you read my book Glam Italia! How To Travel Italy (Secrets To Glamorous Travel On A Not So Glamorous Budget yet? It has become an international best seller and is available worldwide, exclusively on Amazon.com Get your copy HERE