I always talk about making your trip to Italy a mix of visiting the big sites and getting off the beaten track. My book Glam Italia! 101 Fabulous Things to Do in Rome: Beyond the Colosseum, the Vatican, the Trevi Fountain, and the Spanish Steps
tells you about places to slip away and find absolute magic away from the crowds in Rome, but I am often asked about other places around Italy to put into a travel itinerary.
Today I want to tell you about a truly special place to add to your Italy travel plans.
A few years ago I fell in love with Basilicata when visiting the town of Matera. If you imagine Italy being the shape of a boot, Puglia makes up the heel of the boot, Calabria is the toe of the boot, and in between the two the instep of the boot is Basilicata.
For centuries Basilicata was somewhat cut off from the rest of Italy, so it is lesser known than the other regions, and is possibly the least touristed of them all too. Which puts it at the top of my list of must see places!
This summer at the end of my June Glam Italia Tour I snuck off to Basilicata for a few days of rest and relaxation before coming home. While there I didn't see a single tour bus, flag waving tour guide or t-shirt shop. Instead I met the local people, had fabulous food and wine and travel experiences, visited some amazing sites and made a friend who it felt like I had already known forever.
The Lovely Martine
This photo caught my eye a couple of years ago, and haunted me ever since. It is from the Orangery Retreat in a town called La Rabatana in southern Basilicata. I became obsessed with the idea of taking a bath here, surrounded by candles. From the photo I couldn't decide if it was in a cave of a giant fireplace, but it looked so incredible, so different, I just had to find a way to get there!
Through social media I tracked down the owner, a fun, gorgeous and incredibly inspiring lady named Martine, whose story is the stuff of dreams. We became social media friends, and funnily enough by the time I actually met her in person it felt like I had already known her forever. Some people carry that kind of magic in their pocket, the ability to immediately connect with other humans and make you feel as if you've always known each other.
Martine's story is glorious. She is from the U.K, had a huge career in the wine industry as well as owning her own high end catering business, and gave it all away to move to southern Basilicata and pursue a dream.
La Rabatana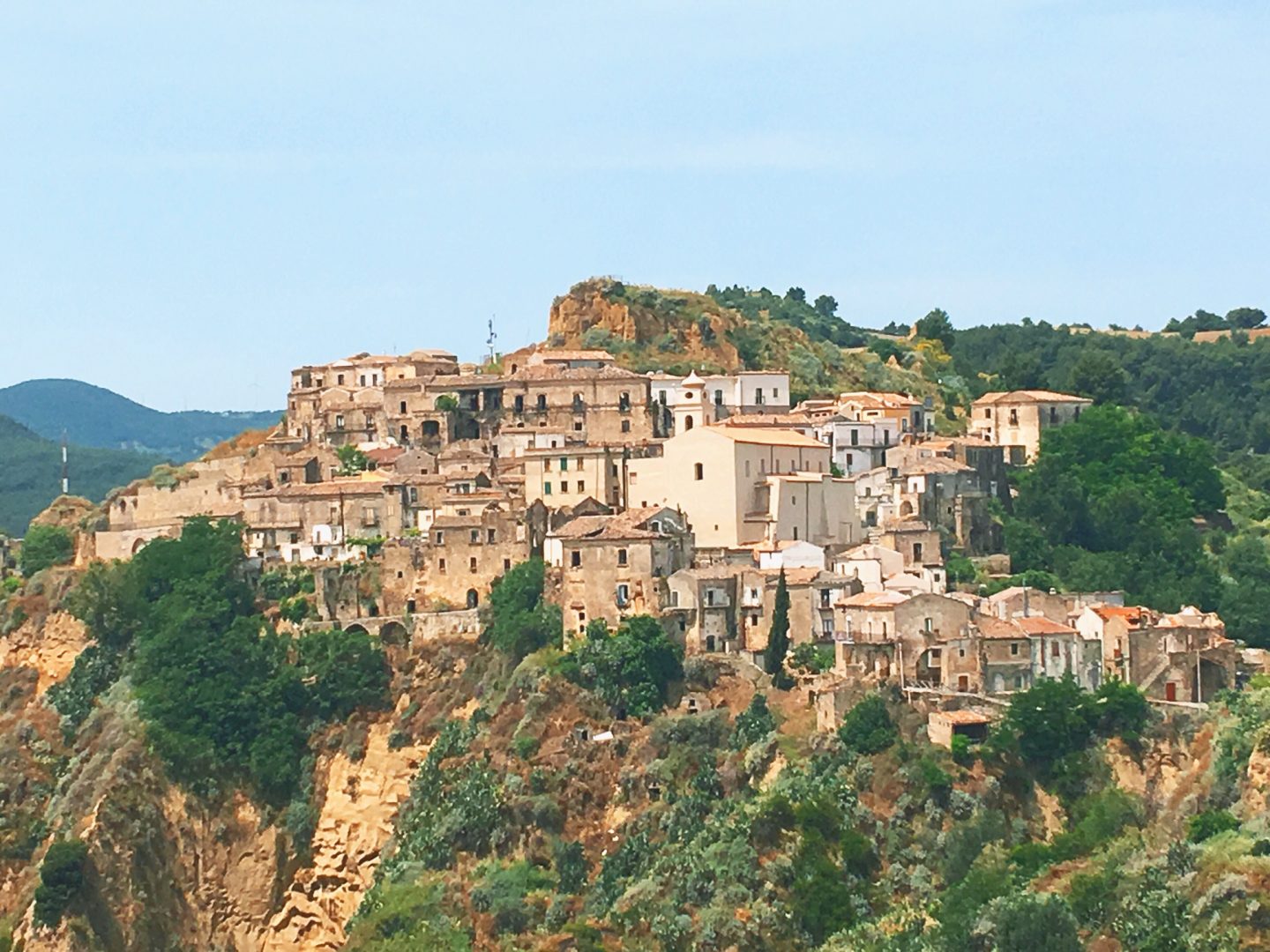 Martine discovered the town of Tursi, and the mostly abandoned town of La Rabatana that sits above it. Built by the Arabs in the early 800s and abandoned by them 400 years later, this little town on the hill has had a fascinating history. Life unfolded across the centuries here, and at some point in the late 1960s/early 1970s the inhabitants moved down the hill to the new, modern town of Tursi, leaving most of La Rabatana empty and falling into ruin.
Martine fell in love with the place and bought an old house that was missing walls here and there, didn't have all of the roof, and in some places had no floor. It was 1000 years old and was in need of some serious love and attention.
When I looked at the "before" pictures I just couldn't see how Martine had been able to envision the home she went on to create. It is phenomenal! She keeps doing this over and over too, rescuing old, run down houses and turning them into vacation rentals and homes that are so special, so unique, so wonderful that it is impossible to only think of staying there once!
The Orangery Retreat
While her other properties are in various stages of restoration, Martine has two vacation rentals available, the Bergamot and the one I stayed in, the Mandarin.
Both share a breathtaking view across the gorge to an abandoned monastery and beyond that to the piercingly blue Ionian Sea. Both are a combination of modern convenience (dishwashers and washing machines, well appointed cook's kitchens and chic bathrooms) with ancient history.
Rough stone walls, floors made of centuries old local tiles, old fountains, very old concrete sinks, freshly plumbed and offset with faucets found in estate sales across the region. An attention to detail that I will never possess but was astounded by each day.
One of the things I adored about the Mandarin was in addition to an indoor bedroom there was also an outdoor one.
Inspired by Moroccan Riads and painted in local colors, with a fountain and pink and white tiled floor, this beautiful space gives you the option of sleeping under the stars, under the beautiful Basilicata sky, the midnight blue of which has become the screen saver when I close my eyes at night.
Evenings at the Mandarin were spent enjoying fabulous local wines from an estate in nearby Montalbano paired with Martine's divine cooking, looking out over the candlelit Arab archways on her property.
Morning coffee was sipped here too, as no matter how hot the town was below, the soft La Rabatana breeze cooled the patio and channeled its way through the arches.
It was like being in heaven.
So lovely in fact that Vogue has been there and featured it, weddings happen there and are photographed there, even advertising campaigns have been shot here. This place is unique.
Most days at least one of the neighbors would pop in to see Martine with a bowl of fruit from their garden, some wild asparagus, or even freshly picked wild capers from the surrounding hills. It was like living inside Under The Tuscan Sun or Peter Mayle's A Year in Provence
. Everything we ate was local and fresh and in season.
The next door neighbor made homemade sausage for us to snack on when I arrived, another evening a neighbor dropped by with a bottle of Prosecco for an aperitivo and some of Martine's fabulous antipasti. I think one of the reasons staying the Orangery Retreat has resonated so deeply with me is that quite apart from its staggering beauty and history, you feel like you are living inside the local life, not just observing it from the outside looking in.
On top of that you sleep your deepest, truest sleeps at the Orangery, the weight of the world falling from your shoulders long before you tumble into the most comfortable beds in the world. It isn't hard to see why the Orangery has a 9.8 rating on Booking.com!
Reading through the comments in the guest book I saw that everyone feels the same way I do about the experience, and apparently all of us are planning our return.
There is so much to see and do in the area, some of which will find their way into upcoming blog posts.
Getting There
Although The Orangery Retreat and Martine had been on my radar for ages, I had somewhat stupidly put off going because I thought it would be tricky to get to. Not so at all!
Basilicata doesn't have an airport or a major high speed train hub. Some guests arrive on regional trains and are met at the station. Others arrive by car.
In a quirky twist of fate my Glam Italia Tour ended in Venice instead of Rome, so I traveled from the north of the country down to the very south. In a different set of circumstances I would plan my Basilicata adventures to begin from the Amalfi Coast, Puglia or at least Rome!
My route involved flying to Bari and driving 90 minutes across Puglia and Basilicata on velvet roads that run between fields of olive trees, some of them hundreds of years old. It was so beautiful! My other thought had been to take the high speed train to Salerno and rent a car there.
Before you get panicked about driving in Basilicata – this is not at all like driving anywhere else in Italy! The roads are wide open, well signed and perfectly maintained, and it is a very easy drive. You won't find much traffic as this is not a densely populated area. I was surprised at just how easy it was to drive there.
See more about the Orangery Retreat in Basilicata on Instagram here and on Facebook here. Visit the website and blog here. You can also find them on Booking.com
Do you need help planning your trip to Italy? Or maybe just need some help when you get there? My first book Glam Italia! How To Travel Italy: Secrets To Glamorous Travel (On A Not So Glamorous Budget)
helps you with everything from finding great flights, deciding how long to stay in each location, using the trains, shopping tips and much, much more. It has become a best seller and has helped people all over the world create the trip of a lifetime. You can order your copy anywhere in the world on Amazon.com