Did you know that the largest royal palace in the world sits just 37 kilometres outside Naples? 
In January 1752 Charles VII of Bourbon, King of Naples and Sicily, 
began construction on the largest palace in all of Europe, a palace to rival the beauty of Paris' magnificent Versailles, and the Schonbrun palace in Vienna. 
Charles VII never ended up living at Caserta, instead he abdicated the throne in 1759 and became the king of Spain. His third son, Ferdinand IV became king of Naples and Sicily, and lived at Caserta. In 1768 Ferdinand married Maria Carolina of Austria, who had grown up in the Schonbrun Palace, and who's sister Marie Antoinette would marry Louis XVI of France two years later and move to Versailles, the very palace that Caserta was designed to beat.
Makes your head spin, non?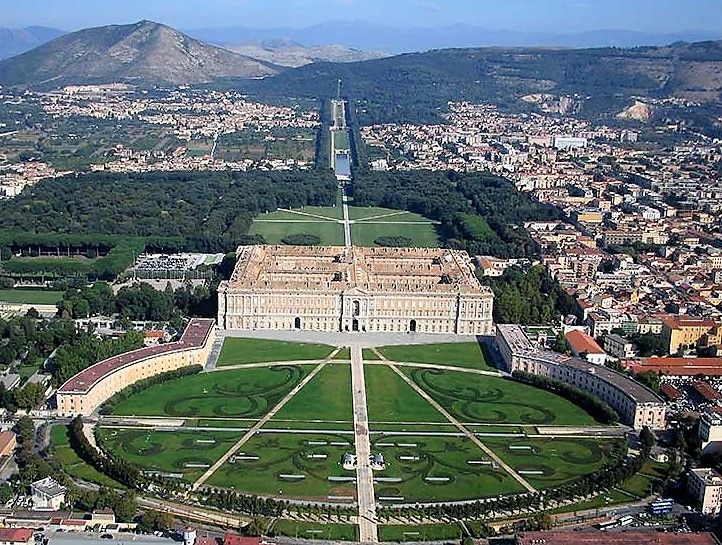 The Palace of Caserta is massive. It has more than 1200 rooms, stands 42 meters (45 yards) high and 250 meters (273 yards) long, taking up 44,000 square meters. In 1997 it became a UNESCO World Heritage site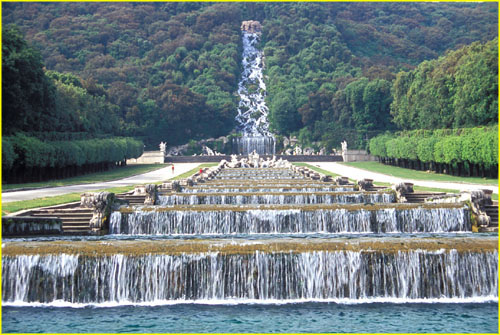 The gardens are 3.5 kilometers long, with a central waterway and 6 fountains, surrounded by a tree filled park.
Statues enjoy a break from the sun, tucked away in the shade of the trees. Others line the walkways and the bridges.
You can rent bikes to ride around the gardens, take a horse and carriage or just walk.
The palace and the grounds are nothing short of spectacular.
No matter how prepared you think you are, once you walk onto the palace grounds the sheer size of Caserta is staggering.
In it's day it must have been magnificent.
Oddly, hardly anyone bothers to come to Caserta. You would think the largest royal palace in all of Europe would get great tourist traffic, but Caserta gets around 500, 000 visitors per year compared to Versailles 5 million.
Unfortunately Caserta is sorely lacking in funds and as such is a little run down. The palace has been used as a training facility for the Italian Air Force, which along with the Carabinieri still has offices there. Movies including Star Wars, Mission Impossible and Angels and Demons have shot here. Palace security is apparently lacking, and despite the Air Force and the Carabinieri both being in residence there have been problems with theft, most notably recently $100, 000 worth of copper being stolen from a lightening conductor on the roof.

Because hardly anyone bothers to go visit Caserta it also feels like your best kept secret. 
Other than my friends who live in the area I don't even know one person who has been there before.
If you are in the Amalfi Coast/Naples area Caserta is well worth a visit. The train station is right outside the palace, so you don't need to rent a car.
Do you belong to my Private Members Newsletter list? Join the list and receive the twice monthly newsletter full of secret places in Italy the tour buses don't go to! Sign up here.