Everyone has heard of Naples and the Amalfi Coast but few seem to know about one of my favorite islands there, the picturesque island of Procida.
Procida is part of the Flegrean island chain in the Gulf of Naples, and sits just behind Ischia. Exquisitely beautiful and relatively untouched, Procida is one of the 10 most colorful places on earth.
Luckily the island is off the main tourist radar and hasn't been ruined by mass tourism. It is mostly a weekend getaway for the people of Naples, which is just 40 minutes away. Many of the homes on the island belong to Napolitans. With the exception of August (Europe's summer vacation month), for the most part if you are coming Monday through Friday the island isn't too busy.
On January 18th 2021 the island was named Italy's Cultural Capital for 2022.
Procida is tiny. It only measures 4 square kilometers, its longest stretch of coastline is a mere 16 kilometers long. Its highest point, Terra Murata is only 91 meters high.
Unless coming by private boat you arrive into Marina Grande, famous for its lively and vibrantly painted pastel houses. The same color scheme is visable on the opposite side of the island, with the houses painted in bright colors so fishermen can see their homes from far away.
The houses along the marina have a tall archway on the ground floor to store the family's boat during the winter months, and an outdoor staircase gives access to the upper floor, saving interior space.
The main square along from the marina is home to the incredibly pretty Santa Maria della Pieta church. Built in 1624 and notable for the clock on all four sides of the tower, the lemon and white church is one of the islands most recognizable landmarks.
The body of the island is made up of a web of very narrow streets. Locals come whizzing through on vespas and the occasional 3 wheeled ape. Everywhere you look you are surrounded by vibrant, pretty colors.
Because the island is so little you can easily see a lot in one day. The walk from Marina Grande (where you arrive) to Marina Corricella on the opposite side only takes a few minutes.
The crossroads between the villages of Marina Grande, Marina Corricella and Terra Murata meet in a piazza known as the Terrace of Procida, (Semmarezio, la terrazza di Procida) also known as Martyrs Square. The terrace is anchored by another lovely yellow church, this time the baroque Santa Maria della Grazie, built back in 1679. From here you can turn left and wander up to the Terra Murata with the fortress, Palazzo d'Avalos and another church with an amazing view, Santa Margherita Nuova. Palazzo d' Avalos was built in 1500 for the d'Avalos family who ran Procida until around 1700. In 1830 the palace became a prison, up until 1988. You can visit and take tours but need to book ahead online.
Alternatively you can turn right and weave your way down the hill to he lovely little Marina Corricella, passing houses and clothes hanging out to dry along the way. Corricella is the oldest part of the island.
Marina Corricella is a working fishing marina. On the hill above you can se the fortress and at the end the church of Santa Margherita Nova. Not only is the waterfront punctuated with colorful fishing boats but you also see piles of fishing nets drying in the sun.
This stretch of the marina is full of fabulous little eateries. The food is excellent and very inexpensive. The movie Il Postino was shot here, and you can sit out under the umbrellas and take in the views from the movie while you eat.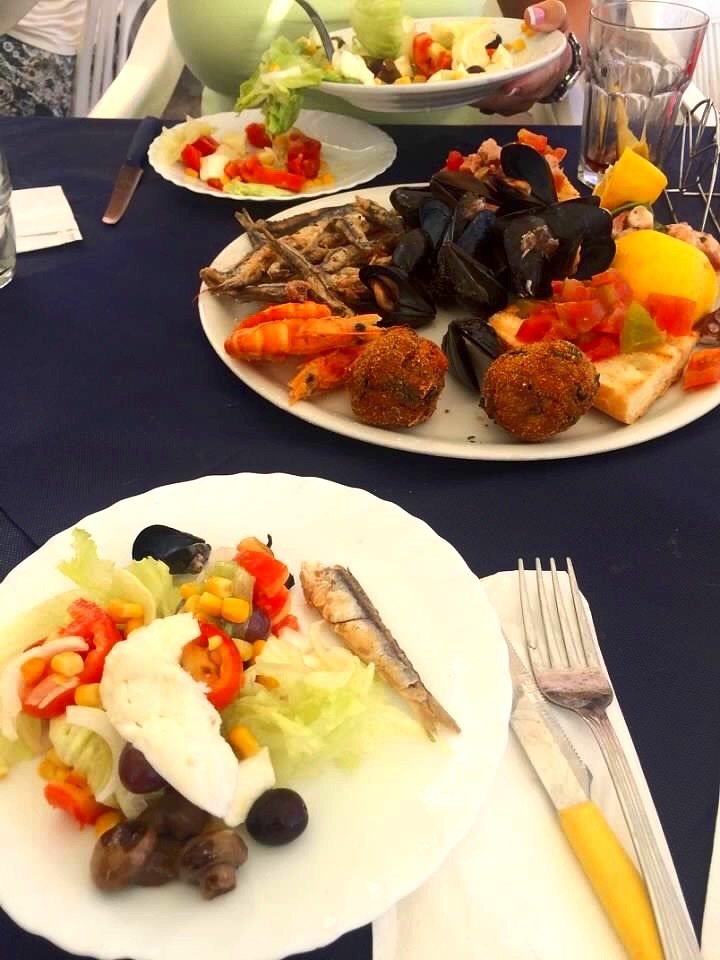 Portions are huge, so beware when you order. This seafood platter was an antipasti for one, but fed 3 of us. I think we paid about 10 euros.
Beaches
There are several beaches to choose from. There are a couple at the tip of Marina Grande, but you have to figure all the detritus from the ferry and the hydrofoil is also floating in that water.
Chiaia Beach
The most popular beach is probably Chaia beach, a long sand tongue further along from Marina Corricella. You can reach it by sea or by foot. From piazza Olmo you duck down an alley and then take 186 steps to the sand, earning yourself a gelato when you get back! From the beach you can look back to Terra Murata at the other end and the marina below. There is a restaurant and a bar at the far end of the beach. You can take the C1 and C2 buses to and from Piazza Olmo
Chiaiolella and Ciraccio Beaches
This is a gorgeous beach at the far end of the island, shortly before the causeway to Vivara island. It is separated by two huge tuff rocks from another beach, Spiaggia Ciraccio. Prior to a landslide they were one single long stretch of beach.
Behind Chiaiolella beach is the Marina Chiaiolella. There are 3 hotels and 2 restaurants, and this is the marina used by most private craft coming in from Naples. You can use the L1 and L2 buses to get to and from Chiaiolella.
Pozzo Vecchio Beach
Also know as Postman's Beach or Il Postino, this is the beach used in the movie. This horseshoe shaped beach has both private and public sections, and due to its position and typography is known also to have incredibly blue water. As with Chiaiolella beach it gets non stop sunshine all day. It is on the west side of Procida and can be reached with the C1 bus.
Must Eat In Procida:
When you arrive on the island take a few minutes to stop for un caffe and una lingua di procida. These "tongue" shaped pastries are light and fluffy and are filled with a custard cream made from Procida lemons. This is definitely not to be missed! See more here at NoChef.it.
Every restaurant offers endless seafood. Everything is caught fresh that morning and I have never had anything that is less than outstanding.
Also not to be missed, anything made with Procida lemons. Try the fresh and light summery lemon pasta made with fresh mint, lemon zest and a little chili pepper (it's unbelievably good!) and be sure to try the famous Procida Lemon salad pictured above. Procida lemons have a particularly thick pith under a very sheer rind. This thick white mass is known locally as lemon bread due to its texture. The salad is prepared with lemon slices that have softened in a coolwater bath before being mixed with fresh mint, garlic, pepperoncino and local olive oil. It is out of this world.
Procida is a lovely day trip from Naples and is a great place to not only escape the tourist crowds but to also absorb some authentic Italy. There are a few small hotels on the island as well as some airbnb's, should you fall in love with the island and never want to leave! (or if you want to plan ahead and stay for a few days.) Procida is very close to Ischia, so you can combine the two islands over the course of a few days vacation.
Getting there: From the Beverello port in Naples you take the hydrofoil to Procida. It takes about 40 minutes and costs 15 euros.
Want to know about more fabulous places to visit in Italy? Join my private members newsletter for a monthly email about a secret place you'll want to add to your itinerary! You can join the newsletter HERE
Save this to Pinterest!